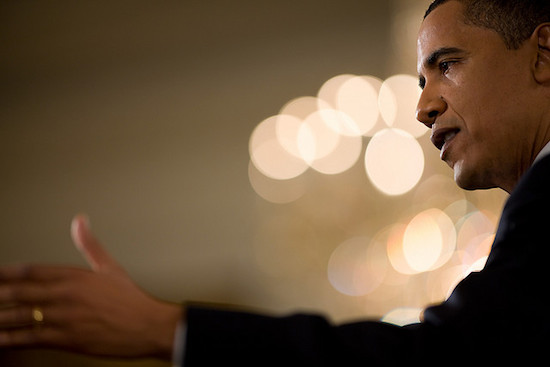 President Barack Obama marked the 25th annual World AIDS Day by announcing a series of new funding initiatives meant to combat the virus at home and abroad.
Appearing at a White House event Monday afternoon, Obama pledged up to $5 billion over the next three years to the Global Fund to Fight AIDS, Tuberculosis and Malaria.
"The United States will contribute $1 for every $2 pledged by other donors over the next three years, up to $5 billion total from the United States. And the United Kingdom has made a similar promise," Obama said. "So today I want to urge all those who are attending the Global Fund's replenishment meetings both today and tomorrow to take up this commitment. Don't leave our money on the table."
The international organization, which was founded in 2002, is slated to begin meetings in D.C. tonight to explore funding for the next three years.
The president also announced a new initiative at the National Institutes of Health (NIH) to redirect $100 million over the next three fiscal years into research seeking a cure for HIV.
"The United States should be at the forefront of new discoveries into how to put HIV into long-term remission without requiring lifelong therapies — or, better yet, eliminate it completely," Obama said.
Obama ticked off a list of accomplishments made in the past year in combating HIV/AIDS. Just last month, Obama signed into law the HIV Organ Policy Equity (HOPE) Act, a bipartisan piece of legislation that lifted the ban on research into HIV-positive organs and opening the door to an end to a decades-long federal ban on allowing donated HIV-positive organs from being transplanted into HIV-positive patients. Obama also signed an executive order promoting and expanding HIV prevention and treatment. Under the Affordable Care Act, HIV testing will be made available for free to millions of insured Americans and, beginning in January, no American will be able to be denied health insurance because of their HIV status.
Speaking of PEPFAR, which Obama described as "President Bush's phenomenal program," Obama announced the program has exceeded a treatment target set two years prior by securing treatment for 6.7 million people. Obama signed the PEPFAR Stewardship and Oversight Act into law shortly after his remarks.
"We can't change the past or undo its wrenching pain," Obama said. "But what we can do — and what we have to do — is to chart a different future, guided by our love for those we couldn't save. That allows us to do everything we can, everything in our power to save those that we can."
Vowing that the United States would remain the global leader in the fight against HIV and AIDS until an AIDS-free generation if achieved, Obama noted that the progress made has not been achieved by any one government or foundation.
"More than anything, I think it's thanks to the courageous people living with HIV around the world who've shared their stories; you've lent your strength, demanded your dignity be recognized, and led the fight to spare others the anguish of this disease," Obama said.
The president was joined by Secretary of State John Kerry and Department of Health and Human Services Secretary Kathleen Sebelius at the event. According to Kerry, the U.S. will need to transform its role in coming years as PEPFAR transitions from providing direct aid to delivering support for locally run and self-sustaining efforts.
"We remember a lot of friends – I can remember many members, supporters of mine and others in political life, in the gay community, who were going to funeral after funeral after funeral," Kerry said. "And there was a massive pessimism within the community and a sense that this was overwhelming and that there was no way we could win this. Well, it is clear that we are now turning a very important corner, but it is not won. There is major challenge ahead and it will require major continued commitment in order to complete the task and live up to the memory that we want to honor of all those for whom it was too late."
[Photo: Barack Obama. Credit: Official White House Photo by Pete Souza.]