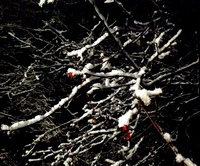 As the temperatures plummet, snow falls around the Washington D.C. area and we ease into the heart of winter, it's time to think about some of those songs that bring the season to life. Winter brings a wide range of feelings, emotions and memories that range from buoyant to mournful. People react to it in different ways, and that is certainly true for songwriters. There are countless songs about ice, snow and winter, of course, as well as the endless carols devoted to the winter holidays. Here is a mix of ten particularly evocative songs for listening to on a frozen winter night, inside and warm, protected from the howling wind and gazing through the windows to watch the snow gather on the tree branches outside.
Eels – "Dead of Winter"
The 1998 Eels' album "Electro-Shock Blues" was written after singer/songwriter Mark Everett experienced two wrenching personal tragedies — his sister's suicide, and his mother's battle with terminal lung cancer. It can be a very difficult listen at times, but is absolutely gripping in its raw portrayal of human emotion. It also happens to be sublimely beautiful. There are moments, like "Dead of Winter," that are starkly painful. It captures something incredibly powerful, and human. Standing outside in the freezing cold, trying somehow to come to grips with a loved one's devastating illness, knowing that the end is near. That feeling of helplessness and grief — the silent, lonely moments when we try and contemplate what is happening and the fact that we can't change it. The emotion is frozen by a stark moment of clarity. "So I know you're going pretty soon. Radiation sore throat got your tongue. Magic markers tattoo you and show it where to aim. And strangers break their promises… you won't feel any, you won't feel any pain." Not all of "Electro-Shock Blues" is so soul-wrenching — there are moments of whimsy and humor, nostalgia and hope. It's an extraordinarily powerful album, and "Dead of Winter" is its emotional centerpiece.
Tori Amos – "Winter"
Portraits of getting older, of years gliding by and life slipping through your fingers. Tori Amos' epic ballad from her 1992 album "Little Earthquakes" is one of her signature songs. It's a composition for her father, for reflecting on winters past, promises kept and broken. "Hair is gray and the fire is burning, so many dreams on the shelf. You say I wanted you to be proud of me, I always wanted that myself."
Pet Shop Boys – "Birthday Boy"
"Christmas eve, he's born again." Pet Shop Boys' brilliant allegory is the emotional centerpiece of their underrated 2002 album "Release." A contemplation of betrayal and martyrdom, from Jesus Christ to Mathew Sheperd dying alone on a cold wooden fencepost. "We've seen it all before." Opening with the tones of a harpsichord, featuring some beautifully subtle guitar work by Johnny Marr, and one of Neil Tenant's finest vocals, "Birthday Boy" is one of the many hidden gems in the Pet Shop Boys' long and amazing career. They are so much more than just high energy dance anthems.
Kate Bush – "Under Ice"
"It's wonderful. Everywhere, so white." Backed by a chilling string arrangement, Kate Bush's tense and thrilling "Under Ice" is part of the second half of her landmark 1985 album "Hounds of Love." Titled "The Ninth Wave," it's a mini-suite within the album that follows the vivid thoughts, dreams and memories of a woman lost in the water, hoping for rescue, but drifting closer to oblivion. The haunting imagery in "Under Ice," as she imagines skating across a frozen river only to fall through the cracks into the freezing water below, is one of the most dramatic moments on the album.
The Bangles – "A Hazy Shade of Winter"
In 1987 The Bangles recorded a cover of the Simon & Garfunkel single "A Hazy Shade of Winter" for the soundtrack to the film Less Than Zero. Simon & Garfunkel fans may consider this heresy, but The Bangles may have bested the original. With its hard-driving beat and killer guitar riff, The Bangles give the song an emotional punch that the original just can't match. Best of all are the terrific harmony vocals, culminating in an epic climax with a sudden dramatic ending. A fantastic recording of Paul Simon's original composition, and arguably one of the best covers of the '80s.
Sting – "Why Should I Cry For You?"
"Under the Arctic fire, over the seas of silence. Hauling on frozen ropes for all my days remaining.. but would north be true?" Mourning the loss of his father, Sting released the elegiac and deeply introspective album "The Soul Cages" in 1991. Sting's father was a sailor, and "The Soul Cages" is filled with imagery strongly evocative of the sea and of the life of someone who spent their entire existence bound to it. "Why Should I Cry For You?" is the attempt to break through the stoic reserve, the grief held tightly to the soul — the struggle to express love and loss, and the trepidation at being cast adrift without a guide or compass.
a-ha – "Angel in the Snow"
From the 1993 album "Memorial Beach" comes this warm, devotional ballad by Norwegian trio a-ha, who are sadly known in the U.S. mostly for their iconic '80s single "Take on Me." Elsewhere around the world they scored numerous hits, and "Angel in the Snow" is one of their finest. Vocalist Morten Harket gives a sublime performance on a song that's a simple but powerful expression of love. A-ha is a band that spent thirty years making great records, and it's a shame that the vast majority of American fans only know them for song. Hopefully in time that will change and their outstanding catalog of music will reach a wider audience in America.
Fleet Foxes – "White Winter Hymnal"
This beautiful track is from the acclaimed 2008 self-titled debut album by the Seattle, Washington based band Fleet Foxes, and it received much praise upon release. It's easy to see why. The incredible harmonies repeat a single, lovely yet haunting verse that seems to be a childhood memory of a group of kids tramping through the snow until one of them falls and injures himself, and his blood turns "the white snow red as strawberries in the summertime." The final repetition of the enigmatic verse is sung a cappella, solemn and disquieting. The listener doesn't know if the fragment of memory being recounted is of a childhood tragedy, or a simple scrape in the snow.
Madonna – "Frozen"
The icy synths and sparse electronic beats just sound like winter. "Frozen" is one of the best singles of Madonna's career. Co-written and produced with two of her finest collaborators, Patrick Leonard and William Orbit, "Frozen" has an exotic, cinematic feel to it, dramatic and ethereal. The unforgettable video was brilliantly conceived — it's one of those rare moments when visual imagery fits a song so well it's almost impossible to listen to it without imagining Madonna in her flowing black dress standing on that windswept, barren landscape.
Annie Lennox – "Cold"
Cold is the color of crystal the snow light that falls from the heavenly skies. Catch me and let me dive under for I want to swim in the pools of your eyes." Just beautiful. "Cold" is a one of several sublime ballads that make her debut solo album "Diva" such a timeless classic.
Other Recent Articles:
Annie Lennox turns 59 — we explore 10 of her best hidden gems
The Best and Worst Singles of 2013