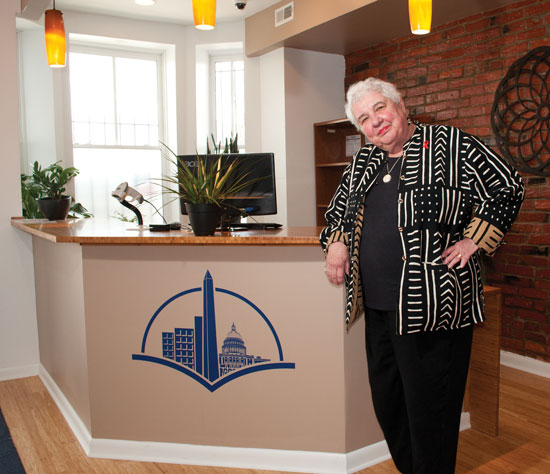 Pa tHawkins: Capital City Care
(Photo by Todd Franson)
As opponents often conflate medical marijuana with outright legalization of the drug, Hawkins says she heard similar opposition, particularly from religious groups, when D.C.'s activists were first proposing legalizing medical marijuana.
"The opposition to marijuana has been so associated with the '60s that a lot of conservatives just lumped it together with anti-patriotism, the anti-war movement, and the sexual revolution," she says. "I also think because so many of the advocates for it have seen it as a step in achieving a long-range goal of legalization, the two issues have been confused. Personally, I have never been a rabid fan of legalization. My long-range goal was to get medical marijuana."
Hawkins adds that with the progression of HIV/AIDS, a lot of the opposition, even from religious communities, eventually "melted away."
Since D.C.'s referendum passed, 16 more states have legalized medical marijuana, while South Dakota rejected a proposed ballot initiative in 2010. The District also finally had medical marijuana legalized in 2010 after a Democratic-controlled Congress declined to overrule a D.C. Council bill to establish a network of dispensaries and cultivation centers that would closely regulate and monitor patients who are prescribed medical marijuana for certain conditions. Those conditions are limited to: cancer, HIV/AIDS, glaucoma and multiple sclerosis or other muscular-related ailments that interfere with the basic functions of life.
Under District law, patients may possess up to two ounces of the drug, in dried form, but must obtain it from a licensed dispensary and must carry a card from the Department of Health, which oversees implementation of the medical marijuana law, confirming the medical marijuana prescription just to gain access to the dispensaries. Three dispensaries began treating patients in July 2013, though owners of the dispensaries have complained to media outlets about low demand due to the law's many restrictions.
Those restrictions are quite familiar Jeffrey Kahn, a Reform rabbi who, along with his wife, one of his sons, and daughter-in-law, operates the Takoma Wellness Center, one of the city's three operating dispensaries and the only one that's owned and operated by a single family. Kahn says the Department of Health is quite serious when they say they track the merchandise he offers "from seed to stem." He says that officials from the D.C. Department of Health (DOH) the Metropolitan Police Department (MPD) regularly check up on the store, with DOH's pharmacy division able to access his records and keep track of the dispensary's sales and deliveries.
"It's an unspoken arrangement that this is going to be done right," Kahn says of the program. And he says it's going fairly well, though he's been exasperated by the slow rollout of the medical marijuana program because he wishes he could help more people. But he also understands that District officials want to be cautious.
"Even if we do everything right, the Department of Health needs to, too," he says.
Like Hawkins, Kahn was first introduced to the medical marijuana movement through his contact working with sick people, particularly those suffering from HIV/AIDS.
"I was ordained on June 5, 1981, the day the morbidity and mortality rate was announced for the very first cases of AIDS," he recalls. "And I was in a position to minister to those affected by it, and learn what was happening."
"My own first experience with medical marijuana was related to me by someone whose brother was dying of AIDS, who told me, 'Rabbi, he just seems in so much pain, so withdrawn, that I lit up a joint and blew it in his face.'"
The person told Kahn that the brother's pain seemed to subside quickly after that, and the brother — who had not been able to eat — wanted to order a pizza. They did, he ate one slice, and then fell asleep for two hours, the first restful sleep he had enjoyed in months.