This week in Richmond saw the inauguration of Terry McAuliffe as Virginia's governor and the start of a new Virginia political era: "At Least It's Not the Other Guy."
Yes, that seems like low praise but we are talking about Virginia, a state gone schizophrenic when it comes to both LGBT people and vaginas of any orientation. On the one hand, the state is now represented by a Democratic governor, lieutenant governor and attorney general, and has sent two Democratic senators across the river to the Capitol.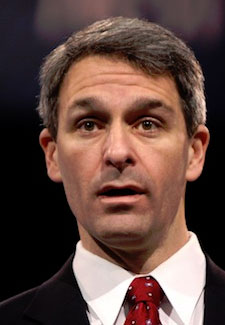 Ken Cuccinelli, the man who won't be missed
Photo by Gage Skidmore/Wikimedia Commons
On the other hand, Virginia's districting has created a state Legislature packed with the furthest of the far right, the folks who come up with ideas like transvaginal probes and barring private employers from offering partner benefits to their gay employees. In just the past few days one of their number introduced legislation banning all forms of sexual activity between teenagers (who are otherwise at the age of consent) other than penis-in-vagina.
Obviously, nothing says sound family policy like undermining birth control while banning oral sex, because it's worth a few unintentional teen pregnancies to keep an anti-gay, unconstitutional sodomy law on the books.
On his way out the door, the "Other Guy," now-former Attorney General Ken Cuccinelli, once again flipped off Virginia's gays by issuing a non-binding opinion that the new governor cannot "direct or require any agency of state government to allow same-sex couples to receive joint marital status for Virginia income tax returns," because tyranny, one supposes.
It's worth remembering he lost by two points, a fact that greatly tempers my unease about McAuliffe, who has already issued a nondiscrimination order for LGBT employees and made clear he considers our community to be a part of Virginia. McAuliffe has also engaged in the time-honored Democratic rite of extending a hand of bipartisanship to a Republican Legislature, a hand that will be bitten off by the end of the month.
So the question is, why the hell do I live here again? Especially given how much I love D.C.?
I still stick by my story that I moved here for love — moving to an inside-the-Beltway suburb is a small price to pay for a decade-long relationship. But there's a little more to it. Once you get outside the urban coast, Virginia is basically just a snottier version of my home state of Kentucky (they're even the same basic shape) so I feel comfortable here. Plus living in NoVa is hardly suffering in the boondocks; my equality-symbol-bearing, mostly Obama-voting, ethnically varied neighbors are a lot more diverse than some of my former D.C. neighborhoods.
There are also a lot of homosexuals out here, which makes things pleasant.
Given my own snooty attitude toward gay Virginians while in my 20s, there's a certain karmic tint to my living here now. It's one of the reasons I don't get worked up when some people mount the "You shouldn't live in homophobic states!" argument on Facebook or at parties. Another reason: We're Americans, we should be able to live where we want to.
Virginia is a much better place for LGBT people than it was when I first crossed the state line to go to college in 1985. That's because LGBT people have chosen to live here — or, in many cases, stay here — and fight to make it better. While we lag behind our friends and family in D.C. and Maryland, we'll be catching up soon because change starts at home.
Sean Bugg is editor emeritus of Metro Weekly. He can be reached at seanbugg@gmail.com. Follow him on Twitter @seanbugg.