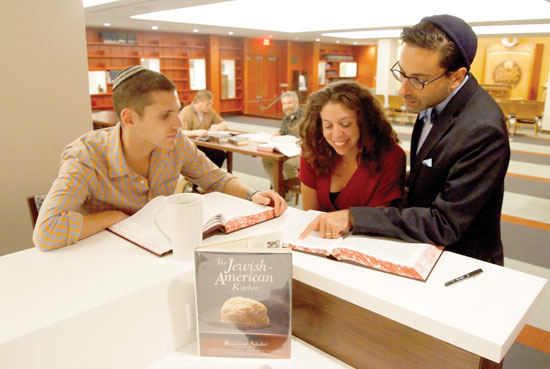 Adas Israel Congregation
A year ago Gil Steinlauf, leader of the oldest and largest Conservative synagogue in Washington, took a stand for gay rights. Writing in the Jewish Journal, Adas Israel's 44-year-old senior rabbi advanced a Jewish legal argument, or halahkic, not only in support of same-sex marriage, but also asserting that the original Jewish Bible "is not anti-homosexual in its rulings."
"The place of LGBT Jews in our community is something that is very important to me as a rabbi, and very important to this community at Adas Israel," Steinlauf says. "There are many congregations that aren't willing to push the envelope on that and aren't willing to talk about this still."
Jay Michaelson
But Steinlauf is making sure Adas Israel isn't one of them. Next week this Cleveland Park-based congregation, dedicated more than 150 years ago by President Ulysses S. Grant and considered a flagship in the American Jewish community, will hold a public discussion on the topic.
"I think we have to have real conversations," Steinlauf says, "about what are the roadblocks that have developed over thousands of years in the Jewish tradition … preventing all people, no matter who they are, how they live their lives, to participate as members of the community."
At this discussion the featured guest is Jay Michaelson, whose 2011 book God vs. Gay? The Religious Case for Equality made the argument that queer people enrich religious communities. Michaelson, a gay Conservative Jew and best-selling author on the topic of religion and sexuality, has made it his mission to speak out against religious intolerance and hostility.
"We live in a time when the imperative of what is right and what is good and what is just demands that our halahkic system evolve," Steinlauf says. "Jay is somebody who has been on the forefront of these discussions. He's been a true groundbreaking teacher, writer and speaker for a long time now."
Michaelson will speak as part of the program "LGBTQ Jewish Life in America," which Steinlauf intends to be a "frank and uncensored conversation as a Jewish community around the issues of justice and the LGBT community."
Tuesday, Feb. 4, at 7:30 p.m., Adas Israel Congregation, 2850 Quebec St. NW. Call 202-362-4433 or visit adasisrael.org.