High power, high pressure, long days at the office. It's not everyone's cup of tea, but many D.C. residents seem to find this a normal way of life. Many of them even commit to throwing a dog companion into that go-go-go mix.
"We have the 'Wagmobile,' because some of our clients don't even have time to drop off," says Lisa Schreiber, owner of Wagtime, which offers dog daycare – to the point of picking up and dropping off canine clients from their homes – among other services. "A lot of people want dogs. Most of our clients are people who don't have kids, who work long hours. And you can't leave your dog alone for 10, 12 hours."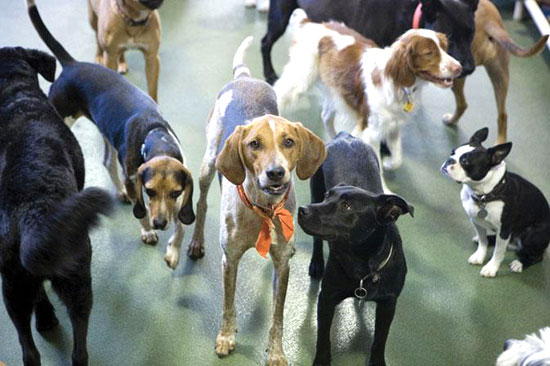 (Photo by courtesy Wagtime)
Thankfully, there are various options for dog-owning guys and gals on the go.
Wagtime, with locations in Shaw and near the Navy Yard in Southeast, offers daycare for dogs, for example, as well as added "power walks." Similarly, City Dogs in Adams Morgan offers dog daycare, with the option of including a midday walk. Notably, both make mention that dogs need to be able to socialize well with their fellow canine clients.
City Dogs co-owner Dave Liedman says people shouldn't be too concerned about that requirement, explaining that there's a pretty good chance a daycare hopeful will be a good fit. "Over 90 percent [fit in]," he says. It's not a high-pressure examination for the dog owners, either, who simply drop their dogs off. If Rover isn't a good fit, owners will be advised later. Says Liedman, "We don't make them wait around for the verdict."
If a dog isn't a good fit, that doesn't mean Rover is out of options. Some dogs simply don't socialize well with other dogs for any number of reasons. Pet Peeps might be able to help.
"We do individual service," says Gus Elfving, founder and "top dawg" at Pet Peeps, which is not a bricks and mortar operation, but comes to the clients, and features one-on-one dog walks. "We do individual service," say Elfving. "I think it's safer, more serene. If you have six dogs on a leash, and one of them finds a 'street treat'…."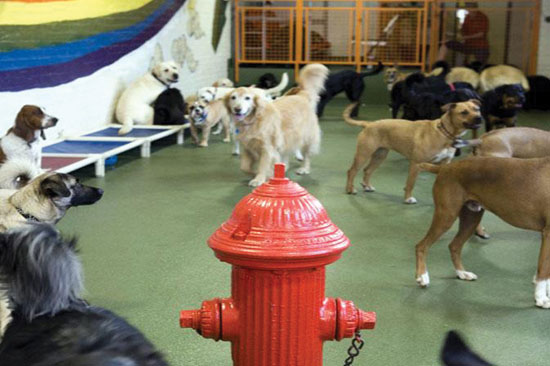 (Photo by courtesy Wagtime)
While Elfving paints the picture of no walker being able to control the frenzy that might ensue if his charges happen upon some tasty, smelly, possibly dangerous discards – chicken bones, perhaps – he adds that some celebrate the group walks as a way to better socialize dogs. He grants that may be of benefit, but with one important caveat: "Often, the walker is not the leader of the pack." In other words, Cesar Millan, famous for his Dog Whisperer show, is not at the end of every pack's leashes, and there may be little training taking place.
Elfving advises dog owners to look at their budgets, at their dogs' dispositions and available options, and then make a reasonable outlay for some sort of dog care during the day.
"A lot of people work through guilt and overdo it," he says.
Schrieber has a more forceful counter to those who would argue that people who don't have the time to fully care for a dog shouldn't have one in the first place.
"People have to work. Why should they not be able to have a dog, too? Why not give a dog a home?" she asks, pointing out that shelters are full of dogs in need of human companionship. "We send our kids to daycare, to school. They're still your kids. And it's still your dog."
For more information about City Dogs, call 202-234-WAGS (9247) or visit city-dogs.com; for Pet Peeps, call 202-232-PETS (7387) or visit petpeeps.biz; and for Wagtime, call 202-789-0870 or visit wagtimedc.com.