With a charisma that roars like a coal-fired furnace, Arena's Mother Courage and Her Children, begins and ends with Kathleen Turner in the title role. Yes, there are other memorable players that bring their own well-tended fires, but no one is as fully stoked as Turner. And though her delivery – a gravelly mix of Ian McShane-style proclamations, Marianne Faithful-style vocals and Turner's own potent phrasing – might throw another play off its axis, here it is utterly and completely compelling.
And this is no accident, either on the part of Turner or director Molly Smith. Written in the aftermath of World War I and as the clouds gathered for World War II, Bertolt Brecht's story of a woman who loses her children even as she profits from the war that takes them, is a compromised morality tale writ bold. Courage must be larger than life because in less than three hours she must live all that is morally ambiguous and blindly necessary in war, and pepper it with dark humor and the tiny nuggets of humanity still cradled in her pragmatic breast.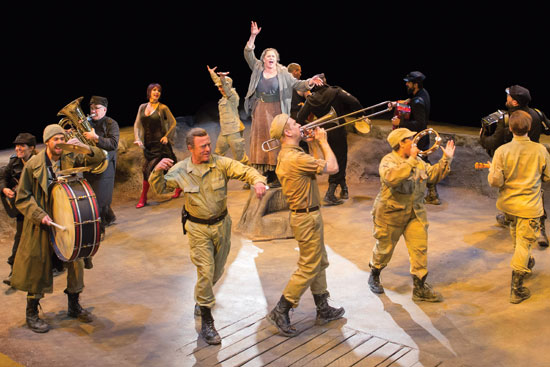 Mother Courage
(Photo by Teresa Wood)
Getting this, Turner plays it to the hilt and in doing so brings into stark relief the many questions Brecht surely wanted asked: Does she really love her children? How does one love what one must also prepare to lose? And if war, by its nature, dismantles our moral GPS, is it fair to judge us as we drive blind and by necessity?
Turner captures something else too, something that Brecht may or may not have intended. This Courage exists in a state of genderless self-possession: Her intelligence, wit and drive make her what she is, not her feminine "wiles." When her daughter dies, we may see a mother's grief, but not selfless motherhood as we think of it. As such, she is an extraordinary example of (if not necessarily one to be aspired to) feminism. It is also a portrayal of womanhood rarely seen on the contemporary stage as written by contemporary playwrights.
Far more typical is Yvette, the vamp haunting the solders' camps. Though she is played with verve and athletic gusto by Meg Gillentine, Yvette's identity and worth is measured only in sexual currency. And this is the measure of women today, in life and as we are shown them on the screen and on the stage. Women are portrayed as sexually viable or invisible, an either/or proposition. It's a reality that makes Mother Courage all the more fascinating, especially as embodied by the spiritually and physically formidable Turner. She shows us that there is an entirely other way of writing women for the stage and screen and all one has to do is start with Brecht. Or wake up and look around.
As heavy-handed as this may sound, Brecht is still all about accessible storytelling and director Smith keeps Mother Courage's adventures moving apace in keeping with this page-turning mood. The musical interludes, which serve to recalibrate the play to an arm's length jollity or wistfulness, are handled here with a nice blend of the folksy and the cabaret; nods to the play's 17th century setting and when it was written in the late 1930s.
David Hare's contemporary, sharply witted translation ensures that nothing is lost of Brecht's rueful style of humor and the players capably keep the balance between the dire and the funny. And though the sets are somewhat reminiscent of the fake rocks of a vintage Star Trek episode, they are also in keeping with Brecht's penchant for the theatrically stark. And there is enough action and emotional pace to lessen the distraction.
As for the scene introductions, delivered by various members of the ensemble, the less said the better. Brecht may have wanted it, but it doesn't make it any less toe-curling.
But these are details easily forgiven as Turner commands the space with her quips and bellows. Giving her plenty to play against, the other standouts here are Rick Foucheux as The Chaplain, a man who finds his identity increasingly compromised, and Jack Willis, who's worldly Cook appreciates Mother Courage, at least as far as necessity allows.
Foucheux, who recently delivered a poignantly subtle rendering of the loneliness of aging as Sorn in Woolly Mammoth's Stupid Fucking Bird, here shows his versatility in giving his Chaplain the right broad-brush combination of personable and selfish. Willis's Cook is an intriguing concoction of savvy suitor, old coot, and all-around wit, even if there isn't enough in the way of chemistry with Courage to explain his long-term interest in her.
In the non-speaking but noise-making role of Courage's mute daughter Kattrin, Erin Weaver delivers a strongly defined character and expresses well the grief of this girl's thwarted life. It is her interactions with Turner's Courage that bring the clearest glimpses of love's ambiguities in the face of crisis and speaks interestingly to the expectations all mothers grapple with when it comes to their daughters.
MOTHER COURAGE AND HER CHILDREN




To March 9
Fichandler
Arena Stage
1101 6th St. SW
$50-$99
202-488-3000
www.arenastage.org
As the two sons Courage loses to the war, Swiss Cheese and Eilif, Nehal Joshi and Nicholas Rodriguez acquit themselves well, though the roles as written are more symbolic than emotionally engaged. Some smaller roles are given compelling color by Dan Istrate as the Sergeant and Jacobi Howard as the Recruiting Officer. Finally, mention must be made of the musicians and singers, as led by Nathan Charles Koci, for bringing much palpable joy or pathos in the musical interludes.
Still, even with these pluses, the reason to see this production remains Turner, whose hard-bitten hawker-philosopher persists in the memory and the mind's eye with the determination of the Courage eternally plying her wares in war's wasteland.