A few years ago filmmaker Eytan Fox was flipping TV channels in his Berlin hotel room when he stumbled on the Eurovision Song Contest. "Suddenly, I realized that I didn't even know who was representing Israel that year," he says.
A lot had changed in the four decades since organizers of the annual music competition had first invited the small Middle Eastern democracy to join its pop parade. Back then, in 1973, as a kid growing up in Jerusalem, Fox's parents "had invited all of our neighbors over to our apartment to watch the contest." Six years later, as a 14-year-old reporter on an Israeli TV show run by kids, Fox was sent to cover that year's Eurovision contest. "I was very proud of myself that I was part of this supposedly very glamorous world of Eurovision," he says.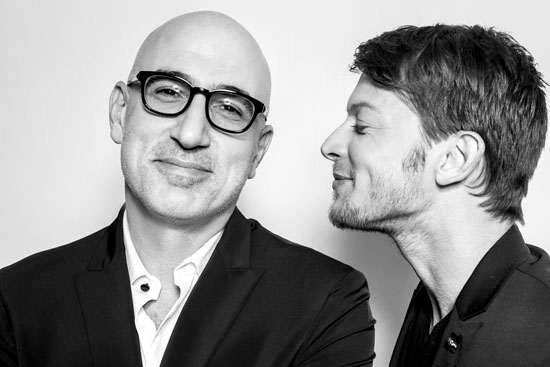 Eytan Fox (left) with Ofer Schechter
Courtesy of the Washington Jewish Film Festival
In the decades since, Fox had mostly forgotten all about Eurovision, with notable exceptions, such as in 1998 when transgender singer Dana International won representing Israel. Also in that time Fox, who is gay, has become one of Israel's most popular filmmakers, responsible for several hit series on Israeli TV. His feature films constantly travel the international festival circuit, particularly hitting LGBT and Jewish film festivals. In 2006 the Washington Jewish Film Festival (WJFF) presented Fox with an award for his contributions to the field of Jewish cinema.
Fox's films, which include 2002's Yossi & Jagger, 2004's Walk on Water and 2006's The Bubble, chiefly focus on contemporary Israeli life, always present gay and straight characters as close friends, colleagues or neighbors — often all three. Most notably, these gay-inclusive films are always made with funds from the Israeli government. "The country has been supporting my films since the mid-'90s," says the 49-year-old. "Films that always have gay characters, gay themes, gay love stories, gay sex scenes."
Fox's latest, the sweet and uplifting Cupcakes, which closes the WJFF Saturday, March 9, was inspired by Eurovision. The focus is on a group of Israelis — three straight women, one lesbian and one gay man — who compete at a Eurovision-style competition. The group's leading competitor is a Russian husband-and-wife duo, as fake and manufactured — among other things the husband is a closet case — as this ragtag Israeli group is authentic, even innocent.
The Israeli group competes by performing a song originally written by Scott Hoffman, otherwise known as Babydaddy from the Scissor Sisters. "Scott is a friend of mine and my family," Fox explains. "At some point I said to him, 'Do you have a Eurovision-like song that you maybe wrote once and never published or anything?' And he said, 'You know what? A few years ago we sat together, we had some drinks, we were kind of tipsy, and we decided to write an ABBA-style song.'"
For Cupcakes, Fox made this song, originally called "Right Back," "sweeter, more sentimental, more kitsch." And "Song for Anat" is sung in Hebrew, a nod to what Fox said the competition used to be.
"It used to be, you came from Spain, you sang in Spanish. You came from Germany, you sang in German," he explains about Eurovision. "And now, everyone sings this funny, bad English. Bad accents and bad lyrics. So it's become more and more of a joke."
METRO WEEKLY: How would you describe Cupcakes?
EYTAN FOX: Well, it is, more than anything, your classic, feel-good movie. It's a film about friendship. How a group with a sense of community can do a lot for each other. And it's about the journey that a group of neighbors take together. It's a very sweet, but complicated, story.
I have films of mine that I consider more serious, more relationship stories. That are usually more politically oriented, have to do a lot with Israel's situation in the Middle East, and its relationship with its neighbors. And masculinity in Israel. Gay identity in Israel.
And then I have the lighter side of my filmmaking. Audiences at the WJFF saw Mary Lou four years ago — my television miniseries, which was called in Washington an Israeli Glee. So I have the sides in me that are more fun and games, music, dancing, happy, colorful gay and straight characters. Cupcakes definitely falls under that section of my filmmaking. It's somewhat of a musical. I grew up to parents who came from the states and moved to Israel when I was a kid. And my mom loved American musicals, so a lot of my influences come from there. Classic MGM musicals from the '50s. And a lot of other influences, like The Umbrellas of Cherbourg, a group of French musicals by a director called Jacques Demy.
MW: Cupcakes focuses on a Eurovision-style contest. Explain the significance of that annual competition to you.
FOX: The Eurovision Song Contest has been something very significant in a strange way in my life. It used to be an amazing song competition or contest, where wonderful songs and singers from all over Europe would come together and perform. When I was a kid there was ABBA and Cliff Richard, Olivia Newton-John and Celine Dion — all these wonderful artists who started their careers in this competition, with beautiful pop songs. I grew up in a very nationalistic country, where any competition outside of Israel where Israel took part, everyone was so into it. It didn't matter if it was the Olympics or Eurovision or the Nobel Prize. As long as Israel was competing, everyone was really into it. I remember the first year of Eurovision where Israel participated. And it was all of us together. All the neighbors came together and watched the competition and really cared about Israel and the Eurovision Song Contest.
MW: I remember the transgender singer Dana International winning Eurovision for Israel in 1998.
FOX: That was an amazing experience. Israel, again, it's a very nationalistic place, so in the beginning when we chose Dana International to represent us in the Eurovision Song Contest, so many people were criticizing that: "How can you send a transsexual to represent our holy land of Israel?" That was what they were saying. And they were demonstrating in the streets against her going to Eurovision. Then she won! That was such a big thing. After she won and came back to Israel, she went to the Parliament, to the Knesset. And all these members of Parliament who were against her shook her hand. Because who cares? She won. It doesn't matter if she's transsexual, or this or that — she won for Israel. That was a big thing. A lot of people in Tel Aviv were sitting watching this competition, being very proud of the fact that Israel sent a transsexual to this competition, which was very unusual at the time. And she was so good, and she won. And all of us went down to the square in the center of the city — with rainbow flags. And we danced and sang. And it was an amazing experience. And the funny thing was, the same night, the most macho, even homophobic, soccer team in Israel won the championship of Israel. The same night! And they went to the same square. Guys with their soccer team flags. And we're all dancing together for the first time in our lives. It was really a wonderful, kind of communal experience.
MW: In preparing for this interview, I noticed that Dana International went back and competed again for Eurovision in 2011.
FOX: Yeah, for some strange reason. This competition is really changing in ways that I don't know how to explain. But for some reason she didn't do that well.
MW: Has she had a successful career otherwise?
FOX: After Eurovision, Sony/BMG signed her up and tried to create a career for her in Europe and internationally. It didn't really work. Her people didn't know what to do with this sudden success. She does tour Europe, in gay nightclubs and that whole dance scene. She still has a career here in Israel. She's had a few hits since "Diva," her big Eurovision hit. She had a talk show, and now she has this game show where she's looking for the next girl band in Israel, like an Israeli Idol/X Factor show.
MW: Has she ever played a part in your movies? Or have you thought of including her?
FOX: The song "Diva" does appear as a musical number in Mary Lou, and all of ["Diva" songwriter] Svika Pick's songs. But working with her specifically? You know, she's a friend. I love her. I don't know. You never know. We paid homage to her in Mary Lou. I think even in Walk on Water, the characters refer to her and to her success. So I don't know, we'll see. Maybe.