In late June, the cast of Orange is the New Black assembled in Manhattan for a full day of press interviews. Metro Weekly was invited to participate with journalists from other print and online publications. On the cusp of the Emmys, we thought we'd offer up a few of the interview sessions in an edited format. The questions are denoted as Press, as they were posed by multiple sources.
Yesterday, we posted the session featuring Kate Mulgrew and Lorainne Toussaint. Today, we continue with the pairing of Yael Stone, who plays Lorna Morella, a lovestruck inmate who pines for reunion with her fiancé Christopher, and Natasha Lyonne, nominated for an Emmy for her funny, grippingly honest portrayal of formerly heroin-addicted Nicky Nichols.
PRESS: From the start, there's been lesbian content on Orange is the New Black, but this year struck me as almost an elevation of it. The relationships, the interactions seemed more numerous.
YAEL STONE: I feel like Natasha could be singlehandedly responsible for at least a few of those numbers going up, given that her character had a sex contest. 
NATASHA LYONNE: Yes. I have not seen the show, but I've read the show, and I've acted in it, as I'm sure you're aware, because we're here. [Laughs.] So I don't know that I have the objective perspective to kind of say between Season 1 and Season 2, there was a gay uprising. But I think that probably what it's about is a deepening of all these relationships in the second season.
The second season got deeper, at least in the scripts that we were reading, and as we were doing it. And you know, sex is an organic extension of being alive and being in this really intimate setting, where you're surrounded by these same people. The sex instinct is a huge part of life. So if one swings that way, it would make sense to swing often.
PRESS: Natasha, we noticed your character reveal a tender side towards her fellow inmates, actually open up more. That key moment between the two of you, for instance, on the stairwell….
LYONNE: I would entirely agree with that. [Our characters have] both gone off and done some strange things, and then come back together and reconnected in a very genuine way. Rather than using only sex to connect, we're actually being there for each other.
PRESS: It's very touching.
LYONNE: Thank you, it does feel like [Nicky and Lorna] are deeply bound at this point, and I don't think there's any turning back for them as human beings. Whether they end up being a couple, long term or not, I feel like they're past casual sex now, after that stairwell scene. So if they are going to continue in a romantic relationship, at the end of each time they fuck, they're gonna have to say, "I love you" whether they like it or not. [Laughs.] 
PRESS: I still see you as the main character from But I'm a Cheerleader. In that film, we saw a sort of a good critique on the way we understand homosexuality in media and religion. Do you see this show working in a similar fashion?
LYONNE: Well, I'll say briefly that it hurts my soul that so many years after that movie, we're still commenting on it. It does break my heart a bit that that many years later, it's still about "Oh, this is a gay show" or "This is a gay relationship" or "You play a gay character." And at what point does it become "I'm just playing a person" and "This is just a show about people"? It's really devastating to process the implications of that. "I'm gonna give you the right to get married." Like, "Who the fuck do you think you are? Thanks for giving me my basic human rights."
STONE: I think that reverberates throughout a lot of the issue conversations that we have about the show. Yes, it's fantastic that we have a diverse cast of many shapes and sizes. Yes, we're not all size 0. Yes, we do eat lunch. It is sad that this has to be this main focus of the conversation, because that should have been passed like ten, twenty years ago. Uzo [Aduba] wrote recently for the Hollywood Reporter, noting that the last time a show won an Emmy for Best Comedy and the cast was primarily a black cast was The Cosby Show. That's crazy. That's a wild fact. And you know, it is sad that our media, which should really reflect life, should be the mirror that we look to, seems to be so far behind. It is disturbing, and it is painful that that's the case. But it's great to be at the forefront. And on a positive note, how wonderful that this show is getting the recognition it's getting. Hopefully Orange is the new norm.
PRESS: Yael, your character Lorna just went through the most extraordinary, alarming backstory. It was so unexpected. It must have surprised you as well. Lorna is such a lovable character and to introduce this bit of danger into her suddenly.
STONE: A whole lot of danger.
PRESS: I do have a specific question surrounding the events of that particular episode. There's no way they wouldn't have checked the mileage on that van she's entrusted to drive. It's a rather glaring flaw 
STONE: Well, the system is lax, you know? I think what we've discovered from the explorations of this show, there are some big holes in the whole system. And you know, people have begun a campaign called "Humanity is the New Black" which is talking about, "The things that they're talking about in Orange is the New Black are actually happening in prisons." Things like sewers exploding. There are definite funding holes. And I'm sure that you could level a few accusations at working prisons, for places where things aren't as safe as they should be, where people don't have basic human rights attended to. And you know, I'm sure if people had enough funding to be checking mileage, we wouldn't have those problems. 
PRESS: If you could be in charge of what's going to happen to your characters, what would you hope and wish for them? 
LYONNE: Horseback riding.
STONE: Horseback riding? 
LYONNE: Yeah. I'd love to take Lorna out on my horse. I've got a wonderful stable and it never gets any play in the series. I don't mean me. I mean, you know, Nicky Nichols. She comes from a good deal of money, and she's got a — where do people keep stables? Where does Lauren Hutton live? I suddenly need to know. She must have a stable, right? [Laughs.]
STONE: Rural Jersey.
LYONNE: Deep in Connecticut. Other than taking my girlfriend horseback riding, I don't know. I mean, it'd be really nice for Nicky to find some sort of peace. I feel like she's really doing battle with her demons in Season Three. I think all the characters in this show are constantly up against the wall. And the stakes are always pretty high. And these are not people that have a huge instinct for self-preservation. I think naturally, they're like all characters — they're in a good deal of pain and regret. And so, in a deeper sense, I guess I would hope for her to find some sort of steady footing. I hope it shakes out all right for her.
PRESS: Well, I suspect we're about to see your character goes through an intense personal trial. I mean, the way she was staring at that particular item in the season two finale. You haven't watched the show, you haven't seen the shot.
STONE: She made the face, though.
LYONNE: Yeah, I was the guy who made the face. 
PRESS: That item has huge implications in terms of what's going to go on with your character in Season Three.
LYONNE: Well, we'll see. We'll see, boss.
PRESS: Now that Red's in the hospital, her not being there to support Nicky, do you think that will affect things?
Get the best of Metro Weekly! Subscribe to our Daily Blast!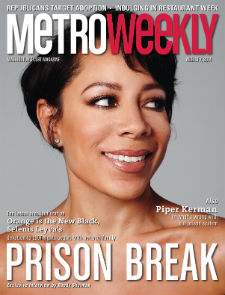 Our daily emails are personally curated by our editors and feature a wide range of news, features, reviews and interviews. Don't miss out on any of our award-winning content -- from news to arts, cars to tech, food to fitness, we've got it all!
Features!
Breaking News!
Win CDs and Tickets!
Special Exclusive Offers!
We respect your privacy and never share your email with a third party.
LYONNE: I do think that Red is a real touchstone for Nicky, and a real grounding force. It does definitely connect and set Nicky up for big trouble, in not having her grounding sanity readily available to her. So it's having Red more closely, having Red closer in the picture, I think would be healthier for her. I don't know why I can no longer speak. I think I've run out of words for the day. [Laughs.] I think I've hit my maximum word limit, as you can tell. My brain still knows that they are words and wants to use them, but can no longer put them together. So I apologize.
STONE: This is where I take over, folks!
PRESS: Your character has been the voice of reason on the show, Natasha. There's that scene with the CO who's been fired and you're in the church with her. And you're like, "Go home. What are you doing here?" I was thinking about how you relate to the other characters. You seem like the one who's the most level-headed, the one who actually coaches people through their own issues.
LYONNE: Nicky's definitely a self-aware character. It's something I identify with my own experience and in this life. And even a person who can be really self-aware can also be really self-destructive. But I do think that she is somebody who can see things for what they are, and name them. I don't know that that necessarily means they're a person that's like that, and that's from their own personal experience or anything, but has any power necessarily to do anything with that information. It's more just like, "Here are these other facts. I'm laying them on the table, whether it's about myself, whether it's about our relationship."
In fact, that's part of why that scene was so painful for [Yael and I] to play, in part because no person can really fix another person in this life. As much as I may want with all my Nicky Nichol's heart and soul to tell Lorna that she's gonna be okay, and other people are gonna love you, I don't have that power in me. I'm only human. And that's the heartbreaking aspect of life in general, that nobody can really take another person's pain completely on their back, as much as they may want to. So in that same way, I think being the voice of reason doesn't undo the fact that they are actually in a prison. It can't undo anybody's single slip-up that landed them in a lifetime of regret.
STONE: On a side note, she actually, as a person, rather than character, really good advice. Great person to go to for advice. [Laughs.]
LYONNE: Any time. [Laughs.]
PRESS: How challenging is it to shoot the sex scenes? They're so explicit.
STONE: But they're not really.
LYONNE: Are they?I go into kind of like a blackout state. I don't even remember what happens.
PRESS: This is edging towards much more explicit territory that most shows.
STONE: I view it as a real, as a really important aspect of the human experience. And part of what we do on the show is get into the dark corners of what we do as human beings, and explore it in stories, so that we can all understand each other, and share. And so those awkward, strange moments, where you're like, "You know what? You're making my vagina too stretched out, can we chill?" [Laughs.] Like that awkwardness — there's something kind of delicious in that.
I'm so glad the scenes are not, "You're so fuckin' hot, and oh, my god, and da, da, da, da, da." Some kind of back-arching, crazy, moan-y, unrealistic orgasm moment. There's something very charming about the sex scenes. They're often either very funny, or very awkward, or very deeply tender.
I often feel like the sex scenes in this show have back story, where there's this kind of like a fumbling exploration of sexuality, where you're like, "This doesn't actually feel good. Why are we doing this?" [Laughs.] I think the show does that incredibly well. So yes, there's moments where you're like, "Wow, I'm naked in front of a whole bunch of people. This is odd." But you get over that, and you're like, "We're making cool stories," and it's a privilege to be able to do that. And with the nipple pads, and a modesty patch, I feel okay.
Orange is the New Black, Season 2, is streaming exclusively on Netflix. Season 1 is available on Netflix and on Blu-Ray and DVD at Amazon.com.
More interviews from "Orange Is the New Black" by Metro Weekly: