Smart Phones: iPhone 5, Lumia 920
What Apple's new iPhone 5 lacks in ''Wow'' factor, the Nokia Lumia 920 more than makes up for
September is clearly the go-to month for the discerning multinational company wishing to bestow its latest and greatest gadgetry upon the world. Not only did we have IFA, and all the myriad product launches that brought, but Apple and Nokia have recently held conferences to launch new iterations of their halo devices, ensuring the hearts and minds – and wallets -- of their loyal customers remain firmly within reach.
It's fall, and with the fruit ripening on the trees we have entered that special time of year – yes, it's time for Apple to present its newest iPhone to a fanbase so religiously devoted, the Catholic Church must surely be studying their PR department. After the relatively underwhelming launch of last year's 4S, a phone many were certain would be a radical redesign from the industrial beauty of the 4, Apple saw fit to continue the disappointing trend with this year's second-most-talked-about phone – after Samsung's Galaxy S3 – the iPhone 5.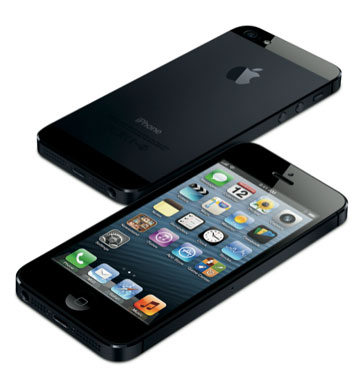 iPhone 5
That's not to say that the iPhone doesn't get a lot of things right. The screen has finally been upgraded, inching closer in size to its smartphone contemporaries, stretching to 4 inches from its previous 3.5 – a size Steve Jobs once described as the ''sweet spot," but which has become almost comically undersized in light of Apple's rivals with whom 4.8 inches is the new norm. An increase in resolution to match the new height brings the iPhone closer to a 16:9 aspect ratio, which will finally help remove the black bars ubiquitous when watching properly formatted media on the device. Around the elongated display, Apple has flexed its manufacturing muscle, bringing a much-needed refresh. Gone is the glass back, replaced instead with brushed aluminum and two glass bands to aid reception. At the front, the new 720p Facetime camera has been centered above a display that boasts in-cell technology, reducing the air between layers and allowing for less glare and faster response times. That display is rumored to be coated in Gorilla Glass, which should remove the screen cracking worries of old.
The new, slender iPhone -- which is just 7.6mm, making it one of the world's thinnest devices – has been put on a strict diet, shedding 20 percent of the 4S's weight to clock in at 3.9 ounces. Apple hasn't removed anything, though, instead cramming a new, more powerful A6 processor inside, complete with better power management and a claimed performance that's two-times better than last year's model. Tied to that is 1GB RAM, which should help the upcoming iOS 6 run as beautifully as the somewhat tired-looking OS can, and storage is the usual 16, 32 or 64GB.
The camera remains the same at 8MP, matching the Galaxy S3 and HTC One X, but Apple has endowed it with additional software features to make those low-res Instagram photos of your cat look even better, including a faster shutter, a new panoramic mode that stiches together a 28MP photo, 1080p video capture and speed increases across the board. Your improved snaps can be uploaded through built-in LTE that runs on Verizon, Sprint and AT&T, or uploaded to your PC via Apple's new Lightning connector, which replaces the old 30-pin adaptor with a marginally faster connection that renders all previous Apple accessories obsolete without the optional $29 adapter. Well, this is capitalism, after all -- you didn't expect it for free, did you?
The new iPhone does an excellent job of playing catch-up with the best of the Android bunch, bringing a much-needed increase in screen size without sacrificing ergonomics, and boosting features such as the speed of the device, the camera, and number of times you can tweet about your fascinating life before the battery cuts out. What Apple failed to do, though, was give the iPhone arguably the most important addition it needed – it doesn't wow. Gone are the days of old when a new iPhone would leave competitors scrambling to match its features. Now, with the latest Android handsets consistently setting the benchmark, the iPhone is left somewhat in the shade. That's not to detract from what is arguably one of the best hardware and software combos in the market, but no longer does the iPhone rule the smartphone roost the way it did when it revitalized the sector in 2007. And so we're left with a device that, while still great, no longer can be held up to the world as the pinnacle of gadgetry. Rather, we have a great looking phone that is just that. Another phone.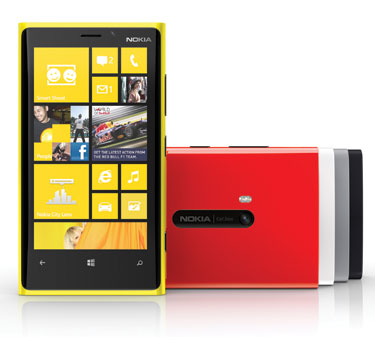 Nokia Lumia 920
NOKIA IS A NAME ubiquitous in most other parts of the world – its native Europe, especially – but one that still lacks impact in the American market. That is all set to change with their latest announcement. The Lumia 920 is coming, people, and it's time to start taking notice.
The company's Lumia handsets run Microsoft's Windows Phone software, an OS that has failed to gain foothold in a market dominated by Android and iOS. This in itself is a travesty, as Windows Phone has arguably the greatest aesthetic of the three, and features one of the smoothest, most intuitive UIs you'll see on any device. From Microsoft – go figure. It spawned the Metro UI that is the hallmark of upcoming Windows 8, and has influenced the dashboard design of the 360, but still consumers are being driven towards the latest Androids and iPhones.
The Lumia 920 aims to reverse this trend, and is doing so in a big way. One of the first handsets announced with the updated Windows Phone 8, it brings with it a raft of improvements over its predecessor, the Lumia 900, as well as a handful of new innovations to the smartphone market – ones that a fruity rival would do well to take note of.
The design of the 920 is its major selling point. With its Lumia handsets, Nokia has one of the handsomest smartphone ranges of any. This is aided in part by the Finnish company's bravado in selecting a color palette – the traditional black, stark white and grey are complemented and contrasted by neon yellow and bright red hues, which give the device a bold, prominent appearance that will help it stand out on the increasingly crowded smartphone shelves. (All Nokia needs is for the gorgeous cyan of the 900 to be a color option, as it was such a refreshing and pleasing change from the norm.)
If retina-searing colors aren't your style, perhaps a retina-searing screen is in order? Nokia has endowed the 920 with a 4.5-inch, Puremotion HD+ display. In layman's terms, that's a 1280x786 resolution IPS LCD screen, claimed to be 25 percent brighter than the next best smartphone display, with a refresh rate of 60Hz, a polarization filter, Gorilla Glass 2 ensuring it survives the worst you can throw at it (or when you throw it), and such a high level of sensitivity that Nokia claims users can operate the screen with long fingernails, or while wearing gloves – which anyone who's ever tried to use a smartphone in winter will attest is a handy thing indeed.
With an 8.7MP Carl Zeiss lens, capable of 1080p recording, and a dual LED flash, the 920's camera is the first smartphone to feature Optical Image Stabilization. Essentially, it has a floating lens that reduces and removes the blur and shake associated with hand movement while taking still images and videos. A feature normally reserved for digital SLRs, Nokia has demonstrated the tech in motion and it works as well as they claim. The camera also allows 5- to 10-times more light into the sensor than its competitors, ensuring great low-light pics, and Nokia is backing up their specs with the statement that it's the best camera currently available on a smartphone – though Sony's 13mp Exmor sensor may have something to say about that.
Other features include wireless charging utilizing the Qi standard, embedded NFC technology, 4G LTE, and a dual-core 1.5GHz Snapdragon S4 ensuring that Windows Phone 8 flies on the device when it launches. Paired with 1GB of RAM and a 2000mAh battery, the 920 should remain fast and functional all day long. Available in 32GB, the 920 is expected to launch later this year, following the official announcement of Windows Phone 8 from Microsoft in the coming months.
Nokia deserves for the Lumia 920 to be a hit. It's a phone that eschews the hard industrial look of the iPhone 5, and ignores the black and white metal and plastic Galaxy, RAZR and One devices, instead offering a design that is as fun as it is beautiful. The company has provided real innovation, not mere incremental upgrades, and perhaps even outmaneuvered Cupertino in being the device that best gives that elusive ''wow'' factor. Whether it can deliver the goods upon launch remains to be seen, but this bold, beautiful phone demands your attention – and, I reckon, warrants it.
Read more of Rhuaridh Marr's technology writing at our blog, Technocrat.
---