Broadway's Musical Wizard
In his extensive and varied career, from Broadway to Hollywood, Stephen Schwartz certainly knows about popular
(Page 2 of 2)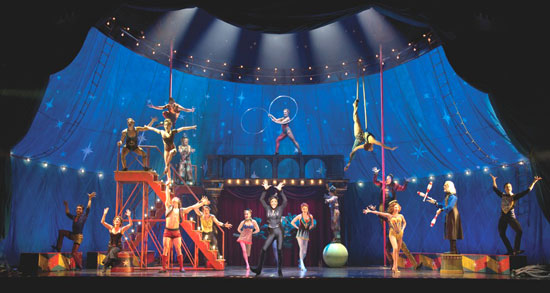 Pippin
MW: In addition to 10 years of Wicked, I understand this year also marks your 65th birthday.
SCHWARTZ: My 65th birthday! I'm sort of horrified to say, but these days there's no concealing any facts about things like that. You have to just be upfront about it.
MW: When is your actual birthday?
SCHWARTZ: Oh, it was back in March. But I guess they consider it the whole year. And it's nice to just sort of stretch out my birthday celebrations.
MW: How did your choral piece ''Testimony,'' first performed by the San Francisco Gay Men's Chorus last year, come to be?
SCHWARTZ: What happened was the SFGMC called me and said we'd like to do a program of your work. And I agreed to it. Then I said, ''Well, I like to write choral music. Maybe I should write a piece for you for this concert.'' I found very compelling and admirable the It Gets Better Project and what Dan Savage and his team had come up with. And I decided I wanted to write a piece based on that. It's inspired by and to some extent derived from interviews that people gave for the It Gets Better Project. It's a piece I'm really proud of.
MW: Along similar lines is Mika's adaptation of one big number from Wicked, rechristened ''Popular Song,'' with a strong anti-bullying message. I realize that will not be performed at the NSO show, but what do you think of it?
SCHWARTZ: I am just so tickled by that. Mika and I had tried to get together to write a couple things, and our schedules just didn't allow it, particularly with the geographical distance between us. And then out of the blue, maybe a year or so ago, he called me and said he had an idea to do something based on ''Popular,'' and would that be okay with me. And I'm a fan of his, so I said, ''Yes -- but of course I'd have to hear it.'' [Laughs.] And he did the record and when I was in London around the time he had finished it, I went over to his house and very nervously he played it for me. I just thought it was fantastic. I just love it. Really amusing and very imaginative, how he used the idea of the song ''Popular'' and converted it into a song of his own.
MW: Obviously the ''Testimony'' piece is of interest to the LGBT community, but then your work in general has a natural resonance and an appeal with the community. And yet I'm not sure whether you are part of our community. Are you gay?
SCHWARTZ: Well, the truth is that there are three topics that I don't discuss in interviews -- religion, politics and sexuality. I don't want audiences who come to look at my work through a prism -- where the extent to which who I am and what I think coincides with who they are and what they think. I like them to just come to the work on their own, and it either speaks to them or it doesn't. So those are topics I just don't discuss.
MW: But obviously, by creating ''Testimony,'' and talking about the power of the It Gets Better Project, you're clearly moved by the power of people standing up and being public about their sexuality.
SCHWARTZ: Well, absolutely. And as you probably know, the companies of Wicked were way out in front in terms of the anti-bullying campaigns, and the It Gets Better Project. We were among the first [shows] to make It Gets Better videos. And Wicked, as you also probably know -- obviously we can't do it as an official entity, but the companies of Wicked have also been very, very active in the marriage-equality campaigns.
MW: Are you working on another show that might become a Broadway show?
SCHWARTZ: Nothing that I can really talk about quite yet. If it comes together and goes forward, there's something that may show up in a year or so. But it's premature really to discuss it. I don't mean to be secretive about it, but so many of these things fall apart, that I find it's best not to talk about them too much in advance.
MW: One thing we haven't touched on is your work in film. I know Disney's Enchanted, for which you wrote lyrics, was just a few years ago.
SCHWARTZ: I've had very happy experiences working with Disney. The three films that I did with them, I did in collaboration with Alan Menken, who I enjoy working with very much and who's a very good friend of mine. Disney seems to not really be making musicals right now, so, currently I'm working on an animated feature for Dreamworks, which is sort of a Bollywood animated musical. And I'm collaborating with the Bollywood composer A.R. Rahman, who wrote the score for Slumdog Millionaire. He's probably best known for that. That's a lot of fun, and that project is in process.
MW: Has there been any talk of adapting your stage work to the big screen?


SCHWARTZ: Eventually there will probably be a Wicked movie, and there's some talk about a Pippin movie. I don't know if either of those will happen, but there is talk.
MW: And how about the other way around, adapting the animated Disney films you wrote with Menken into Broadway musicals?
SCHWARTZ: We are, in fact -- I guess I'm allowed to say it -- sometimes I don't know what I'm allowed to announce and not. But we are talking about a stage adaptation of The Hunchback of Notre Dame, which as you may know was actually done for stage, but in Germany, back in 1999. And now we're talking about the possibility of an English-language version of that. And that may happen, but it's very early [in the process]. But it is in process, and I really like that score, I think it's Alan's best score. And I think it would translate very well theatrically, so I'm happy that Disney is considering it, and I hope it comes to pass.
MW: Do you see more diversity in, or different types of, musicals than when you started in the business?
SCHWARTZ: No, I wouldn't say that's the case. Things seem to come in waves. And for a while, there's one kind of musical because something succeeds and then a lot of people try to do more or less the same thing, and then that stops working. And then somebody does something else that succeeds, and so a lot of producers jump on that bandwagon. I wouldn't say Broadway is extremely diverse in terms of its musical theater, let's put it that way.
MW: Are you not enthusiastic about this year's crop of new musicals?
SCHWARTZ: Well, there weren't very many. There was a very small group of new musicals that made it this year, which is somewhat disconcerting. The last couple of years have not been great for new musicals. But I don't know that that's necessarily a trend. So one hopes that the next couple of years there will be more of them -- and more that are successful.
NSO Pops' The Wizard and I runs evenings Thursday, May 16, through Saturday, May 18, at the Kennedy Center Concert Hall. Schwartz also sits for an ''In Conversation'' interview with ASCAP's Michael Kerker Saturday, May 18, at 5 p.m. at the Kennedy Center Terrace Gallery. Tickets are $20 to $85 for the concert, and $15 for the conversation. Call 202-467-4600 or visit kennedy-center.org.
Pippin runs at the Music Box Theatre, 239 West 45th St., in New York. Tickets are $59 to $142. Call 212-239-6200 or visit telecharge.com.
Wicked runs at the Gershwin Theatre, 222 West 51st St., in New York. Tickets are $105 to $170. Call 212-840-3890 or visit gershwintheatre.com.
---