Obama Issues Hospital Directive
Presidential memorandum requires action on LGBT hospital visitation, other steps by Department of Health and Human Services
In a memorandum released by the White House on Thursday evening, President Barack Obama has directed Secretary of Health and Human Services Kathleen Sebelius to issue rules prohibiting sexual orientation or gender identity discrimination in hospital visitation at hospitals that receive Medicaid or Medicare funding.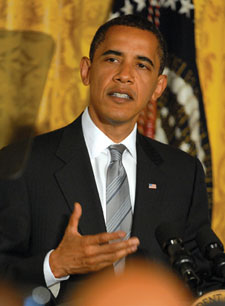 President Barack Obama
(Photo by Ward Morrison / File Photo)
The memorandum orders the HHS Secretary to ''[i]nitiate appropriate rulemaking, pursuant to your authority...to ensure that hospitals that participate in Medicare or Medicaid respect the rights of patients to designate visitors.''
Obama wrote that ''uniquely affected are gay and lesbian Americans who are often barred from the bedsides of the partners with whom they may have spent decades of their lives -- unable to be there for the person they love, and unable to act as a legal surrogate if their partner is incapacitated.''
To that end and as posted on the Lambda Legal Facebook page, it was noted, ''President Obama JUST called Lambda Legal plaintiff Janice Langbehn (Langbehn v. Jackson Memorial Hospital) to let her know that he signed memorandum that effects healthcare needs of LGBT people.''
Langbehn was prohibited from visiting her partner, Lisa Pond, when she lay dying at Jackson Memorial Hospital in Miami, in a story that was highlighted in a profile in The New York Times.
In a comment released by the Human Rights Campaign this evening, HRC President Joe Solmonese said, ''No one should experience what befell the Pond-Langbehn family, and the President's action today will help ensure that the indignities Janice and her children faced do not happen to another family.''
The rule is to provide that the visitation policies for those designated are to be ''no more restrictive than those that immediate family members enjoy'' and is to specifically ''provide that participating hospitals may not deny visitation privileges on the basis of race, color, national origin, religion, sex, sexual orientation, gender identity, or disability.''
Jennifer Chrisler, the executive director of the Family Equality Council, said in a statement, ''As an LGBT parent, I know that families everywhere are breathing a sigh of relief knowing that at one of the worst moments of crisis, partners can protect one another.''
The memorandum also directs Sebelius to ''[e]nsure that all hospitals participating in Medicare or Medicaid are in full compliance with regulations'' that ''guarantee that all patients' advance directives, such as durable powers of attorney and health care proxies, are respected.''
Finally, it requires HHS to ''[p]rovide additional recommendations'' to Obama in the next six months on other steps HHS ''can take to address hospital visitation, medical decisionmaking, or other health care issues that affect LGBT patients and their families.''
---