Soundwaves
DJ Irene, DJ Sander Kleinenberg, Deep Dish, Marc Almond update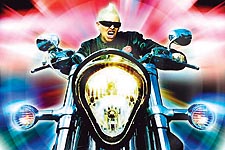 DJ Irene
A ROCKSTAR LESBIAN DJ... She looks like a lesbian. She sounds like a lesbian. And she is, in fact, a lesbian. But few lesbian clubgoers, and even fewer gay male clubgoers, are familiar with DJ Irene. How's that? Here's how: DJ Irene only spins at straight clubs. While there are those DJs who spin in both straight and gay clubs -- not to mention points in between -- most stick to one and become unknown in the other. So it is that Irene can be "the No. 1 selling female DJ in America" and yet you likely remain oblivious. It's not that she has no love for her fellow homosexuals, we're sure. But just as true, for her as well as her fellow gay DJs who work the straight club scene, and her fellow straight DJs who work the gay club scene, it's not that her chief concern is with breaking down barriers -- even though she might tell you as much. No, Irene Gutierrez simply works where she's wanted. She works where her particular brand of dance music finds a natural audience.
You only have to give her latest compilation, Rockstar, featuring many of her own compositions, five minutes to see what Irene's brand of dance is. The disc opens with the sound of a motorcycle revving its engine. Once we're cruising down the freeway, a blaring electric guitar enters the scene. And then we're assaulted with all kinds of no-holds-barred, no-silence-spared sonics. DJ Irene doesn't aspire to be just a rockstar -- she wants to be a heavy-metal star. It's techno gone mad -- and bad-ass. And very Attention-Deficit Schizophrenic: more than a quarter of the 28 tracks clock in at less than two minutes.
It's not hard to see why she'd find a fan base for her unique sound in the straight scene (especially its male half), and there'll no doubt be a rowdy crowd at Nation this Friday, November 12, to hear her spin at the Cubik party (visit www.buzzlife.com)...
A DUTCH DEEP DISH... The next big thing in dance music -- that is, of course, the next big DJ -- just may be newcomer Sander Kleinenberg. Kleinenberg has slowly but surely made a name for himself the past couple years as a sensitive, sensual house music remixer. He's just released his first compilation, the strangely named This Is Everybody Too, a double-disc affair that trades in the same chilled disco, grounded, progressive house style of his remixes -- most prominently, Justin Timberlake's "Rock Your Body" and Janet Jackson's "All Nite (Don't Stop)." He's yet another Dutch DJ, but Kleinenberg sounds closer to D.C.'s own Deep Dish in approach than to the flowery, showery trance of compatriot Tiesto, the world's biggest DJ. Deep Dish proves to be a hard act to follow, but Kleinenberg just might surpass the duo one day if he continues down the road of seamlessly blending tracks from various artists to sound as just one, consistently thought out song. He does this most impressively halfway through disc two, where he fashions a neo-Britpop "song" a la Franz Ferninand or Underworld, but without lyrics, for the most part.
As much as he may recall Deep Dish, Kleinenberg avoids including them on his compilation. But Irene does, sputtering her compilation to an end, as the guitar chords of Deep Dish's "Flashdance" peter out. It's a strange choice to close her compilation, and it's a strange false note from the storied D.C. dance-production duo of Ali "Dubfire" Shirazinia and Sharam Tayebi. The song, flash-fried in top-of-the-line disco grease, is an ode to the hit from the movie of the same name. The post-disco vibe of that era is there, but otherwise, it's not as amazing as we'd expect. With lackluster vocals from newcomer Anousheh, an under-baked melody, and no real chorus, just a held guitar chord, it leaves us wanting. It's not so bad that it quells our anticipation for the duo's next artist album, its first in what will be more than six years. It's due early next year. And D.C.'s own Richard Morel lent a producing hand and his appealing ominous voice to several tracks...
HEDWIG GETS 'FILTHY'... It couldn't be a better fit: Hedwig and the Angry Inch's John Cameron Mitchell has directed a video of the Scissor Sisters' "Filthy/Gorgeous," the little ditty about Jake Shears' days as a go-go dancer. A sneak preview of the video was leaked online late last month -- and then promptly removed. The video is set in an anything-goes nightclub, where the two gay Sisters (Shears and BabyDaddy) are seen, in effect, breast-feeding. No word when either the single or the video will be released. It probably won't be before the turn of 2005 though, since the psychedelic ballad "Mary" was just released as single No. 3 taken from the Sisters' self-titled debut, following "Take Your Mama" and "Laura"...
SOFT CELL SINGER RECOVERING... Soft Cell singer Marc Almond is recovering from his severe auto accident much better and quicker than expected. He's no longer in the hospital, and a post to his Web site suggested he's fully conscious despite his head injuries suffered after being thrown from a motorcycle into a busy London street. "We never imagined that after only three weeks we'd be sitting in a room drinking tea and laughing and joking with him just like before," read the post...
---