Soundwaves
DJs Joe Gauthreaux, Abel, Chris Cox, Roland Belmares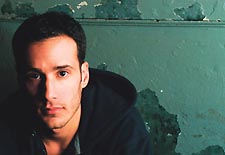 Gauthreaux
GAUTHREAUX'S AMBITION... Joe Gauthreaux intends his new compilation Party Groove: Cherry Volume 2 to stand the test of time. "Five or 10 years from now, I'd like anyone listening to this CD to be as moved by it then as they would be today," he writes in the liner notes to the Centaur Records set honoring Washington's Cherry circuit party (the first volume was released by Centaur four years ago). It's hard to forecast 10 years from now, but Gauthreaux just may succeed in his long-term ambition. His accomplished compilation manages to reflect the high-energy sound heard at Cherry, whether you just went last weekend or to the first one nine years ago. The more dance music changes, the more disco remains its foundation and abiding groove.
Gauthreaux's set moves from a wildly percussive (and too long) opening track into a sweet stretch of happy house, the direct descendant of disco. It loses steam for a while after that, with ominous and monotonous barely there tracks and too many spoken vocals. Gauthreaux also could have scaled back the screaming-diva tracks, and he would have made Cherry more instantly satisfying if he had thrown in more true songs like the superb Warren Clark remix of "Drama" by DJ Rhythm presents Soul Theory. Or Kings of Tomorrow's "Thru," a sweet, soulful house tune, featuring a sensitive male vocal, that perfectly caps off the CD, making any negative thoughts you had during the past hour fade away....
ABEL'S CONFIDENCE... Abel Aguilera perfectly capped this year's Cherry party by ending his nearly six-hour Closing Night set with Diana Ross's disco great "The Boss." He spun an extended remix of the song that kept the full blissful disco vibe intact. If you weren't smiling as it played, you weren't really there. It was the kind of grand gesture that only a confident DJ today would make -- after all, no one goes to Nation on a non-retro night expecting to hear disco. Abel is nothing if not confident, a fact that shines through on his compilations, including his contribution to the new Queer as Folk: Club Babylon two-disc set from Tommy Boy Records. Abel continuously mixed the second disc here, while Chris Cox handled the first. Unlike last year's Alegria two-disc set, which Abel claims was a personal reflection of his tribal-house sound, the Queer as Folk set only reflects that cable series. "There's not really much selection that I could do," he says, "because it's based around the show." But he did get to make some track selections, as well as choose the sequence -- enough freedom, obviously, to ensure his tribal sound is in full effect. He packs a stellar one-two opening punch with back-to-back remixes from Offer Nissim: first the shimmering "Home" by Suzanne Palmer, then the emotionally intense "The Wonder Of It All" by Kristine W. It's beyond my comprehension why he follows these with the maddeningly obnoxious "I Need You" by Friburn and Ick -- sorry, Friburn and Urik. But that's the only weak spot on Abel's set....
COX'S BOREDOM... Chris Cox also has only one real weak spot on disc one of Queer as Folk: Club Babylon. But his inclusion of "Dive in the Pool" by Barry Harris featuring Pepper Mashay encapsulates the problem Cox faced here. While Abel was tasked with assembling a set featuring tracks from the upcoming final season of the show, Cox got stuck with those songs already featured in the last four seasons. Cox has mostly great songs to work with, but you can tell he wasn't very inspired by the project. He makes little effort to seamlessly mix most of the tracks, offering precious few segues. So, for example, Book of Love's "Boy" just ends when the beats come in to the bare Oscar G remix of Ultra Nate's "Free." To paraphrase Nate, Cox wasn't free to do what he wanted to do, so he only did what he had to do....
BELMARES' HAPPINESS... Another year, another Queer as Folk tour. Except this year's Ancient Babylon Tour will likely be the last edition, what with the show beginning its final season next Sunday, May 22. The tour stops next Saturday, May 21, at Velvet Nation. Abel is the headlining DJ on the 18-city tour, but Roland Belmares will be the focus of D.C.'s stop. A past Cherry DJ, Belmares has proven himself to be a satisfying spinner, whether live or on record. His second Centaur Records compilation to honor Miami's Winter Party, Party Groove: Winter Party 8, unlike Gauthreaux's Cherry set, is loaded with fully formed songs featuring strong vocal melodies. The set is bright and sunny, like a typical Miami day. It's one of the very best compilations released so far this year, and it'd probably be the best if not for Belmares' love for the blaring siren sound that globs up the set, repeatedly interrupting the happy mood. Does he mean it to be a subtle warning to clubheads of the dangers of illegal drug use? If so, hopefully he'll figure out another, better way to convey that message in the future....
---