Soundwaves
Madonna, Rachel Panay, Donna Summer, Wynonna Judd, Reina
GET INTO THE GROOVE... She's back! Well, Madonna was never really missing in gay clubland of course -- no other contemporary singer has even half as much unalloyed power over the gays. How to explain it? But Madonna has her first bona fide hit in clubland (and everywhere pop music gets play) in half a decade with her ABBA-sampling ''Hung Up.'' Not since ''Music'' in 2000 made the bourgeoisie and the rebel come together has pop culture been so -- what's the phrase? -- hung up on her. With ''Hung Up'' at No. 7, she's snared her highest-charting Top Ten hit on the main Billboard Hot 100 Chart in four years, since 2001's No. 4 peak of ''Don't Tell Me.'' And she dominates all three Billboard dance singles charts, with ''Hung Up'' atop the constantly shifting Club Play Chart for a month now.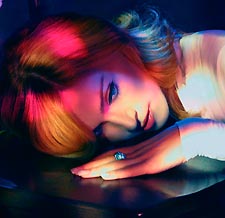 Madonna
Madonna also hasn't experienced in years the kind of commercial and critical success that her new album, Confessions on a Dance Floor, has registered. And you can see the results all over her face. In promoting the album she hasn't looked or sounded happier and more in her element in ages. Which is why a tour in support of the album next summer seems exceedingly likely, and exceedingly like a can't-miss proposition. Even more so given her thoughts on how she'd approach a new tour. ''It would be all out disco, with lots of disco balls. I would focus on dance music and the new record,'' she told Billboard....
ON THE MOVE... While Madonna has a lock on the top spot, other dance heavyweights are congregating around her on the Billboard Club Play Chart, for old times' sake. The Eurythmics, Simply Red, even Donna Summer are all in the current Top 5. That just makes it all the harder for newer dance singers to break through, although Rachel Panay did just fine for herself with her second chart hit, ''I Still Believe.'' Earlier this year ''Back to Love'' spent two weeks at No. 2. Though a better song, ''I Still Believe'' just peaked at No. 7. Panay wrote the lyrics about her ''one true love,'' whom she had broken up with years earlier. ''I still believe we were meant to be together, stay together till the end of time,'' goes the main lyric. Panay tells us that she's since adjusted her ''philosophy on true love'' to ''believe in soul mates. I say that in plural, not singular, otherwise I would be doomed, right?'' she tells us. ''Something about the writing of ''I Still Believe'' and expressing the sentiments behind it to others kind of dislodged the very last remnants of sadness and grief about the end of the relationship that inspired it.''
Now that she's moved on and ready to love again, so to speak, she's also moving on from her hometown and current residence of D.C. Next month she'll move to the Big Apple, as she aims to give her career a bigger boost. Once she moves to Manhattan, she'll start work on putting together her third single, again as with the last two in production with Josh Harris -- though next time the goal is ''to surprise people and explore a somewhat different sound in production and subject matter.'' You'll have plenty of opportunities to see her before she moves, since like Cher on a smaller scale, she's planning a farewell tour of DC's gay club haunts during the first week in the new year....
WYNONNA DANCES... While Donna Summer seems to be an eternal fixture in clubland, charting now with new song ''I Got Your Love,'' there are plenty of other dance upstarts who would gladly take over from her. Including, obviously, Rachel Panay. But also, not so obviously, Wynonna Judd. Yes, the same country singer who first gained fame decades ago as the daughter-half of The Judds and who is now as famous in her own right as she is in being the sister of actor Ashley. While in Manhattan for the Country Music Association Awards, Judd told Billboard that she wants to make more dance music, inspired as she was by the recent club remixes of her cover of Foreigner's mega-hit in the '80s, ''I Want to Know What Love Is.'' ''Just call me Wynonna 'Donna Summer' Judd,'' she told Billboard....
REINA, A NEW QUEEN... Speaking of the improbable intersection of dance and country, you might have mistaken a current song, ''Forgive,'' by relative newcomer Reina as a new song from LeAnn Rimes. Featuring bright vocals and a slight twang in her singing voice even though she was born in the Bronx, Reina has had some difficulty distinguishing herself from her contemporaries, especially since she's not a dance crossover artist. She's not a country or pop star dabbling in dance, but a dance singer through and through, who's had at least one other song you've likely heard before, 2003's ''No One's Gonna Change You.'' You thought that was Rimes, too? Oops. Like Tiffany two decades before her -- to whom she also sounds similar -- Reina is preparing for a national mall tour to promote her year-old album, This Is Reina, and her latest single, ''Forgive.'' In the song, her man is asking her to forgive him, but she's not sure she can. As she amusingly puts it, ''That's a mighty big word for such a small man''....
---