Soundwaves
Grammy Dance Award Nominees, Deep Dish, Kraftwerk, more
IT'S A MAN'S GRAMMY WORLD... This time next year, the dance community will almost assuredly be abuzz about Madonna. Since neither Confessions on a Dance Floor nor its first single, ''Hung Up,'' were released in time, both aren't up for consideration at the 48th Annual Grammys (the cut-off was September 30), which will be held February 8, 2006.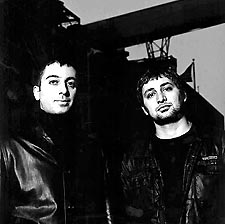 Deep Dish
You've surely already heard the 48th Grammy ceremony is essentially dedicated to the comeback of Mariah Carey. Carey picked up eight nominations, though Peter Rauhofer didn't get the nod he should have for his remix of her mega-hit ''We Belong Together,'' certainly clubland's most popular remix this year as well as one of its best. Moreover, Gwen Stefani isn't represented in any of the three dance categories -- Best Dance Recording, which recognizes a dance song, Best Electronic/Dance Album and Best Remixed Recording, Non-Classical. Stefani did score five total nominations, however, including Record of the Year for the gleefully giddy and great ''Hollaback Girl'' and Album of the Year for the gleefully giddy and great Love.Angel.Music.Baby. You can see the full nominations list at www.grammy.com.
But it's not just Carey and Stefani missing in action in the dance category. (The aptly named hipster favorite M.I.A. is too.) Despite a predominance of female vocalists in the dance genre, you wouldn't know it from the Grammys. Women are responsible or associated with only four out of 16 nominations this year. One of the four is Kylie Minogue. With ''I Believe In You,'' Minogue has now been nominated for four consecutive years in the dance song category, winning once, with 2003's ''Come Into My World.'' Anousheh Khalili accounts for another two female nominations, though you won't find her name anywhere in the Grammy list, and you've surely never heard of her. She gives voice, literally, to the two nominations that DC's own Deep Dish racked up, including ''Say Hello,'' a beautifully tart, guitar-driven song that should beat Minogue's weak song and could beat New Order's classic-sounding ''Guilt Is A Useless Emotion'' to take the dance song award. If Deep Dish were to win here, it would mark Ali Shirazinia and Sharam Tayebi's second Grammy, after the 2001 statuette for the duo's remix of Dido's ''Thank You''....
GRAMMY'S ''MR. BRIGHTSIDE'' REMIX... Deep Dish -- and, ahem, Khalili, who gets slighted even on the duo's releases, buried in the fine-print credits -- got a second nod on account of David Guetta and Joachim Garraud's F*** Me I'm Famous Remix of the song ''Flashdance.'' Three other dance remix nominees are drawn from separate remixed collections of R&B and jazz classics, including the fourth female nomination, courtesy of Adam Freeland and his remix of Sarah Vaughan's classic rendition of ''Fever.'' None of them represent the best of that sub-genre, and in any case they'll probably cancel each other out among Grammy voters who favor the style. So Guetta and Garraud's ''Flashdance'' faces its biggest threat for the award from last year's winning remixer, Jacques Lu Cont. (Last year he won for No Doubt's ''It's My Life.'') If Lu Cont, now just as well known by his birth name Stuart Price, were to win for his ravishing remix of The Killers' ''Mr Brightside,'' he would be two for two as he crashes into the 49th edition, at which he should rack up multiple nominations for his work with Madonna, not to mention other remix projects....
KRAFTWERK FAVORED FOR DANCE ALBUM... Even with men given clear preference among Grammy dance nominations, nominators could have done better than to turn twice each to the Chemical Brothers and to Fatboy Slim -- both in the dance song and dance album categories. Both acts' glory days passed years ago. Meanwhile, it is indeed an oversight that the German group Kraftwerk only now receives its first Grammy nomination after 35 pioneering years of electronica. But it wouldn't right that wrong to honor the only intermittently good Minimum/Maximum as 2005's best dance album, though the two-disc set of mostly Kraftwerk classics performed live seems likely to get the nod. Even worse would be to give the award to the clearly Kraftwerk-inspired Daft Punk, whose latest album, the agitating Human After All, shows the once-clever French duo losing its touch. In an ideal world, then, it would be a cinch for LCD Soundsystem to clinch the dance album award with its fresh-sounding, entertaining and assured eponymous debut of dance-rock....
HEAR 'EM FOR YOURSELF... Okay, enough complaining. One positive thing about the Grammys, circa 2005: every recording nominated in the three dance categories, including all five remixes, is commercially available. It's a clear sign that dance music is finally becoming as much of a consumer-friendly genre -- and not just a DJ-friendly one -- as all the others. Why, just a few years ago you'd be lucky if you could find for sale a non-vinyl copy of even one nominated remix anywhere. Now, they are all only an Internet-connected computer and a dollar or two away....
---