Soundwaves
DJ Ricardo, Out Anthems, Centaur records, RuPaul, Gayest song ever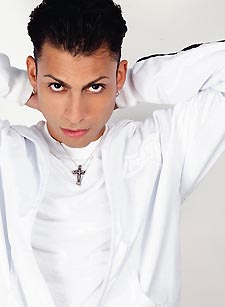 POST-PRIDE OUT ANTHEMS... Gay Pride Month may have already come and gone, but gay anthems have a long shelf life, so you'll get at least another month or two of use from two new pride dance compilations. America's leading dance label has released its first-ever openly gay set. How does DJ Ricardo! Presents Out.Anthems differ from other sets released by Ultra Records? Well, it's the first to feature a man on its cover. So we see a shirtless and hairless man just emerging from the ocean instead of a bikini-clad woman in a provocative pose. Otherwise, the 14 tracks are standard Ultra fare -- which was pretty gay to begin with. This set is no better or worse than other recent Ultra compilations, though without the likes of Kelly Clarkson, Madonna and Goldfrapp, or really any well-known singers, it seems less gay than another new set from the label, Ultra.Weekend 2. It's also nowhere as good as the label's two-disc Clubber's Guide Vol. 1 as compiled by Johnny Vicious, which still manages to sound pretty fresh one year after release.
The label defines ''out anthems'' as easily as possible, as those that ''have rocked gay clubs around the world.'' But those assembled here have rocked -- or soon will rock -- straight clubs, too. Further, none of these songs have gay-specific lyrics, and few are performed or produced by identifiably gay artists. What ultimately gives them status as ''out'' anthems here is, essentially, that DJ Ricardo! declares them to be. This unknown DJ, who has spun for small gay parties in New York, is hardly the ''gay superstar'' that the label makes him out to be. Maybe, in time, he will be. He does an astute job compiling his selections, transitioning between them and house music genres with great ease. The latest from the increasingly prominent British production team Freemasons is included here, the catchy ''Watchin''' featuring Amanda Wilson. Wilson sings key phrases from Deborah Cox's popular hit ''It's Over Now.'' The standout track of the compilation is Dylan Drazen's remix of ''B*tch'' by Dave McCullen, a Belgium-based DJ/producer. The track pops with sassy energy as the chief lyric is frequently repeated: ''I just like to call you my bitch''....
POST-MARSH PRIDE BRINGS JOY... For Centaur Records, the question is not so much what defines an out anthem, since this gay label only releases records that have a gay angle. Instead, the question is: Just what differentiates a pride dance compilation from any of the others Centaur frequently releases documenting and commemorating gay circuit parties across the nation? For all five previous editions, the answer was, essentially, overplayed ''classics'' and especially underdeveloped covers of classics, as well as anything new leftover after selections for the circuit party compilations had been made. And just as often it was all assembled without any concern for smooth segues from one track to another. But with the retirement of the once-great DJ Julian Marsh, the label has stepped up its game plan for what has been its biggest-selling series. Replacing Marsh in compiling Party Groove: Pride 06 is Max Rodriguez, a longtime resident DJ at New York's Splash Bar/SBNY. And though Rodriguez still assembles forgettable classics and especially forgettable classic covers, he also shows a keen sense for selecting tracks worth repeated listens. Highlights include Sami Dee & Freddy Jones' fantastic reconstruction of Crystal Waters' ''Gypsy Woman (La-Da-Dee),'' with the addition of sauntering bass, and full-throated singer Alisha King's jiving remake of the piano-driven disco classic ''The Love I Lost''....
RUPAUL REWORKED, NOT TRANSFORMED... RuPaul does not factor into either pride compilation, though it's not for lack of material: the drag queen's last full-length album, 2004's Red Hot, included many uptempo tracks that never got much attention. And RuPaul recently released a collection of 15 remixes, RuPaul. ReWorked. Most of these remixes are too hyper and predictable to draw renewed interest in either RuPaul classics, including his 14-year-old breakthrough hit ''Supermodel (You Better Work),'' or newer singles, including ''The Lonely,'' as remixed by Giuseppe D, who, with Tom Trujillo, does a much better job reworking RuPaul's remake of Depeche Mode's ''People Are People.'' Despite other contributions from the likes of Junior Vasquez and Gomi, that Giuseppe D remix and Joe Carrano's tribal taunting rework of ''Are You Man Enough?'' are just about the only two that will compel you to sashay, shante, shante, shante, shante....
GAYEST SONGS EVER... So what are the gayest dance songs of all time? According to his show on Sirius Satellite Radio's OutQ, Frank DeCaro suggests it's a toss up between ABBA's ''Dancing Queen'' and Sylvester's ''(You Make Me Feel) Mighty Real.'' DeCaro and co-host Doria Biddle identified those as the only two dance songs in a top ten ''gay sensibility'' countdown that aired June 23. The gayest song? ''Bosom Buddies,'' as performed by Lucille Ball and Bea Arthur in the filmed musical Mame. David Bowie, The Smiths and Doris Day also factor into the countdown. But Billboard columnist Michael Paoletta noted one classic, among others, that was oddly not included: Judy Garland's ''Over the Rainbow''....
---