Soundwaves
Chus and Ceballos, Peter Rauhofer, Ultra compilations and electro.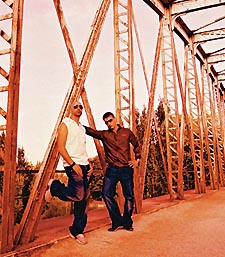 Chus and Ceballos
C&C's TASTEFUL TRIBAL... Chus Estaban and Pablo Ceballos, the Spanish powerhouse house duo Chus & Ceballos, have essentially made a dare to listeners of Back2Back -- just try to find fault with this two-disc compilation, their first official American release. They compiled it with a clear sense of purpose, to export a distinctive, warm and hypnotizing sound, which is adventurously, intensely percussive but never to the point of being busy, cluttered or undignified. Tasteful tribal, you could call it. As such, Chus & Ceballos have created the most accomplished compilation heard in a long time. This DJ-mixed album raises the bar for a young medium that after just two decades shows more and more signs of becoming an art form. It goes a long way to explain why to hear these straight Spaniards spin live, as they do at select engagements in North America, both straight and gay, is to become an instant fan. Hopefully soon they'll venture to D.C.
But about that dare. One obvious criticism a cranky consumer could make: Where are the vocals? The 29-track set includes only a handful of vocal-based tracks. Also likely to frustrate some is that surprisingly few of the tracks are familiar to even the most observant clubgoers. To these complaints, C&C could respond: Patience is not a four-letter word. Stick it out -- many tracks will prove to be sure-fire club hits sooner or later. In the meantime, the tracks are perfect for boosting your adrenaline, whether you're dancing, weightlifting or just seat-warming.
This compilation won't appeal to the common-denominator dance music consumers seeking a hit parade. And that's where C&C seems to dare the listener again. Just listen to the set a couple times -- really listen, paying attention to how they've plotted out the music. The two usually spin together, but not always and not here -- yet there's a stunning uniformity in sound. Chus opens disc one with a very sensual, post-sunset-type of groove, with a flute, what sounds like a didgeridoo, lightly tapped hand drums, a pulsating electronic bass and singer Monica Hernandez agitating in Spanish about wanting to be free. Soon enough, but so gradual it might take you by surprise, it becomes late night, a free and freewheeling time of heavy bass lines, galloping beats, synth swooshes and well-paced dramatic pauses and parsing of sound. Chus is taking you on the proverbial DJ journey. Sure, all DJs aim to do the same, and they all talk a good game. But you've never experienced anything quite like this before....
RAUHOFER'S ELECTRO BOOM... On their compilation, Chus & Ceballos feature many of the artists on their own Spanish label Stereo Productions. But the set comes from their new American home, Star 69 Records, owned by this year's Cherry headliner Peter Rauhofer. Rauhofer signed C&C because he wants to increase the duo's recognition stateside, in the same way he's hyped gay Israeli DJ Offer Nissim, also on his roster. Rauhofer is also promoting another newcomer -- Nick Terranova. You may already know him by his handle, Starkillers, and his first single, ''Discoteka,'' the gritty club-burner on which Tia Texada coos sultrily about her wet and dirty sound. ''I make the beats go boom, papi,'' Texada sings, provoking an aural orgasm. If Starkillers's upcoming second single, ''Scream,'' is even half as fantastic, the only thing to say is, boom, boom. Also, in late fall Star 69 will release a Starkillers mixed compilation. Boom, boom, boom....
ELECTRO-FIED... Terranova as Starkillers offers a case study in how what started out five years ago as faddish electroclash has mutated and endured to become one of the leading sounds of today's dance floor. Now known as just electro, the sound is booming. But unlike most of electroclash, electro is not cold or robotic. It's not as confrontational, and the emphasis is as much on substance as style. Rauhofer has become one of the sound's biggest champions, especially in gay clubland.
And new electro has gotten so popular two other leading dance labels have gotten in on the act, releasing two-disc sets wholly devoted to the style. Fittingly enough, America's leading dance label Ultra Records includes new work from some of old electro's pioneers (Depeche Mode, New Order). But otherwise Ultra Electro, compiled by Ultra's David Waxman, isn't particularly noteworthy. And it's far outdone by the soul-house-focused Om Records' foray into the genre. Electrolush lives up to its name -- the sound is chunky and funky, generally the opposite of austere and obtuse. Some of the best tracks from Ultra's set repeat here. And with less stress to appeal to the masses -- Ultra's characteristic weakness -- Om's DJ Fluid puts together a smarter, hipper mix....
ULTRA'S VICTOR(Y)... Ultra Records hasn't given up on other styles of dance music. In fact, the label is expanding all around. They're working to increase their already-strong appeal to the gay market, beyond a steady output of diva-dominated dance-pop compilations. They released the first explicitly gay diva-dance compilation this summer, DJ Ricardo!'s Out.Anthems. And now comes word the label has signed Victor Calderone. Ultra will release a mix album in January from the gay-popular tribal housemaster -- and it should be noted, early Chus & Ceballos champion. It'll be the first compilation from Calderone in more than three years, or a long time for fans to Resonate....
---