Soundwaves
Madonna's birthday, Jody den Broeder, Sarah Brightman, Liu Huan, more
BURNING UP HER BIRTHDAY CAKE... How many times in one year can gay bars celebrate Madonna? In fairness, it's not every year the Sticky and Sweet star releases a new album. And it's not every year she turns 50. That's right, you might not know it from her ''new new face,'' the surgically enhanced visage dissected in last week's New York magazine, but Madonna will be half-century old this Saturday. Where's the party? To paraphrase old (that is, young) Madonna, Town, if you can dance, or JR.'s, for inspiration. Actually, if you ask nicely, you can probably get into the groove almost anywhere....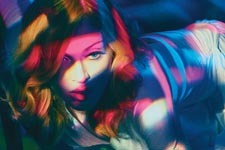 Madonna
GIVE IT AND SHAKE IT... If you're lucky, while you're out celebrating you'll hear Jody den Broeder's remix of Madonna's 39th No. 1 dance hit, ''Give It 2 Me.'' Tony Moran played it last Saturday at Town during his impressively banging debut at the club. Apparently her label's promotion of the original song, fantastic on its own, is partly to blame for the fact that it's gotten minimal radio play and only reached No. 57 on the pop chart. Warner Bros. inexplicably waited nearly two months to release the song after it actually reached its chart peak, a feat it achieved the very week it debuted on the chart. And the label hasn't done much to promote it since its delayed release last month. Good thing she's moving on from Warner Bros. Now, according to an unsubstantiated note on Wikipedia, the label is preparing to release the song ''Heartbeat'' as the third single to come from Hard Candy.
Until that happens, though, savor den Broeder's ''Give It 2 Me'' remix, hard and pulsing like a heartbeat. It's remarkably different from most of what we've heard previously from den Broeder, who got his start with Thunderpuss. (Remember when Chris Cox and Barry Harris turned clubland upside down with their bombastic remixes under that name?) Den Broeder has most recently collaborated on remixes and productions with Ralphi Rosario and Tony Moran, though he branched out as a solo star last year remixing Rihanna, from ''Umbrella'' to ''Don't Stop The Music'' to her latest, ''Disturbia.'' Like Moran, den Broeder's sound seems to be getting progressively harder; he certainly pulled out all the stops for Madonna. To paraphrase her again, he gives you the bass line, and you'll shake it....
DANCING FOR THE OLYMPICS... Sarah Brightman and Chinese pop star Liu Huan unveiled the official theme song of the Beijing Olympics during last Friday's stunning Opening Ceremonies, singing from the top of a 16-ton globe. But you've probably already forgotten about the treacly ''You and Me,'' or at least you want to. What else is there? Well, dance label Ultra Records has teamed up with Coca-Cola to release eight songs from artists on its roster, essentially running the dance-music gamut, from techno to trance to soul house to dance-pop. Graphic artists in China were also tapped to design eight Coke bottles for this We8 project, focused on eight core Olympic themes, including harmony, collaboration, perseverance and happiness. You can see the designs and download all eight tracks through www.ultrarecords.com/we8. Did we mention all eight are available for free?
Among those contributing to the project is the world's most popular DJ, Tiesto, who actually spun during the Opening Ceremonies at the Athens Olympics in 2004. ''Global Harmony'' is an instrumental trance track that's typical Tiesto through and through. A singer often featured on Tiesto's productions, Jes simply re-jiggered a song, ''You and Me Belong,'' from last year's debut solo album Disconnected. She rechristened the track ''Be It All'' and altered lyrics to reflect Olympic-sized positivity.
Jamaican newcomer Cezar sings a cute Bob Sinclar-style, reggae-informed song, ''Keep On.'' Meanwhile, three other vocalists in the project go completely unmentioned -- an insidious dance music practice that shows no sign of ending. There's ''Peace on Earth,'' which is clearly not sung by the DJ/producer behind it, Serge Devant, since the singer is a soprano -- and Devant, by all accounts, is a man. Maybe it's trance singer Jan Johnston, who Devant has worked with in the past? Maybe, but we have not been able to verify that. Also unclear is whether Jay-J's soul-house ditty ''Happiness'' -- obviously sung by a woman, but credited solely to him -- is sung by Latrice Barnett. It sounds like her and she is one of his most frequent vocalists. But you would think she, at least, would mention it on her Web site. She doesn't.
Perhaps the best track comes from San Francisco's Kaskade. But who sings ''Beautiful World?'' Kaskade, the pseudonym of Ryan Raddon, is not a singer. After much digging -- Why don't singers raise more of a fuss with all of the lack of recognition? -- we finally figured out at least this puzzle. It's Marcus Bently, an indie pop singer from Utah who has a crisp, keen voice somewhat reminiscent of Coldplay's Chris Martin. Here's hoping we hear more from him -- and that we'll know it when we do. Devant, Kaskade, Jay-J and all the rest: Enough already. Stop confusing us by slighting singers and taking all the credit....
---