Soundwaves
Britney, Avril, and Peter Rauhofer
CAREER SPEARS... Britney Spears and her publicity machine are in overdrive, working to keep her name in the headlines -- from now until the end of her career. Of course, that may be only a matter of months, so last week's prattle about a Spears-guided daytime TV talk show may have been hot air. If it proceeds the talk show wouldn't begin until late next year. That's around the same time as Mrs. Gigli (a.k.a. J. Lo) is reportedly considering starting one as well, if her career survives its recent deflated state. Anyway, much like many a boss, Spears would do a spot of work on her talk show, show her face occasionally (but only via videotape) -- and take all the credit, likely with her name in the title. (That idea flopped, however, when she launched a New York eatery two years ago.) To make the show a reality, Spears will have to have a hit with her next album, due in the fall. An initial push for it will come right here in D.C., for free -- at the annual concert to kick-off football season. Set for Thursday, Sept. 4, on the Mall for broadcast that evening on ABC, Spears will appear with other artists, including one she could certainly learn about career longevity -- and talent -- from: Mary J. Blige. Blige will be promoting her album, Love & Life (Geffen), produced with Sean "P. Diddy" Combs, to be released a week earlier.
Also weighing down on whether Spears will banter on TV: the success of her second stab at movie stardom. Spears will play the daughter of a NASCAR racing driver in Trading Paint. BBC Radio 1 knows of no plans for Spears to sing or race in the film, and couldn't say when it would be released, though surely sometime next year. In any case, here's hoping Spears has learned from her fender-bender crash with her first film, Crossroads, or this could be a fatal pileup…
SK8ER BOI, THE MOVIE... Perhaps what Spears needs to hit one more time is find someone to pen another movie, this one with a plot taken from her lyrics. Lyrics such as, "Get it get it, get it get it," and "Baby, don't you wanna, dance up on me," both from "I'm A Slave 4 U." Before you suggest this is one hair-brained idea and that I've lost my marbles, think Avril Lavigne. Spears' media-made nemesis, the snarly grrl, has licensed her "Sk8er Boi" song lyrics to serve as a plot for a movie. Billboard reports that an ER writer/producer will adapt Lavigne's words into a feature film for MTV Films. "He was a boy, she was a girl/Can I make it anymore obvious?" Apparently she can. "He was a punk, she did ballet/What more can I say?" Lots, as it turns out. Who said poetry was dead?…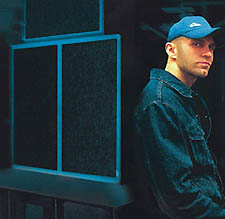 Rauhofer
DIAL *69 TO DANCE... Peter Rauhofer is Star 69. The vast majority of releases on Rauhofer's Star 69 Records label are Rauhofer's own productions, whether under that name or a colorful pseudonym (Size Queen most recently). It's been his DJ vanity project for four years and as with all vanity projects, a DJ-driven label is only good as its DJ. Rauhofer is a very, very good DJ (he's currently the resident at the Saturday night gay party of New York's Roxy nightclub) and is a Grammy-winning remixer, too, but even an award-winning artist benefits from an editor, and sometimes you wonder how much editing of Rauhofer there is at Star 69. He could have used more, a lot more, with hear, his debut chillout CD produced in conjunction with the ultrahip diner Cafeteria in New York and Miami. Maybe he'll get better with chillout, or downtempo dance music, as time goes on, but hear left us cold.
The last time Rauhofer star-69'ed us on the up-tempo dance music hotline was with the first edition of the two-disc set >Live@Roxy last fall. The set showed off his mixing skills but warded off repeated listens by stripping songs of nearly all melody and lyrics. He repeats the Live@Roxy compilation this year, with >Lve@Roxy2, but he doesn't repeat the same mistakes twice. Many of the songs on >Lve@Roxy2 compel repeated play -- on your stereo, at the club, as cocktail chatter. You'll frequently play back Amuka featuring Sheila Brody's "Appreciate Me," one of 2003's best dance songs, which is just now starting its ascent in clubland. You've no doubt already heard Andrea Doria's "Bucci Bag," a song custom-made for drag queens -- but it's still fresh and ready-to-rock one month after release. You'll chuckle every time you hear Kim Cooper rifle through her dictionary on "Unique," an early 1990s tune from Rauhofer, created under his Club 69 moniker. Even with several overplayed songs or uninspired anthems (Moby's "In This World," Friburn & Urik's "Elefants" dub) >Live@Roxy2 is peerless among dance compilations currently playing. Repeatedly…
Doug Rule can be reached at drule@metroweekly.com.
---