Soundwaves
Janet Jackson's fumble, Bono, and Sarah McLachlan remixed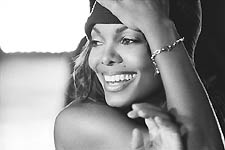 NASTY GIRL FUMBLE… Oh, Janet. You despicable, deplorable, lowlife you, how you defamed our pop culture by almost but not really baring your nipple. On national TV. In front of millions. During the Super Bowl. On the geriatrics network. The White House responded to the shenanigans, stating, "It's important for families to be able to expect a high standard when it comes to programming." Yes, high standards are indeed expected from today's network TV; well, just as high as lowbrow entertainment can get. So naturally all the conservative culture vultures attack Janet Jackson for showing a wee bit of skin. Yet they say nary a word about all the "classless, crass and deplorable" million-dollar ads for beer, erectile dysfunction, more beer, soft drinks, still more beer -- or of Kid Rock's tacky American-flag-defamed-as-T-shirt getup. The above quoted adjective-laden outrage, by the way, came from Federal Communications Commission Chairman Michael Powell, who is investigating the Janet "Nasty Girl" fumble and may possibly fine CBS to the tune of millions of dollars. The Associated Press reported that fact in an article that spun the "Nasty Girl" incident as one that "set new standards for raunch in an entertainment industry that seems to be setting new highs -- or lows -- every day." In fact, it's the overheated, puritanical response that's really deplorable. Why, her nipple wasn't even exposed, and if you blinked you missed the whole thing….
NO WAITING AWHILE… Details about Janet's upcoming album had just been announced in the week prior to her overexposure -- and that stunt was as unplanned (right) as was the release from her label, Virgin Records, of the album's first single the day after the Super Bowl. They want us to believe otherwise, of course. Billboard reported about a Janet "leak" -- timely word choice there -- on the Internet of "Just a Little While," which prompted Virgin to deliver the single to radio on the double. The magazine reported that the mid-tempo song had not even been selected yet as the first single for release from the album, Damita Jo, due March 30. Yeah, sure. Now why would someone leak the song at the precise moment her name was on everyone's lips? Who would do such a thing? Janet plans to tour this summer in support of the album. Bared breast or no, it should be the best spectacle of the year….
SEVEN DEADLY WORDS… Janet isn't the only pop star to run afoul of the high standards some naïve souls expect from TV. More than a year after U2's Bono said, "This is really, really fucking brilliant" on an NBC-televised event, Rolling Stone reports that a bill has been introduced in Congress to ban from all radio and network television the following words: shit, piss, fuck, cunt, cocksucker, motherfucker and asshole. They make even you feel dirty reading them, don't they? But banned? "These seven words don't have any possible use over the public airwaves that can be anything but profane," said Representative Doug Ose (R-Calif.). Well, if they're gonna do it, they ought to do it right and add two more words to the collection: Bill O'Reilly…
AFTER AFTER-GLOW… Sarah McLachlan will also tour this summer, in support of her best-selling Afterglow (Arista) album. She'll stop at the MCI Center August 11. In a perfect world, she'd be touring in support of last month's Remixed (Arista) collection. That's not to say Afterglow doesn't have its moments ("Fallen," "Stupid"). But moments are all you get from the album, for which McLachlan seems to have written most songs in a yawning calm state just before going to bed and then performed them in a groggy haze just after waking. She slept on them, in other words. It's not an entirely new development for Slow-Moving McLachlan, of course, but she does seem to be sleeping a lot more these days. Still, like a hot, morning shower, a skilled remixer can enliven what often turns out to be in her case a pop treasure. DJ Tiesto showed himself to be that with one of his first productions, of "Silence" by Delerium feat. McLachlan, and then again with his even more dramatic rendering of "Sweet Surrender," from McLachlan's previous studio album, 1997's Surfacing (Arista). Unfortunately, even though Remixed came out two months after Afterglow, none of that albums tracks are featured.
So here's a suggestion for the desperately needed Remixed 2: Have Tiesto handle every track. I mean no slight to William "Ray of Light" Orbit, who stuns with his fragile, haunted-by-Sinead O'Connor remix of "Black," or to Rabbit In The Moon, who takes control of "Possession" and makes it actually rock. But this and many other remix albums suffer from a lack of common vision, with tracks that cut and bleed into each other, slapped together in haste by a label trying to recoup money from a faltering artist. (Deborah Cox, Madonna and above all Mariah Carey being three other recent examples.) Having one remixer recreate one artist's work forces everyone involved to be more thoughtful about the project, and should result in an album that presents a singular ideology you admire even if you hate it, in its entirety. It's a risk, definitely, for the artist, for the remixer -- forcing him to be consistently creative -- and for the label, since it doesn't hedge bets. Plus, no one knows if there's a real audience for a truly "remixed and revisited" album in this day of the dawning single….
---