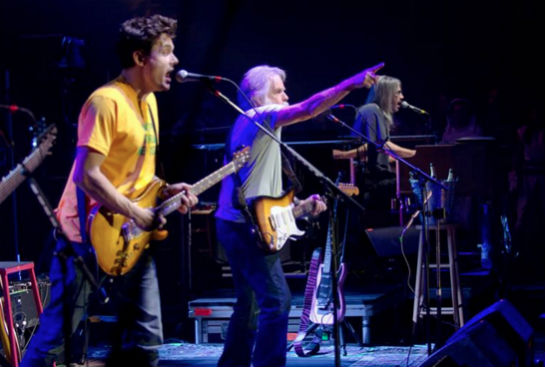 Dead & Company have announced that they will perform a concert in North Carolina this month, despite other artists and groups canceling concerts in the state over its anti-LGBT law, HB 2. However, as a show of support, the group will donate $100,000 to LGBT organizations that will fight against discrimination.
In a statement, the band expressed its distaste for and opposition to HB 2, which repealed local pro-LGBT ordinances throughout the state and required transgender people to use only those restrooms or changing facilities that correspond to their biological sex at birth, ABC reports.
"This March, when North Carolina lawmakers passed HB 2 and Governor Pat McCrory signed it into law, we categorically objected to it. We had hoped that by now this abhorrent law would have been repealed. Sadly, it has not," the statement said.
 "After much thought, consideration and conversation, we feel the most effective way to move forward is to perform as scheduled in Charlotte, North Carolina on June 10 and to donate $100,000 to organizations engaged in this battle for justice — the Human Rights Campaign and Equality North Carolina," the statement continued.
"Additionally, we will assemble a 'Participation Row' social action area, where we'll host local organizations fighting discrimination and national organizations dedicated to voter registration and protecting the planet. Every fan in attendance will have an opportunity to learn about the true ramifications of the HB 2 law, and take meaningful action by registering to vote…Dead shows have always been a safe place for all of our audience to come together through music no matter how they appear or self-identify. History shows these values of openness and inclusiveness have served us — and the world around us — well."
Both the Human Rights Campaign (HRC) and Equality North Carolina thanked the band for their advocacy on behalf of the LGBT community and for their generous donation.
"We are grateful to the members of Dead & Company for standing with HRC and Equality North Carolina in fighting this hateful law," HRC President Chad Griffin said in a statement. "They join a growing list of artists and entertainers who have publicly committed their time and resources to repealing HB2. Their generous support will help us repeal this draconian law and get us one step closer to ensuring that all North Carolinians can live their lives free from discrimination."
In making a donation to combating HB 2, the members of Dead & Company join a growing list of artists and entertainers who have also opposed the law. Beyoncé, Duran Duran, Pearl Jam, Cyndi Lauper and Tacocat have also spoken out against the law and either donated or encouraged fans to donate to local LGBT organizations. Several other performers, like Nick Jonas, Demi Lovato, Bryan Adams and Maroon 5 have even gone so far as to cancel concerts in the state in a show of solidarity with the LGBT community against HB 2.
[ninja-inline id=73197]