Photography by Michael Wichita
If Aussie actress Nicole Kidman winds up taking the Oscar for her portrayal of Virginia Woolf in The Hours, it turns out she will owe an enormous debt of gratitude to another famous Australian — Dame Edna Everage.
Dame Edna, you see, is describing future projects on the horizon when she wraps up her national tour of A Night with Dame Edna, currently enjoying a popular run at the National Theatre. In the wake of guest appearances on television's now-defunct Ally McBeal and a big screen role in Nicholas Nickleby (as Mrs. Crummles to Nathan Lane's Mr. Crummles), "I'm being recognized as a serious actress at last," says Dame Edna, adding emphatically, "which is what I want to be."
Up next in America, Dame Edna claims, is an (almost) one-woman show about famous American women. "I do a range," she explains. "Eleanor Roosevelt, Emily Dickinson and Zelda Fitzgerald. And my New Zealand bridesmaid Madge Alsop " — a bit of casting sure to appeal to Dame Edna's longtime fans — "will be Alice B. Toklas to my Gertrude Stein. "
As Dame Edna vividly describes how the stage will burst into flames at the end, she's reminded of the grand finale of her long-ago performance as Virginia Woolf on the British stage. "There was a tank," Dame Edna recalls, "and I did a sort of Ester Williams underwater ballet scene at the end when Virginia drowns herself."
And just how much influence did such a — how shall we say — distinctive portrayal have on fair Nicole Kidman's performance?
"It's based on mine."
Not only that, but it turns out Kidman is a graduate of the Dame Edna Academy of Drama — or simply the DEAD, for short — along with Russell Crowe, Hugh Jackman, Kylie Minogue, Olivia Newton-John and "little Mel" (as in Gibson).
"I'm suing Barry Humphries for eleven million dollars for exploiting me, quite frankly. Otherwise, we're on very good terms."
Should Kidman find herself in a position to recognize Dame Edna come Oscar time, it won't be the first time the lady has been acknowledged from the Academy Awards podium. "Even bad-mannered old Russell," Dame Edna points out, "when he got his Oscar, can be seen mouthing the words, 'Thank you, Edna.' If you replay the tape, you can see it."
If you haven't figured it out by now, Dame Edna is… insane.
Barry Humphries, on the other hand, is not. Far from it, in fact, to have taken the character of a loopy Australian housewife, Mrs. Everage, he created for a Melbourne theatre troupe in 1956 and shaped her into a long-revered comedic icon in Australia and England, and — in recent years — a bona fide star in America.
When the lavender-coiffed Dame Edna is in the room, however, as she is this frigid winter morning at The Willard Hotel on the day of her National Theatre opening, Mr. Humphries is not available for comment. When a reporter asks about him during a press conference prior to our personal interview, Dame Edna responds, "He's reeling, really, from some legal action I'm taking against him. I'm suing Barry Humphries for eleven million dollars for exploiting me, quite frankly. Otherwise, we're on very good terms."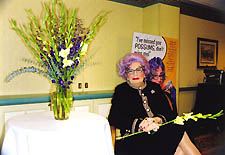 During our tête-à -tête, Dame Edna confides that her children are still a source of heartache. Daughter Velmai, it seems, is the biggest problem. (Later at the opening performance of A Night with Dame Edna — a genuinely side-splitting experience — it's revealed that much of Velmai's unpleasantness stems from her cohabitation with a pit bull breeder named Fern in a mobile home in, of all places, nearby Dumfries, Va.) Son Bruce leads a quieter life in Australia as a feng shui consultant, while her other son Kenny, who designs all of her clothes, has a lot of friends in Dupont Circle — if you get her drift.
Though she can never quite bring herself to say the "g" word when describing Kenny, she does devote an entire second act musical number to her many fans of the homosexual persuasion. "I've never seen so many," she croons with abandon, before inviting the audience to join in for a rousing rendition of the titular phrase, "Friends — of — Kenny!"
It's no surprise, then, that Dame Edna was even game for a handful of Coverboy Confidential questions to wrap up our brief yet memorable conversation at The Willard. Let's call it…
Coverdame Confidential
Who would you trade places with for a day?
Laura Bush, so I could bring a little humor into the President's life and perhaps tweak her wardrobe a little while I'm at it.
What kind of animal would you be?
A possum.
What kind of plant would you be?
A gladiolus.
What kind of car would you be?
A Rolls Royce.
Who gets on your nerves?
It's dreadful, so many people irritate me. Little Saddam gets on my nerves, but then he gets on everybody's nerves. Mr. Blair, the Prime Minister of England — there's just something about him. And Celine Dion, frankly. Even Robbie Williams gets on my nerves slightly. I mean, I belong to a generation who've heard those songs sung well.
Name three people, living or dead, who you think would make the most fascinating dinner guests imaginable.
Emperor Nero would be one. I've got a feeling he was actually a very nice person. Another one would be Steve Sondheim, who's a close personal friend of mine. I just adore little Stephen. That's two men, so we need a lovely woman. You know, Lizzie Borden, I think, has been unfairly treated by history. There's probably something very interesting about her. But that's not enough, really. I'd also like to have Bette Davis at my dinner, and my old friend Vincent Price, and Caesar Romero, and little k.d. lang. I like her. It would be an opportunity to ask her what k.d. stands for.
A Night with Dame Edna runs through Sunday, February 2, at the National Theatre, 1321 Pennsylvania Avenue NW. Tickets are $35 to $67.50. Call 800-447-7400. Visit www.nationaltheatre.org.