As crowds of filmgoers enjoy Reel Affirmations, the 14th annual installment of Washington's GLBT film festival, they may be unaware that changes are afoot. Carlos Raul Arias, executive director of the festival's parent organization, One in Ten, is stepping down after a five-year run.
Arias has become nearly synonymous with the festival, and perhaps the rest of One in Ten's many events. With his outgoing disposition and magnetic smile, attention always turns to him.
The organization has, however, found its new face. The process of finding Arias's successor, begun when he announced six months ago that he would be leaving, has ended. Enter Daniel Meloy.
"Carlos is leaving some very big shoes to fill," admits Meloy, who will be leaving his current position as associate development director at Food & Friends on Nov. 12. Food & Friends is a non-profit organization delivering meals to nearly 1,000 clients with serious illnesses in the metro area. Meloy's One in Ten life will start the following Monday morning, Nov. 15, a week before Arias officially departs. "Any secrets to his success, I'm hoping he shares."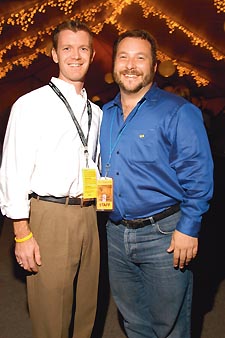 Meloy and Arias
With all his years at One in Ten — seven total, including his time as a volunteer prior to becoming the group's first executive director — Arias is bound to have plenty of such secrets. One secret that even he doesn't know, however, is what comes next for himself.
"That's the $50 million question," says Arias, pointing to possibilities in marketing, fund-raising, or even opening his own shop. "Maybe it's the right time to step out on my own. The film festival takes so much energy that I really haven't had time. Â… People sometimes perceive events to be easy. 'Oh, I can do that.' But the days leading up to the events can be nerve-wracking. You get this burst of energy, like an insulin shot. It is lots of fun, but there is a lot of work that goes into it. Lots and lots of work.
"I'll take the end of November, early December to look at it. I've had some people offer me certain things. I wanted to be true to the organization by not looking for a job while I was still doing my work."
It's that energy drain that Arias cites as a primary reason for stepping down. Arias took One in Ten from an all volunteer-organization to an organization with full-time staff. Under him, One in Ten expanded its programming and its scope of events. Everything has grown. No one can argue that Arias hasn't earned a rest.
"My primary job in the first year was raising money and paying bills," Arias recalls. "It wasn't till the second year that we started building programs. The second year we started the monthly screening series."
"I think my strength is that I'm a real organizer," he says. "I roll up my sleeves and get people excited about a project, get them going. When it starts to plateau, that's usually when I step out. I'm more 'gangbusters.' I can't sit behind a desk and write e-mails. That's not me. That's why I said to the board, 'I'm not the leader that you need right now.'"
Meloy, on the other hand, seems to be just the sort of leader needed now. Arias may be a victim of his own success, having helmed One in Ten's evolution into a very professional, business-like organization. It's an environment that Arias says does not suit his strengths as much as it suits Meloy's.
Says Arias, "I think Dan will be a good leader to take us to the next level. There's a difference in that management that Dan will bring to the organization that I didn't have."
Meloy says he is very comfortable working for very professional non-profit organizations. Before his four and a half years with Food & Friends, Meloy worked for another major non-profit, the National Mental Health Association.
"It's really a very broad background in fundraising," Meloy says of his career history. "I have more than 10 years in special events fund-raising — the full spectrum of fund-raising activities. Most notably and most recently is leading Food & Friends to complete our $8.7 million capital campaign for our new building."
Food & Friends will be dedicating the group's new facility, in Northeast D.C., on Oct. 30.
Despite his success at Food & Friends, Meloy says the lure of applying to be One in Ten's executive director was too tempting to pass up.
"In late July, I was just looking through the paper and saw the words 'executive director' and 'One in Ten,'" Meloy recalls. "I really wasn't looking to leave at all. I've been really happy at Food & Friends. If I could've stayed at Food & Friends and gone to One in Ten, I would've. Food & Friend is really an incredible place to work — and does incredible work. But One in Ten really just caught my eye. What an opportunity!"
With the myriad offerings now carrying the One in Ten stamp, opportunity is something the organization stocks in abundance. The group's mission dedicates it to education and cultural activism on behalf of gays and lesbians. This mission in realized on a number of fronts. Foremost is the annual Reel Affirmations Film Festival. This gala gay film event has been joined by Xtra, a monthly film event, and Reel Affirmations Pride Film Festival, a two-day, mini festival in June.
Then there's Laugh Out Loud, the city's gay and lesbian comedy festival. Next comes the Museum Project, through which One in Ten's cultural crusade has sought to bring gay history to life. Not forgetting the community at large, One in Ten is also working to get art books into the hands of children, as well as expanding its network of "community partner" organizations. One in Ten currently teams with more than 50 local groups, such as the Burgundy Crescent GLBT volunteer group and the Washington Jewish Film Festival, in a variety of ways.
Meloy says he plans to continue the trend to expand One in Ten. "I'd done quite a bit of research prior to applying for the position — where they've been, where they are now," Meloy offers, adding that he hopes to spur growth in the size of the group's staff, audiences and budget. "I think they can really expand on the programming. They've really got top-notch programming already, and that's something that really attracted me to the organization."
Arias, meanwhile, says that his departure from the executive director's position shouldn't be seen as a departure from One in Ten.
"I love what we do, but after almost seven years of working around here, I'm tired. I don't want to say burned out, but that's probably a good assessment," says Arias, adding the caveat that he'll still be in the wings. "My partner and I are actually major donors. We'll probably continue to be major donors. We believe in the organization's mission. We believe in it very strongly. I'm really interested in the future and working with the Museum Project. I'm interested in moving that forward."
And Arias leaves with an eager-sounding promise: "If the new executive director needs my help, I'll be happy to volunteer my time."