Nine years ago, the circuit came to Washington with a Cherry Jubilee.
Compared to more recent offerings, it was a modest start. The weekend was launched as a fundraiser for local HIV/AIDS organizations, pulling in around $60,000. The success quickly put the event onto the national circuit party map.
That wasn't the only news made by Cherry Jubilee. Anti-gay U.S. congressmen attacked the event based on a videotape purporting to show illicit drug use and sexual activity — they were incensed that the gay party took place in the halls of the federally-owned Mellon Auditorium.
The teapot tempest abated, however, after the Washington Post's gossip column "The Reliable Source" snarkily dismissed the congressmen's ire.
"The video shows some gyrating, shirtless men, which apparently translates as 'half-naked,'" to conservatives, the paper's Reliable Source said. The column quoted the chief of security for the event: "We were pretty much bored."
That column was the last major news report on the matter, and thus, in effect, the last word.
For its tenth year, the party now known simply as Cherry is taking a trip back to its roots, according to its organizers, The Cherry Fund. They envision a party focused on community and music more than expensive spectacles. And this year will feature a literal return to roots as Cherry's Main Event once again takes to the floor of the Mellon Auditorium.
The weekend will also include stops at some of Cherry's longest-standing venues. Friday Night's Opening Party returns to Apex and Sunday Night's Closing Party is back at Nation, possibly for the last time given the imminent arrival of the new baseball stadium. And playing in those venues is a team of DJs from the past and present, as well as some who may be seen as the future.
For its tenth year of fundraising, Cherry has chosen five organizations as beneficiaries: Whitman-Walker Clinic, Northern Virginia AIDS Ministry, the Sexual Minority Youth Assistance League (SMYAL), the Mautner Project for Lesbian Health, and The Center (D.C.'s GLBT community center).
That list is also a reflection of Cherry's roots. And it comes after several years of having no explicitly HIV/AIDS beneficiaries, aside from longstanding beneficiary SMYAL, which does provide HIV/AIDS prevention services as part of its work with youth. That lack of HIV/AIDS support was criticized, especially with reported HIV/AIDS cases rising again among the gay community, and Paul Marengo, the Cherry Fund Board Chair, says these organizations were chosen this year simply because they need the money.
"These organizations have been hit hard, funding-wise," Marengo says. "We know that federal and city funds [for HIV/AIDS] have been cut this year, and they've been cut drastically. And they were hit extremely hard last year because of the election," he added, suggesting that some donors diverted their support to John Kerry's presidential campaign instead.
Tim Turnham, director of development for Whitman-Walker, says that outreach and prevention messages targeting the gay community have been especially hard hit. "We have a program that does outreach to young gay men for HIV prevention. Our budget for that has been cut over the last two years by about 75 percent."
Turnham says that money from the Cherry Fund will go toward the Clinic's addiction treatment programs, pointing to the "strong connection" between substance abuse and risky behavior that leads to HIV infection.
"One of the things we're very concerned about is the crystal meth issue, which is impacting the gay community in a very negative way these days," he says. Having funds that are earmarked for work on this issue will also help free funds to support other important health issues.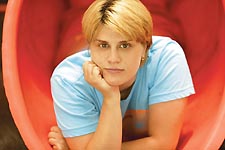 Alyson Calagna
"It's all tied to keeping people healthy," he says.
Any plans on using charitable contributions, of course, rest on the assumption of how much money is actually raised.
Last year's beneficiaries received no funding from Cherry in 2004, largely due to a decline in both sponsorship and attendance, according to organizers. Months after Cherry 9 ended, the Fund only had enough of a budget surplus to spend toward this year's event. Marengo, a long-time Cherry volunteer heading up the benefit for the first time this year, says he's being "a miser" to ensure that this year will be different.
"Our expenses are far stripped down. We decided we wanted to do something more simple and fun than something that was glamorous and totally expensive. This party is more about the music and having fun and giving back," Marengo says. As an example, he points to three local DJs — Yiannis, Rob Harris and Kirk Druey — who are donating their time to play at the parties.
Kathleen DeBold, executive director of the Mautner Project, the National Lesbian Health Organization, says the money is almost beside the point.
"I know Cherry is doing the best they can, and we're doing the best we can to get people to all these events," she says. "If it works out well, we'll get the money. If not, it's still a fabulous opportunity for community building and community outreach. We always do education at the events, we always sign up volunteers. It's a win-win."
Turnham agrees that money is only part of the reward of being a Cherry beneficiary.
"It's also an opportunity to get a message out about people keeping themselves safe and healthy," he says.
Marengo says that after last year's shortfall many people tend to overlook the fact that since 1999 Cherry has given more than $840,000 to its beneficiaries. With what Marengo describes as a more fiscally prudent approach this year, the Fund has set a goal of reaching the $1 million mark by raising $160,000 this year.
Early signs suggest Cherry may be on track to meet its ambitious goal, and in effect make up for last year. Marengo says they've been more successful with gaining sponsors this year. And speaking a week before the event, Marengo reported that the number of local ticket buyers and pass holders is up from previous years.
"Last year it could have been a mental block that [local] people just didn't want to go to Nation on Saturday, as normal [for the weekly Velvet party]," says Cherry Steering Committee Co-Chair Michael Sasser. "Certainly, there were a lot of mental blocks from last year," he laughs.
With the Main Event's return to Mellon, organizers aren't concerned about a repeat of congressional attention.
"I don't associate [what was alleged to happen 10 years ago] with Cherry," says Sasser. "I've never thought of Cherry as being an event for sexual, lewd conduct." And Marengo stresses that Cherry has a "zero-tolerance policy for drug use."
Of greater concern is increased security. A fatal stabbing at a party in the Post Office Pavilion in March prompted the General Services Administration (GSA) to more closely scrutinize all privately-run events. While that sort of violence isn't a major worry — as Marengo puts it, "We don't have stabbings" — the police department's Gay and Lesbian Liaison Unit will be there.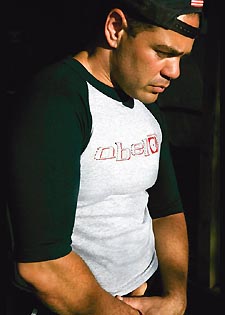 Abel
"We'll actually have them inside working with us, just keeping an eye on what's going on," Sasser says.
Sasser called the return to Mellon an "instant sell."
"Washington is a monumental city, and this auditorium, which is used for public assemblies and various meetings for the federal government, is so ornate, it's so beautiful. It's an opportunity to be exposed to one of Washington's finest buildings."
Aside from the grandeur, another benefit is the ability to use volunteers to sell the donated alcohol and beverages, helping further its claim that this year it will be able to meet its charitable giving goal. Last year all events were at preexisting bars, where the venues made money from beverage sales.
And from the entertainment perspective, there's the music from Yiannis and Alyson Calagna.
After a successful Closing Night party last year at Dream, Calagna was tapped to handle chief Main Event duties this year. She couldn't be more thrilled. A Louisiana lesbian, Calagna got her start in New Orleans. She's been a regular on the D.C. scene for years, playing both Velvet Nation and Sunday MASS.
"I love D.C., it's got great energy," says Calagna, who's always had a great time in the capital city. "I've never not enjoyed D.C."
DeBold says Mautner, a four-year beneficiary of Cherry, likes to return the favor.
"A lot of Mautner people volunteer for the major Cherry events because the guys wanna dance and party, and so we can man the tables," DeBold says.
But when the women want to hit the dancefloor at Cherry, Mautner is there for them too with the fourth annual Cherry Curve Women's Dance, set for Saturday at Union Station's Thunder Grill with longstanding local lesbian DJ jamé foks once again spinning.
DeBold promises all kinds of special surprises for the evening, and as the head of a nonprofit health organization, she particularly likes that Thunder Grill is a "smoke-free dance space."
Proceeds from the dance go to Mautner. "Every year, it just gets bigger and better," says DeBold, adding, that it helps their local services, from those for lesbians with cancer, to those for lesbian caregivers of ailing partners or family members.
One of the weekend's biggest nights, of course, is the Closing Night party. Calagna certainly plans on being there for it after finishing up the Main Event.
"I cannot miss Papa. I'm sure I'll be somewhere on a box with my shirt off, dancing," she jokes.
She won't be the only one. He may not have quite the broad name recognition of a Junior Vasquez or a Danny Tenaglia, but Abel Aguilera is on a first-name basis in the gay dance scene — and at the moment he's arguably bigger in that scene than anyone else.
Abel, a native New Yorker of Cuban descent who just turned 42, helped make Miami's South Beach a thriving gay destination with his Saturday night engagements at Salvation nightclub. And he's gained even more fame the past few years from his role as the only resident DJ at the wildly successful Alegria event in New York. This will be Abel's third Closing Night party for Cherry at Nation.
"I've always loved doing that," he says. "I'm really excited about doing it, especially with it back at Nation."
Abel is the reigning tribal house DJ in clubland right now, so expect a base of polyrhythmic percussion with strong Latin and African influences, what some have called "aggressive" dance music.
"I don't know if you want to call it aggressive. Aggressive to me really means angry, and my sound is not angry." He suggests his sound is too rooted in warm, melody-heavy disco to be angry. "I grew up on disco. You're always going to revolve around [the style of music you grew up on]," he explains.
Back at the other end of the weekend, the Opening Night party is returning to Apex. "It's a great way to start the weekend, to see who's around for the weekend and to meet new people," says Sasser.
But the main draw, he says, will be the décor by Staci Morgan and Tony Villa, and the music, with resident DJ Alex Cohen in the lounge and Joe Gauthreaux returning to the main room.
It's been a year and a half since Gauthreaux's last gig in town, though he used to be one of D.C.'s most frequent visiting DJs. "I guess you could say I'm coming back with a bang," he says, laughing.
Gauthreaux also plans to make a bang by assembling this year's official Cherry mixed-compilation CD. Cherry Vol. 2 is the first Centaur Records set honoring Cherry in four years.
Saturday Night's After-Hours will take place again at Platinum. Sasser says there will be escorts guiding people to Platinum from the main event at the Mellon Auditorium. Once there, local entertainers are being enlisted to keep the crowd's spirits high as the sun comes up, and L.A.'s DJ De Leon, making his Cherry debut, will do his part with what he describes as "aggressive and funky" tribal-house until noon.
While Cherry is looking back over ten years to its first time, for some people the tenth Cherry will be their first time. Sasser highly recommends the Sunday Afternoon Tea dance for Cherry virgins or those not going to other Cherry events. The music, to be provided by D.C.'s own Rob Harris, will be in classic tea party style.
Says Sasser: "It'll be light and fluffy and happy."
For a full listing of events and locations visit www.cherryfund.org. Tickets for each individual event can be purchased at the door, or at the Cherry Welcome Center at the Beacon Hotel and Corporate Quarters, 1615 Rhode Island Avenue, NW. The Welcome Center will be open Thursday evening, Friday afternoon and early evening, and Saturday afternoon. Host Passes and VIP Passes, starting at $175, can also be purchased at the Welcome Center. Visit the web site for more information.