It's not always easy to see the problems other people face.
For gays and lesbians who were born in the United States, for example, it may not seem as if immigration rights for non-citizen partners is a pressing issue. But with a change of perspective — personal experience, perhaps — it suddenly takes on much more import.
And if not personal experience, then perhaps that shift in perspective can come through the experience of others.
Sebastian Cordoba, a gay, Brooklyn-based documentary filmmaker, is bringing his latest effort, Through Thick and Thin, to Washington April 10. While a gay-themed movie showing in D.C. is nothing out of the ordinary, this particular screening is.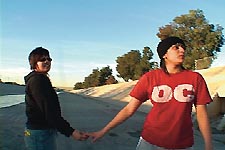 One of the couples facing immigration problems in 'Through Thick and Thin'
(Photo by Courtesy Sebastian Cordoba)
"We can take the film to every single gay, straight and Latino film festival — we've lined up a ton — but I think it's not going to be comparable to having a screening the way we're doing it," says Cordoba. "We're going to the seat of power and targeting a core audience of gay and lesbian congressional staffers. … That is the core audience that is so difficult to reach, to get into a room, to get the message to their bosses."
The point of this congressional outreach is to illustrate the hardships faced by same-sex couples when one partner is an American citizen and the other is not, and with luck, says Cordoba, provide a "shot in the arm" to the Uniting American Families Act. This piece of legislation, written by Rep. Jerrold Nadler (D-N.Y.), would amend current immigration law to replace the word "spouse" with the phrase "permanent partner." The bill has yet to be reintroduced in the 110th Congress.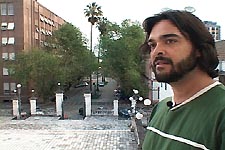 "Some people say, 'That doesn't apply to me. I've never dated anyone who's not an American,"' Cordoba says of gay people with whom he's discussed gay bi-national couples. "In the community at large, there is a lack of knowledge about the immigration process. Some people think just because they live here in the States and don't date people from other countries, they're okay. But you may meet a guy who speaks perfect English, in the U.S. since he was an infant, who thinks he's an American. But then he goes for a passport and ends up facing deportation. That's exactly what happened to one couple in the film."
Cordoba's film features nearly a dozen couples in situations shared by roughly 40,000 similar couples in the United States, according to a report by Immigration Equality and Human Rights Watch, groups helping to promote the film. In the documentary, Cordoba's subjects illustrate three particular scenarios faced by such couples: couples living in the United States, and the non-American partner is in the country illegally or is about to be deported; couples trying to maintain long-distance, cross-border relationships; and couples leaving America in favor of living in a country that will recognize their relationship.
Though Cordoba, who was born in Argentina, now has relatively secure residency with his artist's visa, that was not always the case. With a previous visa, he never knew if he'd be allowed to stay in the country longer than three years at a time. That sort of uncertainty doomed one of his own relationships.
"It becomes pressure," he says. "If you think you have the rest of your life to explore everything with your partner, that's one thing — but you [just] have three years."
For the D.C. screening of Through Thick and Thin, Cordoba says supporting groups, including the Human Rights Campaign, the National Center for Lesbian Rights, the Gay & Lesbian Alliance Against Defamation and Amnesty International will help get news of the screening to GLBT staffers on Capitol Hill. Along with Cordoba, Rep. Nadler is tentatively scheduled to make an appearance.
Through Thick and Thin will be presented Tuesday, April 10, at the HRC Equality Forum and 17th Street and Rhode Island Ave. NW, at 6:30 p.m. The screening is free and open to the public, though seating is limited. For more information about the film, visit www.throughthickandthin.net.