There is no better feeling than sitting in a theater, particularly one of significant reputation and stature, and watching a performance so fresh and vital it seems almost spontaneous, as though the actors got together and realized that one had a barn, one had some bed sheets for curtains, and another had a mom who would surely help make some costumes.
This is the kind of work currently going on at the Folger Theatre, where audiences are being treated to a tremendous production of As You Like It. Imaginatively designed and brimming with energetic performances, the Folger's production has that brilliant "let's put on a show" quality that makes it an absolute delight.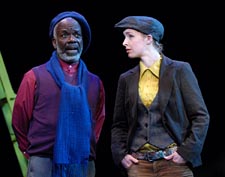 Marcel and Quaid
As You Like It is perhaps best described as one of Shakespeare's romantic comedies. True, it kicks off with a stolen title and a few banishments, but ends with boy getting girl with nary a bottle of poison or bloody queen to be found.
Duke Senior (Timmy Ray James) is banished to the Forest of Arden after having his land and authority stolen by his brother, Duke Frederick (Conrad Feininger). Senior's daughter Rosalind (Amanda Quaid) is allowed to stay on the estate only because of her cousin Celia's (Miriam Silverman) almost sisterly devotion and loyalty.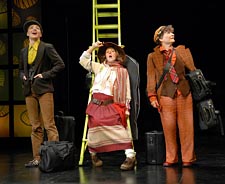 Desperate for some kind of distraction or entertainment, the girls attend a wrestling match where Rosalind meets the young and handsome Orlando (Noel Vélez), who stuns everyone in attendance by beating Duke Frederick's champion. Rosalind flirts, Orlando gapes and all seems quite innocent until the Duke and his wounded pride catch on to what's happening. Furious, he banishes Rosalind to Arden as well, giving her one night to pack her things and be on her way.
Determined to remain by her cousin's side, Celia decides to join Rosalind, leaving behind her title and father. To alleviate their fears about what might happen to two women traveling alone in the forest, Rosalind hits upon the idea of disguising herself as a boy. The young women also convince the Duke's fool, Touchstone (Sarah Marshall), to leave as well. After all, it's one thing to be banished, another to be banished without an entourage.
And so the trio head into the forest and set off a cascade of events that include several love affairs, a few broken hearts and the neatest of happy endings.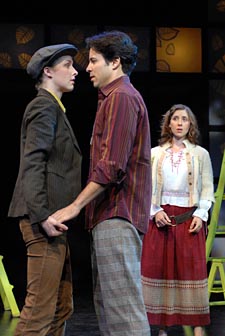 Director Derek Goldman, making his Folger Theatre debut, is surrounded by a fine cast and some truly gifted designers. Scenic designer Clint Ramos has crafted a vision of Arden Forest that glows, quite literally, like a lantern light compared to the gloom of the Duke Frederick's court. Carol Bailey's costumes are quirky and wonderfully unpredictable.
As Touchstone, Marshall is, as is almost always the case, a joy to watch. Clever and clearly enjoying herself, Marshall shows the audience just how funny Shakespeare's cagey wordplay can be. Vélez and Quaid are lovely as the well-fated lovers Rosalind and Orlando and Silverman's Celia demonstrates a fine talent with a performance that is both simple and delightful.
In point of fact, there is truly no member of this cast who is not more than pulling his or her own weight even when working with the sparest of roles. There is a collegial quality to their work that allows the audience to embrace each and every one of the play's characters, whether it's Joseph Marcell's melancholy Jaques, Terrence Currier's faithful Adam or Tonya Beckman Ross' comic and love struck Phebe.
AS YOU LIKE IT
To Nov. 25
Folger Theatre
201 E. Capitol St. SE
$25-$55
202-544-7077
www.folger.edu
Where As You Like It struggles is in the very exuberance and playfulness that makes it such a joy. There is a certain need for restraint that Goldman fails to consistently exercise, allowing some of the window dressing and extraneous bits to clutter the stage. Gaffs that are clever in brief play out too long. Music that should provide only minor color overwhelms and feels like poorly considered embellishment. Goldman has a potentially beautiful gem that needs only the simplest of settings. He should take note of the treasure he's holding. Restraint is sometimes the better part of valor. Still, while the production occasionally goes too far in its exuberance, its spirit and energy are positively contagious.