There are those days when you look up from whatever pile of paper has spread like a cup of spilled coffee across your desk only to realize it's somehow become the middle of the afternoon. Those Saturday mornings when you swear you're going to stop by the office to send "a couple" of e-mails only to find yourself making that third apologetic phone call where you assure an increasingly frustrated lunch date that you're leaving in five minutes. Those Wednesday nights when you sit down, turn on the television and — searching amongst the few programs that have not yet fallen victim to the writers' strike — wonder in a non-delusional fashion, "What day is it again?"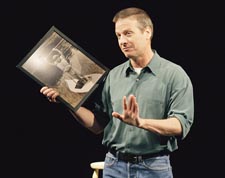 Hard-to-shake memories: Moran
Time is funny that way. Despite the mathematic precision with which we document its passage — the endless parade of watches that can go from the bottom of the ocean to the top of Everest without losing so much as a second — we lose moments like spare change.
We slide backwards and forwards like so many Jules Verne-type time travelers, feeling simultaneously 12 and 32 and 82. Even those of us like Martin Moran, who appear to have captured their memories between two sheets of pristine glass so they might be viewed clearly, struggle to pin down where exactly the time went.
But the movement of time is just one element in Moran's lovely and elegant Obie Award-winning play, The Tricky Part. The deeply personal one-man show is brought to Signature Theatre's ARK performance space by Moran himself and is drawn from his memoir of the same name. The Tricky Part: A Boy's Story of Sexual Trespass, A Man's Journey to Forgiveness was itself honored with a 2005 Lambda Literary Award for memoir.
An absolutely charming actor with the ability to evoke such a feeling of comfort and intimacy that he seemingly transforms the very boundaries of The ARK, Moran is able to share his story in such a way that it neither invokes pity nor inspires anger. One actually begins to believe that the tangle of emotions you feel as a member of the audience mirrors, though certainly does not match, the confusion that rests at the heart of his story.
From the age of 12 until the age of 15, Moran was involved in a sexual relationship with a counselor he met while at a Catholic boys' summer camp. The Tricky Part places, like photographs in a poorly managed scrapbook, scenes from before, during and decades after the affair alongside one another.
The timing of things seems less important than all the fixed elements that are immune to age, like hurt and anger and, despite the voices which all but scream otherwise, a kind of damaged affection.
True to the mission of The ARK, an experimental space that seems to have come fully into its own, The Tricky Part is difficult to neatly categorize. It's sad but not tragic. Or, it's tragic but Moran's humor and casual stage presence allows the audience to remain comfortable enough that they see it only as sad. Or, perhaps it's better considered a piece that is funny with some sad parts. Or, maybe, sad with some funny parts.
Directed by Seth Barrish, co-founder and co-artistic director of The Barrow Group, this is a performance deftly crafted and exquisitely presented. The beauty of its construction is undeniable. Simple gestures of light and staging are so wholly integrated they go almost without detection. Nothing is extraneous or indulgent. Everything has a reason and a purpose.
Watching Moran perform, hearing him punctuate his story with precise dates and times, with geographically ordered names of childhood streets, with the names of the nuns he had in elementary school, with the names of the families who lived in the houses in his neighborhood, one begins to appreciate the vast depth of human memory. The ability we have to submerge ourselves into that deep pool to try and make out the shadows of past events in increasingly murky water.
The trip is not always without dangers. The waters can be deep and one can only hold one's breath so long. Brought up into the light of day some memories lose their shape and offer more questions than answers. Despite this, it would seem Moran has found some peace through his journey.
And that, without question, is the tricky part.