You may be done with winter, but winter's far from done with you. With nearly two months to go, make sure you're prepared with cap and scarf, whatever your style.
The Activist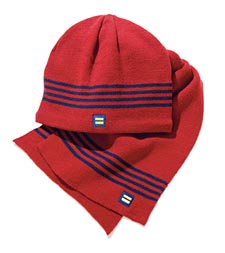 Nothing says, "My fashion has a purpose," as well as a matching cap-and-scarf set from the Human Rights Campaign. And when those sets are on sale, nobody loses. Both cap and scarf come in a variety of colors — black, blue, burgundy, gray and tan — with HRC's signature stamp, a subtle HRC equality logo. Originally $16 and $19, respectively, caps and scarves are both now sale-priced at $8.99, 100 percent acrylic. HRC Action Center and Store, 1633 Connecticut Ave. NW. 202-232-8621. hrccornerstore.myimagefirst.com/store.
The Fashionista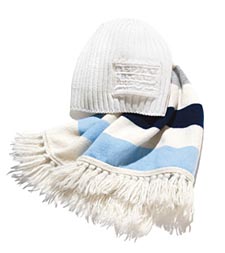 Every snow queen needs her crown, and that's where Replay Accessories' ribbed, knit cap comes in, made of 100 percent cotton — and now on sale for $38.95, down from $49.50. Spice up that clean, white cap with one of Universal Gear's own line of gorgeous cashmere, four-stripe scarves with fashionable fringe and you'll make winter bright. Winter cheer comes from knowing that all the UG four-stripes have been reduced. In the case of the scarf shown here, the reduction is $59.50 down to $36.99. Other colors are on sale for just $29.99. Universal Gear, 1529 U St. NW. 202-319-0136. www.universalgear.com.
The Outsider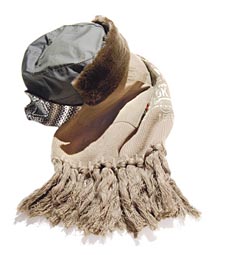 If you're going to be an "outsider," best to bundle up. And who better to bundle up your counter-culture bitterness than Triple Five Soul? Their earflap cap, striking just the right notes of crazy meets "too cool for school" is as practical as it is funky. On chilly days, your ears — superbly tuned to the whispers behind the reality — will be safe and toasty. Earflaps up when the chill abates, and they become flags of irony. And it's a steal at its new sale price of $22.99, in a multi-culti hodgepodge of acrylic, polyester and cotton, all wrapped in a super-strong polyester shell. Complete the look with the extra long, 100 percent cotton, Yukon scarf for $47.50. The subtle, quasi-industrial, graphic interplay whispers, "the apocalypse is coming," while the Velcro-sealed pocket makes a pragmatic pairing with the earflaps. Universal Gear, 1529 U St. NW. 202-319-0136. www.universalgear.com.