Writing about federal tax issues upon coming to Washington in 1989 with a journalism degree did not suck the life out of Sean Bugg. But it didn't fulfill him, either.
It was in the early 1990s when Bugg, a Kentucky native, followed his growing anger over the AIDS crisis into involvement with the AIDS Coalition to Unleash Power (ACT-UP/DC), activists committed to direct action in ending the AIDS crisis.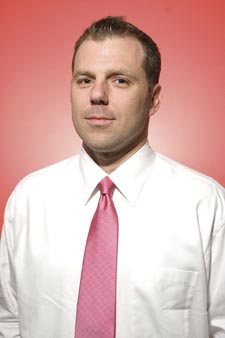 Sean Bugg
"It was a very extraordinary time to be an activist," Bugg says, "partly because there was this life and death urgency to it, because so many people were dying all the time. It's just really easy to forget how many people were dying, how much the community was losing on a weekly basis."
In 1993, that urgency led Bugg to Whitman-Walker Clinic, where he worked as coordinator of the Male Sex Industry Project and Gay Men's Outreach in conducting prevention efforts. In 1995, he became director of the Social Marketing Project for the National Alliance of State and Territorial AIDS Directors (NASTAD).
Although his activism had put him on a non-journalism career path, writing remained a passion for Bugg, who traces his reading and writing skills to the age of 4 when he began to peruse the comics section of the daily paper. In elementary school he created his own hand-written newspaper. And at 12, he began writing short stories on an old manual Royal typewriter, a present from his grandmother.
During his time at Whitman-Walker — long after Granny's typewriter — he penned a particularly ribald humor column, which caught the eye of Randy Shulman, then the editor of a local gay magazine, Michaels.
"That column really got me back, in a roundabout way, into publishing and journalism, which would probably horrify any of the Pulitzer-Prize-winning professors I had in the past," Bugg laughs.
When Michaels folded in 1994, Bugg helped Shulman launch Metro Weekly. He joined the magazine full time in 2000 as editor-in-chief. In 2007, he became co-publisher of the magazine and editorial director of Jansi, the company that publishes the magazine. In addition to writing for Metro Weekly, Bugg offers commentary on politics, tennis, technology and other topics at Buggblog.com. In 2007, he launched a new non-journalism business of his own, Ascribe Catering.
He lives in Falls Church with his partner, Cavin Le. The two met playing tennis and last year celebrated their union with a Buddhist ceremony.
"It's the kind of life that I never expected to have," Bugg says. "And I'm able to have it because of the work that other gay and lesbian people did. They made it possible for me to live this life. Which is why when you receive an honor like the Hero award, it's humbling. To think that you've had an impact on other people's lives is really an amazing thing."