It's not a tall order, but with any luck Ben Lerman's three D.C. shows will have little in common with the low point of his first concert tour that for three weeks in late 2007 had him offering his brand of comedy and ukulele-fueled tunes far and wide. He's still recovering from West Lafayette, Ind.
"I went to this place, some coffee house," he says. "It was like walking into a Starbucks — no stage, no setup. People were in study groups, having business meetings. There was a counter girl with a blank stare. 'Where should I set up?' 'Wherever you want."'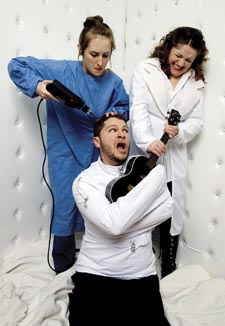 Ben Lerman
Perched on a countertop, Lerman treated the audience to a few of his signature songs, which run the gamut from fellatio to what he might insert in his hypothetical vagina.
"Reactions were mixed," he says. "From tolerant patience to grudging hatred."
Washingtonians should be more receptive. After all, the New York-based Lerman used to be one, living on 13th Street NW and waiting tables at what was once Peppers on 17th Street.
His familiarity with Washington helped him add a show for this recent visit. Here for the dccomedyfest Aug. 8 and 9, at Town and the Source Theatre, respectively, he added a solo Aug. 7 show at Remingtons. And as much as he hates the attendant self-promotion of securing gigs, it's all up to him.
"I need to get a 'Ben Lerman machine,"' he says. "I pour gas into it and have it emit carbon and bookings. Or maybe it would be a hybrid? But it's just me."
With no backing but himself and the ukulele he calls "Lenny," audiences are at least guaranteed that Lerman is — until his celebrity explodes — accessible.
"I'd like to be the kind of person who just goes home after a show. But if it goes well — and let's face it, it usually does — people want to talk to me. And I never get tired of talking about me."
Ben Lerman performs Thursday, Aug. 7, at Remingtons, 639 Pennsylvania Ave. SE, at 9 p.m., no charge; Friday, Aug. 8, at Town, 2009 Eighth St. NW, at 8:30 p.m., $18; and Saturday, Aug. 9, at Source Theatre, 1835 14th St. NW, at 9 p.m., $14. To purchase tickets for the Aug. 8 or Aug. 9 shows, visit dccomedyfest online at www.dccomedyfest.com. Visit Lerman online at www.benlerman.net.