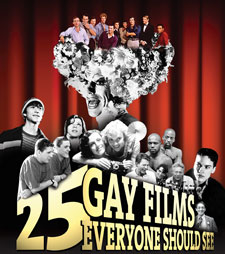 In many ways, movies are the heart and soul of America, our most widely shared cultural moments played out on the silver screen. We're a nation where everyone can recite the plot of Star Wars, recognize the theme from Jaws, marvel at the twist-ending of The Sixth Sense.
While gay characters and stories took a long time to join that national consciousness of flickering images, our community boasts a cinematic soul of sorts — stories and characters who have given us a shared experience that helped shape us and support us.
Milk is this year's latest gay Oscar bait, but while you await the roll out of the red carpet, here's a list of GLBT films that everyone should see. Or, in the case of movie maniacs – yes, like us – revisit often (thank heaven for Netflix). From uplifting to tragic, comedic to dramatic, these 25 films reflect the heart and history of a community.
(UPDATE: Don't miss the sequel to this article — 25 More Gay Films)
AIMÉE & JAGUAR (1999)
Unthinkable to miss, yet heartbreaking to watch, Aimée & Jaguar takes all the desperation of being Jewish in Nazi Germany, then adds to that the added danger of indulging in a lesbian affair. The movie leaves you feeling helpless as you empathize with the lovers' romantic abandonment, yet know that doom is surely around the next corner. That it's based on the true story of the wartime affair between Lily Wust, the good Berlin housewife and mother whose husband is off fighting for the fatherland, and Felice Schragenheim, the Jewish journalist who flaunts herself in front of her would-be executioners as she passes herself off as a gentile, makes it all the more painful. Thanks to gorgeous cinematography and elegant acting, Aimée & Jaguar is one for the GLBT cinematic hall of fame.