Regardless of the geographic realities, there are times when one could be quite sure that the Mason-Dixon Line runs right through the center of our nation's capital.
Maybe it's the clash of a city where everything is urgent despite the fact that change occurs at the pace of a geriatric snail. Maybe it's because men and women who exemplify the qualities we associate with "The North" and "The South" (hence their election to high public office) move in and out of the city like their cherry blossom-hunting constituents — an ebb and flow that leads some to believe those temporary residents shape D.C.'s character.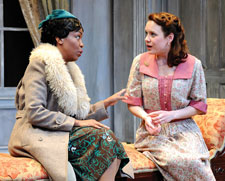 Dukes and Sokolowski in 'Antebellum'
(Photo by Stan Barouh)
And maybe it's because it is possible, in the span of just a few short blocks, to find individuals who will variously refer to the same conflict as "The War Between the States," "The War of Northern Aggression" or "The War for Southern Independence."
It's astonishing how the Civil War continues to color our contemporary lives. More remarkable that a war as bloody and savage as any other military engagement would have the power to evoke such an overwhelming sense of romance and poetry.
There is something powerful about that war. Something that has served as a siren call for artists as diverse as Ken Burns, Margaret Mitchell, Frank Wildhorn, Gregory Boyd, Jack Murphy or playwright Robert O'Hara. If you're unfamiliar with that last collection of names, you won't be for very long. Not if you're keeping an eye on the Washington theater scene.
Robert O'Hara's Antebellum, currently enjoying its world premiere at Woolly Mammoth Theatre Company, is set in the 1930s, a time when Margaret Mitchell's epic Gone With the Wind was blossoming from book to silver screen sensation while Hitler's regime was spreading as quickly and brutally as the fire that once burned the city of Atlanta to the ground.
With a sure hand and brilliantly creative mind, O'Hara has found a way to bridge these seemingly unconnected worlds in a way that is inspired, engaging and utterly disturbing.
Sarah (Jenna Sokolowski) is spending an anxious afternoon at home waiting for her husband to return with the dress she has designed for that evening's Atlanta premiere of Gone With the Wind. A world premiere where the residents of Atlanta will mix and mingle with the movie's Hollywood stars and starlets. Or, more specifically, the white Hollywood stars and starlets.
In what will later be revealed as a deceptively comic episode, Edna Black Rock (Jessica Frances Dukes) arrives in Sarah's parlor. An African-American woman with a manner that is simultaneously deferential and condescending, Edna asks for a glass of water and, in a roundabout fashion, for a job.
With something closer to a blink than a scene change, Sarah's historic plantation house transforms to the study of a detention center in Germany. It's in that center we meet Oskar (Andrew Price), a commandant of the Third Reich and the man in charge. But Oskar's power doesn't exempt him from whispers and rumors. Not as long as Gabriel (Carlton Byrd), an African-American cabaret singer being held at the center, continues to pay such long visits to Oskar's quarters. Not as long as Oskar continues to demand favors and kinder treatment for Gabriel. Not as long as those noises continue to come from the commandant's bedroom when Gabriel is there to teach him English.
In a manner so well-choreographed it demands respect, O'Hara and director Chay Yew thread these two stories together as intricately as a cotillion waltz. The humor of the piece grows shades darker as the play progresses. The secrets being kept are revealed with a satisfyingly slow patience. The destruction those secrets render is as blunt as a blow to the head. All the better then that Woolly has gathered such a tremendous team of actors to move this work from page to stage.
Sokolowski seems to be launching her own campaign in D.C., coming from a very successful run in Eurydice and a fantastic turn in Studio Theatre's Grey Gardens. Consistently able to transform herself completely — to dissolve away into the characters she is charged with bringing to life — Sokolowski is a gorgeous talent. Her Sarah is charming and sympathetic and, ultimately, crafted in such a way that we believe her passion and convictions.
The chemistry between Dukes and Byrd grows in a stealthy and critical fashion. What's striking is how their very different approaches blend so organically. Byrd is a man of control and precision. He communicates in raised eyebrows, well-timed smiles and simple gestures.
Dukes is a tempest in a tea cup, with energy rolling just below the surface. She is spark and fire. She is an actress with the skill of a conservatory and the humor of a stand-up. Most of all, she is outstanding.
---
There is always that thrill when one sees "world premiere" printed on the front of a program, like the excitement that sizzled in Atlanta that night in 1939. It's the chance to be part of something historic, something that will last and echo onward. From what we see here, it seems certain that Miss Scarlett will not be the only O'Hara we will be remembering well into the future.
The inability to categorize Ford's Theatre's production of The Civil War is all the more reason to go and see it. It is equal parts concert and production number. It is a talent showcase and musical memorial. It is unexpected and unconventional.
To start, the cast looks less like a collection of Civil War re-creationists and more like a Saturday night in any bar in Adams Morgan. There are slackers in knit hats and urban good ol' boys in designer trucker caps. There are motorcycle dudes and the girls that get bumped to the front of the bar queue. And from this unlikely assortment there is music. Music that runs from storefront-church gospel to Grand Ole Opry country with a stop or two along the way.
It's not to say that The Civil War doesn't occasionally stray into a region where it becomes too much like a self-conscious, primetime musical review. There is the unfortunate appearance of choir robes at one point, and a few too many good-natured arm punches and "aw shucks" demonstrations of camaraderie at others.
But what's most striking about The Civil War is the ability of the music to be sentimental without being saccharine. Standout moments are Bligh Voth's country-tinged "Missing You (My Bill)," Darryl Rueben Hall, Eleasha Gamble and Timothy Shew's moving "If Prayin' were Horses" and Sean Jenness singing the homesick "Virginia." Eleasha Gamble and the company do an outstanding job with the song "Someday," but that is also a place where the staging reveals its heavy-handed tendencies. The decision to go for an easy-applause moment disrupts the flow of the production. It becomes a false finale.
But the biggest issue with seeing The Civil War will be your inability to tell your friends what it is you saw. So just tell them to trust you. And then tell them to go get their tickets.