Even in his final days, Michael Jackson's crotch grabs were awkward and excessive. And the man came across as a bit creepy and gangly – he was a pale, ghostly, gaunt figure in the last decades of his real life, not just in Thriller.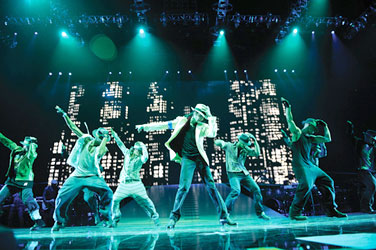 This is It
This Is It, the documentary film about what was to have been a final series of concerts from Jackson, doesn't gloss over his flaws and foibles. Instead, the real Jackson emerges, warts and all. (Not all his warts, of course: The repeated allegations and scandals of improper behavior with children have no place being discussed here, and they're not.) You might not have been fully aware of it, but Jackson had a touch of the diva in him, too: He was a perfectionist to his core, though an exceedingly polite one, always expressing his strong convictions and demands as nicely as possible.
Early on in the film, Jackson tells his bass guitarist that the groove he's playing isn't funky enough. "It's all from love," Jackson says after lodging his critique. At another point, the sound is too loud in his ear. Jackson asks his production crew to turn it down a notch, but not without adding that he's making the request "with love. L-O-V-E."
There's nothing perfect about This Is It, directed by Kenny Ortega (High School Musical), who was also directing the concert as Jackson's creative partner, just as he had done for Jackson's last two tours. And because it's not perfect, it's as entertaining and enlightening as can be. Don't for a second think you could skip this if you've ever admired Jackson's work – even or especially if you overdosed on Jackson remembrances this past summer. This Is It makes Jackson personable, relatable in a way nothing else I can remember seeing ever did – not Matt Lauer's or Larry King's tawdry reporting from Neverland Ranch or any other post-mortem news coverage; not even the somewhat similar 1983 behind-the-scenes documentary Making Michael Jackson's Thriller. Jackson was more jovial and fun than he ever came across in interviews and planned public performances.
THIS IS IT




Starring
Michael Jackson
Rated PG
112 Minutes
Area Theaters
Ortega put together This Is It from hundreds of hours of recorded footage from rehearsals in Los Angeles. We see Jackson and his huge crew rehearsing the show's songs, spanning Jackson's career, from "I Want You Back" to "Threatened," and including most of his biggest hits. As best we can tell, the documentary, which by default doubles as a concert film, is sequenced in the same order as the London concerts were to be. Certainly "Wanna Be Startin' Somethin"' was to launch the show – could there be a better opener? – and "Man In The Mirror" was to be the finale. Many of the production numbers were to be the biggest spectacles you've ever seen, with dancing pyrotechnics, large mechanical toys and electrifying group dances.
Interspersed with the rehearsal footage are interviews about Jackson and the show from the dancers, singers, the designers and the band – all filmed during rehearsals, before his death.
Ortega has said that the recordings were made strictly for Jackson's personal library, not for public consumption. But if that's the real story, then it seems beyond frivolous that they would shoot a filmed sequence to "Thriller" in 3-D. Or capture all of the rehearsal recordings in high-definition. The video and especially the sound quality is startling alive, with the bass rhythms in particular popping throughout.
Still, Jackson clearly wasn't intending these to be his final images or performances. "That's why we have rehearsals," Jackson says after a couple flubs in the film. "At least we get a feel for it." Though he's pitch-perfect throughout, and his voice is deceptively strong and supple – and few others move as effortlessly as he did – at times you can tell he's not giving it his all. He misses his cue a couple times, and seemingly forgets the words to his own songs. All of which makes the documentary that much more special, a rare glimpse at Jackson the mortal.
Also making the documentary special: The fact that it has and should rekindle wayward fans' interest. If his return to the stage after a 12-year absence wasn't on your radar before his death – if you hadn't cared much about Jackson in general in nearly two decades, post-Dangerous – welcome back to the fold. It might not be the most ideal time – though the New York Times reports that there are at least several albums' worth of unreleased, unfinished songs sitting in Jackson's Sony files, so it's definitely not too late.
When it comes right down to it, This Is It is nothing less than a gift. Maybe it's not exactly what you wanted, but it's as close as you're ever going to get. As they say, it's the thought that counts.