Despite the time that's passed since Robert Lopez, Jeff Marx and Jeff Whitty first sent their profanity-spewing puppets on stage to deliver such toe-tappers as "The Internet is for Porn," "Everyone's a Little Bit Racist" and that ode to loud sex "You Can Be as Loud as the Hell You Want (When You're Makin' Love)," Avenue Q is just as funny, surprising and good-naturedly shocking as ever.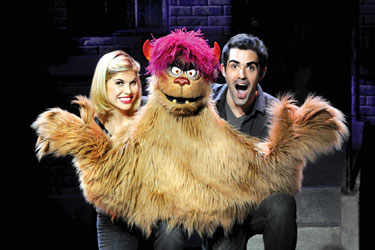 Avenue Q
To the great advantage of the show's national touring company, the folks at the Shakespeare Theatre Company have moved the production's pre-gentrification urban neighborhood into the 451-seat Lansburgh Theatre. It's a great mix of intimate space, traditional grand theater trappings and, well, graphic live puppet sex.
If you've never taken the subway out to Avenue Q, the premise is not unlike that of a lot of plays and musicals — except for the fact that most of the characters are puppets.
Princeton, a recent college graduate, has arrived in New York armed with great enthusiasm and a B.A. in English. The search for an apartment in his price range has brought him well past the clean swept streets and friendly front stoops of Sesame Street and out to a block public television never dreamed of.
Instead of songs meant to teach kids about the alphabet and cooperation, the human and puppet residents of Avenue Q prefer to sing about "Schadenfreude" and the value of a friendship where "you can always count on me … to tell you it's okay, you were just born that way, and, as they say, it's in your DNA, you're gay!"
And while most of the talk surrounding the musical has traditionally been about the rough talk and innuendo, there's actually a sweet side to Avenue Q. There's the puppet Rod's struggle with coming to terms with his sexuality, Kate Monster's desire to find someone to spend her life with, punctuated by the sob-inducing "There's a Fine, Fine, Line" (seriously, you will cry big, furry tears), and Princeton's confusion over where his future will take him.
One of the most striking things about Avenue Q is its remarkable consistency. While some productions begin to show a little wear around the edges as they set up outposts or send touring companies to tromp around the country, Avenue Q is as fresh as ever. Whether it's the show's uncanny ability to find new talent to give life to characters like Trekkie Monster and the Bad Idea Bears, the ridiculous resilience of the show's material, or the conceit (the puppets are not characters to be interpreted in the same was as, say, a Blanche Dubois) is nearly impossible to say.
That last bit is not intended to take one ounce away from the outstanding cast here in D.C. Notable is Brent Michael DiRoma as both Princeton and Rod, and Jacqueline Grabois as good girl Kate Monster and bad girl Lucy, the Slut. That's not a judgment. That's her name.
Unlike The Muppet Show or even Julie Taymor's Lion King, where the puppeteers were either hidden from view or meant to vanish, the actors in Avenue Q are out in the open, going through everything their characters are. So, when Rod's feelings are hurt, DiRoma registers that emotion. When Kate Monster has her heart broken, we also see it with Grabois.
In managing this sizeable feat – juggling both the craft of puppetry and that of acting – DiRoma and Grabois are spot on.
As the puppets' human neighbors Brian (Tim Kornblum) and Christmas Eve (Juliana Lee – who is the role's understudy) are also particularly fun to watch. Big applause goes to Lee for her Eve, easily one of the most racially insensitive characters since The Courtship of Eddie's Father's Mrs. Livingston. Consider that her big number is "The More You Ruv Someone" and you get the idea.
The Lansburgh Theatre is the final stop for the Tony Award-winning Avenue Q's national tour. Why not take a cue from the puppets and remember that, even in the blistering swelter of a D.C. summer, "There is Life Outside Your Apartment" and a trip to Avenue Q would be some "cool shit to do."
When all is said and done there are really three kinds of musicals. There are those rare animals consisting of a brilliant marriage between song and story, a creation where both elements work hand-in-hand to transport an audience far from their own experience.
There are the shows that are simply plays with benefits, musicals where the songbook could be casually peeled away and, replaced with a little exposition, vanish with no real consequence.
And then there are the musician musicals. Think Fela! Think Spring Awakening. Hell, think Mamma Mia. Think of all those shows where it's all about the band. Those productions that are all about the songs and defying an audience to sit still in their seats.
Passing Strange, now shaking the rafters of Studio Theatre, is a musician's musical of the highest order. A piece of theater that moves more like a troubadour's ballad than a rock musical, the production defies easy classification every chance it gets.
It's the story of a character known only as Youth (Aaron Reeder), and his coming of age journey from the upper middle class "Baptist Fashion Show" of Los Angeles to the hard edge, performance art capital of Berlin. Along the way, Youth finds and loses love, reinvents his past and his present and tries to figure out if it's possible to move forward with one foot in that place called home.
AVENUE Q





To Aug. 15
Lansburgh Theatre
–
202-547-1122
PASSING STRANGE





To Aug. 8
Studio 2ndStage
–
202-332-3300
Studio's production features some strong performances, including Jahi A. Kearse as the omnipresent narrator, as well as Deborah Lubega and the outstanding Jessica Frances Dukes, both in multiple roles. The show's ensemble dazzles with songs like "Welcome to Amsterdam", and "May Day", while Reeder, Dukes and Kearse do something altogether lovely with "Keys".
Unfortunately, while certainly doing full justice to what seems to be 2ndStage's forward-thinking mission, the space's close quarters don't suit the energy of Passing Strange's outstanding live band. The match drives some of the musical's numbers into a muddy puddle. Sound distorts and lyrics are either lost or, thanks to some unsuccessful staging, plaster themselves to side walls. Ultimately, too much passes the audience by in an enthusiastic but incomprehensible garble.
Like an amazing concept album or a club show you talk about for years, Passing Strange has a life of its own. To its disservice, Studio's 2ndStage simply doesn't give it enough room to truly take shape.