"It was getting a little tedious, frankly," says Bette Bourne. "All these men kind of waving their dicks around, telling us what they'd read and hadn't read."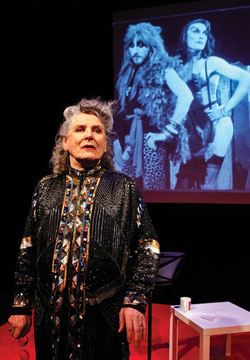 A Life in Three Acts
(Photo by Richard Termine)
Bourne is not relating time spent working at a porn shop. Instead, the noted British stage actor is talking about his days as an early advocate for gay rights in Britain. Bourne grew tired of the pompousness of many of his fellow homosexuals in the U.K. Gay Liberation Front, who, among other things, frowned on dressing in drag.
So Bourne and several other members "eventually moved away, and went to find somewhere where we could all just be together in our frocks."
The '70s "drag commune" they created in London's Notting Hill Gate went on to color Bourne's very colorful life. (It also birthed his adopted first name, replacing his parents' pick of Peter.) It's the centerpiece of the one-man show A Life In Three Acts, which Bourne will perform next weekend at the Kennedy Center. Bourne developed A Life In Three Acts with British playwright and journalist Mark Ravenhill (Shopping and Fucking). The show has run at several theaters in London, as well as last year's Edinburgh Fringe Festival, earning multiple awards, including one for best actor. Now it sees an overdue production across the pond.
"There are heavy moments," the 71-year-old Bourne says about the play. "I go through the '80s, the AIDS business. But generally speaking, it's quite an 'up' show. I'm very proud of it."
Bourne's "glorious lover" Paul will join him on his maiden voyage to D.C. When prompted, Bourne offers an insight about the relationship's 35-year success. "The secret is one day at a time," he says. "As you put your key in the door, you either hope that he's in or he's out — and I hope he's in. The day that you hope he's out, you've got trouble."'
A Life in Three Acts runs Thursday to Saturday, Oct. 28-30, at 8:30 p.m. in the Kennedy Center Terrace Theater. Tickets are $25. Call 202-467-4600 or visit kennedy-center.org.