As one contemplates the Washington Shakespeare Company's move from Clark Street to Rosslyn, it's easy to imagine a magical creature emerging from its dark cave into the light. Will the glass and steel expanses of the impressively hygienic Artisphere leech the company of its dark powers, or will the WSC seduce this space with its subversive artistry?
Launching with Shakespeare's Richard III, playing in rep with Friedrich Schiller's Mary Stuart, the company somewhat hedges its bets. Though such openers serve as valuable reminders (and notice to new audiences) that WSC is a classical contender, neither feels quite like the company in full flagrante. Still, with each production offering dimension, energy and a distinct flavor, WSC is firing on all pistons.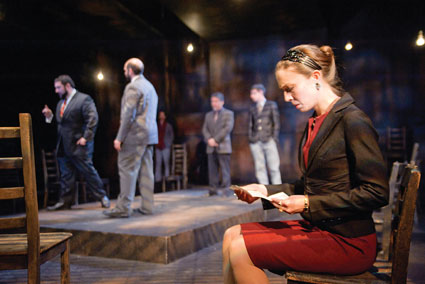 Mary Stuart
(Photo by C. Stanley)
Mapping closest to WSC's usual contours, Richard III offers more company members and familiar players than Stuart, along with greater interpretive freedoms. With the Sinbad-meets-New-Jersey costuming, dance-beat sound design and tattoo-style face paint, they assert, with perhaps the slightest wobble of insecurity, that this ain't your mother's bard. Does it work? Only because it is in the hands of a company thoroughly versed in keeping integrity the essence of even the greatest flights of edgy fancy.
Frank Britton, always a compelling, idiosyncratic stage presence, makes for an intriguing Richard. At home with irony, tempered by a dark, questioning edge, Britton gives his Richard the driven urban energy of the dispossessed. Yet, even as he makes this man his own, something here feels underdeveloped. Some of it comes with Britton's naturally rapid-fire delivery, some of it with the swish and swirl of the production's pace, but either way, certain moments with this twisted man need to be longer and more languorous. We want to savor Britton and perhaps see him dig deeper. Still, this is an original, memorable performance.
Trimmed for impact and accessibility, co-directors Christopher Henley and Jay Hardee keep this a swift and inventively choreographed piece, the imagery accelerating with the body count. Momentum falls to contrivance only with some of the swaggering walks characters make as they approach their scenes. And though everyone here has a reasonably good grasp on language and character, only a few reach Shakespearean fission. Besides Britton, the list includes Mundy Spears as the mad-with-grief Anne, Charlotte Akin as the mad-as-hell Margaret, Daniel Corey as a quirkily macho Richmond, Sam Phillips as the doomed Clarence, and Jay Saunders who, with few actual lines, delivers a darkly colorful Ratcliffe. Stepping in for a medically indisposed Adrienne Nelson, Jay Hardee worked his Buckingham with verve and nerve. And that's a well long enough list to carry Richard's parade of death and destruction.
In cool counterpoint, Mary Stuart, a must-see for Wolf Hall groupies (and HBO Tudors hoi palloi), is spare, measured and unadorned. For director Colin Hovde, it is more about the language of faces than anything else. Whether caught in the bare-bulbed light of center stage or veering close to our seats, the emphasis here is on what face tells us of secret desire, fear and revelation. In this intimate space, it is like the theatrical version of HD – we don't miss a flicker of emotion nor a moment's loss of concentration. It's demanding and highly effective in Hovde's hands.
Adapted by Peter Oswald, this piece of history easily mirrors the power struggles of our current political landscape. After sanctioning the trial and imprisonment of her half-sister and rival for the throne, Mary Stuart, the incumbent Queen Elizabeth I finds she has created a dangerous underdog. Facing not only a threat to her title but a public-relations nightmare, Elizabeth must decide whether Mary's sentence of death should be carried out. Though both women are powerful in their own ways, neither is ever allowed to forget they live in a man's world.
RICHARD III




MARY STUART





In rep to Dec. 12
Washington Shakespeare Company
Rosslyn Artisphere
1101 Wilson Blvd.
Arlington, Va.
$25-$35
800-494-8497
washingtonshakespeare.org
As stark as the production itself, Sara Barker delivers a strikingly carved Elizabeth. Like Jackie O. minus the remote smiles, Barker gives us a woman who has conformed utterly to every expectation at the cost of her happiness and perhaps her sanity. With superb restraint, Barker tells us this complicated woman's tale in every facial expression. Her opposite in style and life experience, Mary embodies the ebullience of a once-carefree life tempered now by imprisonment and a devout Catholicism. Though Heather Haney captures Mary's charisma and nobility well, she is less adept at her humanity. Could she really never doubt herself, even as she faces death? Could she really have loved the Earl of Leicester?
The ensemble of men revolving around this power struggle –and ultimately controlling it – offer several compelling performances. Joe Brack as the pragmatic and finally heart-broken Leicester is quietly, deeply believable while offering an unusually fine vocal cadence and understated charisma. Also keeping it low-key and effective is Dave Bobb as the Earl of Shrewsbury. Lee Liebeskind overplays his Lord Burleigh until the second act, where he found his rhythm. Mention must be made of Alex Vaughan tackling the young, deludedly ardent Mortimer with vigor if not quite enough clarity.
And so two very different royals, seen through two very different directorial lenses, each exploring the human imperative to get and keep power – with all its attendant costs. Nicely executed.