"It was really great. Lots of new people, younger people, and a lot of the performances sold out."
Scott Kenison is still basking in the glow from last weekend, the initial weekend of Intersections: A New America Arts Festival, coordinated by his organization, the Atlas Performing Arts Center.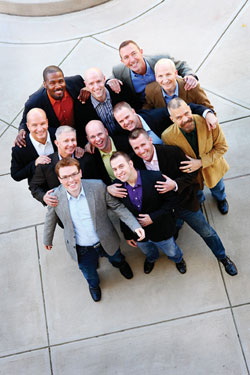 Potomac Fever
"[But] there's no rest for the weary," Kenison continues, only half in jest. In fact, the festival will fill the entire complex in Northeast's hip H Street Corridor this weekend and next, as well.
Among the highlights still to come:
This Friday, March 4, brings what Atlas is billing as "Gay Date Night," with the Potomac Fever a cappella ensemble of the Gay Men's Chorus performing a free concert at 6:30 p.m. After that, you and your gay date can either take in a sure-to-sell-out performance of the popular spoken-word group SpeakEasyDC, offering stories about the evolving nature of American families, including the LGBT variety; or the first of several performances over the next two weekends of the Washington Ballet and the InSeries's inspired melding of ballet and opera, re-envisioning Mozart's Don Giovanni and Cosi Fan Tutte.
Saturday, March 5, offers several performances featuring aerial artists from AirBorne DC! and South Africa's Zip Zap Circus. Sunday, March 6, brings a performance of Our Wide, Wide Sea, a fairy tale for grown-ups from the theater collective Factory 449.
Friday, March 11, presents free cabaret performances by Terri Allen, accompanied by Ron Chiles. Scena Theatre presents several staged readings over that weekend of a new African-American musical based on the 1930s film The Blue Angel. The a cappella LGBT ensemble Not What You Think offers a free interactive performance/workshop on Sunday, March 13, called "Will You Harbor Me?"
The festival concludes with a party Sunday, March 13, featuring food and wine pairings by chef Mark Haskell and Latin/jazz fusion by Pablo Gabriel.'
Intersections runs to March 13 at the Atlas Performing Arts Center, 1333 H St. NE. Ticket prices and passes vary. Call 202-399-7993 or visit atlasarts.org.