13. The Birdcage (1996)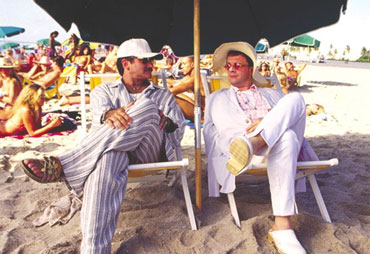 The Birdcage
With drag queens, you expect camp. Before anyone entered the theater, they knew what they were getting themselves into. What The Birdcage really did is make gay campiness accessible to the mainstream.
It doesn't have the esoteric quality (of simply being foreign) of its French forebear, La Cage aux Folles. It has star power. And audiences are paying for the gaiety. It's the masses getting to see how the queer half lives, fictionally speaking. There's Hank Azaria as houseboy Agador in all his resplendent "Guatemalanness." There's the Grecian dinnerware with a motif of sodomy that could possibly been interpreted as boys and men playing leapfrog. And there are the placebo "pirin" tablets — aspirin with the "a" and "s" scratched off — to help Nathan Lane's Albert calm his nerves. Look at those wacky gays.
That is the accessible camp. Something a bit more genuine, a bone for the gay audience, is that Lane played this drag role before coming out definitively. He knew he was gay, we knew he was gay, but he hadn't quite gotten to the point of saying on a very public platform, "I am gay." The joke for the gays is that some may have actually considered that Lane was merely playing gay in the same manner as co-star Robin Williams.
For both those in the know and those on the outside, the icing on the cake is Gene Hackman in drag, looking just as uncomfortable as we hope he is. It's The French Connection — in heels!
---
---