In January, Jared Neff was back in his home state. He had a workshop to teach at the Missouri State Thespians state conference for students: "Hey, Mr. Producer! … Ever say, 'If I ran this theatre I would….'? Then this workshop is for you."
It was Neff's annual pilgrimage, returning home to teach young people his greatest passion, theatrical production. He'd stay at his desk at D.C.'s Shakespeare Theatre Company through the winter holidays, saving up the time to make the trip each year. That was normal.
What happened Wednesday, March 7, was anything but. STC's 30-year-old booking manager died of pneumonia-related complications.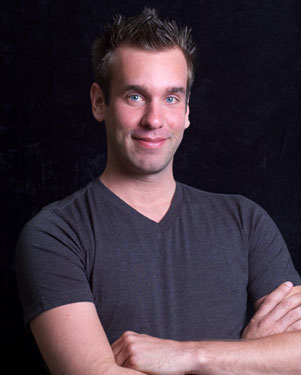 Jared Neff
(Photo by Dave Inman)
"He texted me Monday, 'Hey, Pumpkin, do you know a doctor on Capitol Hill?" says Eric Bailey, who worked with Neff at STC, having been his friend for much longer. Realizing Neff had no primary care physician, he took him directly to the emergency room at the George Washington University Medical Center. Sometime after Neff was admitted, Bailey recalls a doctor saying, "'You're going to be here for a little bit, but we're going to make you as comfy as possible. Probably about seven days.' That seemed a little funny. Seven days?"
Instead, Bailey says Neff's health took a turn for the worse as his parents rushed from Missouri to be by their son's side. There was a tragic spike in Neff's blood pressure around 3 a.m., Bailey says, ticking through the sad order of events the best he can.
"It was just one organ after another after that," Bailey says at what is obviously the most raw juncture of this retelling. "His little body just couldn't handle it."
As Neff's friends and colleagues deal with their loss, the grief can't help but make way for happy memories. So many have happy memories to share of the young man with big dreams of producing for the biggest possible venues.
"There were a whole lot of different people I've never interacted with who have told these great stories about him," Erikson Arcaira — who counts Neff among the first people he met in D.C. — says of the messages he's read on Neff's Facebook page. "I didn't know these other people, but we had a similar experience. … He would engage you, share things with you, what he found to be evocative, what he thinks you would like."
That held for Bailey, who met Neff indirectly during his first day on the job at Olney Theatre Center. Neff had left to take a job Arena Stage, and left a card introducing himself to his successor. "It just said, 'Welcome to the area, I'd love to meet up with you.' Ever since then, it just took off. He was a really wonderful friend."
He did as much to make fellow Missourian Josh White feel welcome when he moved to D.C. six years ago. A mutual friend advised White to let Neff be his guide.
"He gave me Jared's number," says White, who with Nathan Nickens, became Neff's very closest friends. "He said, 'He knows a lot of people and he's a good person."' Neff gave White his orientation with a night out at Nation. "He made sure I was having a good time. That seemed to be his priority. Seems like everyone has that story."
Indeed, many people have stories of a young man with a large personality, grand ambitions and wicked sense of humor who went out of his way to make others feel welcome, whether at one of his pick-up basketball games, spending an evening at La Lomita on Capitol Hill, where he lived, or at one of his Tony Awards parties.
As James Roemer, STC director of administration puts it, "The thing that struck me of late is I considered him to be one of my best friends. From reading Facebook, from the gatherings over the past week, I don't think I'm alone in that regard. He made friends with everyone."
Chris Jennings, STC's managing director, also worked with Neff and also considered him a friend. More than that, he was also a mentor. When Neff wanted to know how to proceed in his career, he turned to Jennings, who admits to wondering if Neff might have been taking on more than he could handle, professionally, when he joined STC.
"But from day one when he started, he just continued to impress me," says Jennings, choking up. "That's the saddest part. It was just the tip of the iceberg. He was just at the beginning of his journey."
Through the tears, everyone returns to the ambitious young man who excelled as STC's booking manager – as evidenced by the pillow, three walkie-talkies and stacks of books in his office – and his outsized personality.
"He was always joking around," says Bailey. "He would have this color-coded chart. Code Red: Chris Jennings is in the building and he's mad. He would just make up all these different codes. I would get a phone call now and then: 'Girl, it is Code Orange over here!' 'What are you talking about?' 'I have to go.' That was just his sense of humor. Nothing was ever too much for him to handle that it would crack his smile."
The Shakespeare Theatre Company is preparing a public memorial event in honor of Jared Neff. Details will be made available once finalized.