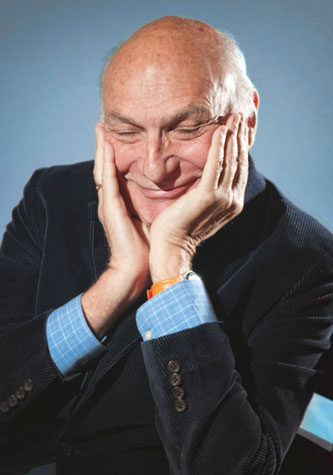 Michael Kahn
(Photo by Todd Franson)
MW: Yes, but the benefit to your theater was that audiences came to see these stars in the productions.
KAHN: Yes, more people came. Also, I got some really good acting. But I had been doing that all my life. Just like I had been using people of color all my life in all my plays. It was not a big surprise for me to make Fran Dorn a leading lady. That was not being done in Washington at the time. But it was normal to me. Ten years before it had stopped with the Black Power movement – it got too difficult. If you look at the programs you will see the differences.
I got nasty letters from people – unsigned nasty letters. And I got a lot of credit for it at the time. I got a Washington Post award, I got a DC Humanities award. But I forget that that was a big thing at the time. We never did a black play. We just did plays. It wasn't until very much later that I even had decided to have an all black cast for Oedipus because I wanted to do that very specifically about a civilization.
MW: You also turned Othello on its ear with Patrick Stewart in the title role.
KAHN: We had done an Othello before that with a black Othello, Iago and Amelia. Which was already unusual and smart because it took the race out of the play.
MW: And several times you brought a gay aesthetic to Shakespeare.
KAHN: Boys with their shirts off, if that's what you mean. [Laughs.] I never thought of it as a gay aesthetic. I just thought of the fact that I work out of who I am. Anyway, I'm never quite sure what gay aesthetic means. I understand what a camp aesthetic means, and I don't think I'm a camp director.
MW: I remember one production – and I can't recall which – with a very heavy leather/S&M feel to it.
KAHN: [Laughs.] Quite frankly, there was a lot of leather before I got here. When I was the director of the Acting Company, I did a production of The White Devil, which came to the Kennedy Center to the Terrace. It had a lot of leather in it. And a big jar of Crisco.
MW: Your company staged an all-male Romeo and Juliet a few years ago.
KAHN: I gave that to a straight man – David Muse [now the artistic director of the Studio Theatre]. [Laughs.] He wanted us to do it that way. I would have never done a same-sex Romeo and Juliet. Of all the plays where you have men pretending they were women – it doesn't particularly illuminate the play.
MW: Do you ever think about taking one of the other plays in that direction?
KAHN: Sure. I think the best ones to do are the ones in which the girl dresses as a boy. A boy actor who is playing the woman dresses back as a boy, like As You Like It and Twelfth Night. Those would be much more interesting. I can see that.
MW: One of the things you're renowned for is your uncanny ability to edit down a show, to distill its meaning, so that a contemporary audience can digest it better.
KAHN: I like doing it. With Strange Interlude, I started out doing it because I knew that you can't do six hours onstage with a dinner break. You can't do it. Even if the audience is willing to go through it, it doesn't make any sense because people go to work, and they can't get to the theater at 4 in the afternoon and stay until midnight. You can't do it.
MW: Is it painful in any respect to take an author's work and cut away?
KAHN: Well, I feel very responsible to the author. Now granted, no author is going to say, "Sure, Michael, get rid of two and a half hours of my play." I know that. So I hope that Eugene O'Neill would be extremely happy of how much I have honored his intentions, and what I feel is the play. I actually think the play would be very bad if it were cut down to a streamlined thing because what's interesting about it is the complexity of the characters speaking to each other, and then speaking their thoughts. It's that texture that makes this play so special.
You could cut the play and get rid of the thoughts, but you'd then have a straight melodrama – and why would you want that?