Every night right now at Broadway's St. James Theatre, officials are taking donations, passing around collection plates as if the audience were a congregation at church.
Technically, most of the action in the musical Leap of Faith takes place at a pitched-tent church revival in a depressed, drought-stricken Kansas town. And a lot of the money collected is fake, distributed by "ushers" before the show, as the congregation files in to their seats. (Any real money donated goes to Broadway Cares/Equity Fights AIDS.)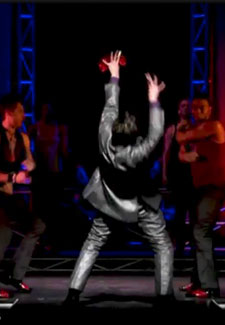 "Leap of Faith"
The musical's set designer Robin Wagner even added stairs and risers off the stage and the upper balconies to give the large cast more room and accessibility. There are also Jumbotrons projecting the stage shenanigans out to the crowd, as if it were a Joel Osteen service.
It's all a big setup, an elaborate ruse, for a show that will generally entertain you. Heck, it might even move you a little. But more than most musicals, it takes a huge suspension of disbelief – a big leap of faith – to buy into this show. The payoff is just a bit too fanciful.
Raul Esperza plays Jonas Nightingale, a down-on-his-luck traveling Christian revivalist minister whose bus breaks down outside Sweetwater, Kan. So he and his gospel choir flock, called Angels of Mercy, decide to pitch their tent in this town desperate for divine intervention.
Even if you don't know the 1992 Steve Martin movie by the same name, you can see where this is going. Throw in a skeptical sheriff and you've got the fundamentals for drama. Add in the fact that the sheriff – in the musical version – is a beautiful single female (a rather wan Jessica Phillips) and you've got love potential, too.'
Esperza is a bit rocky in the role, as if he lacks faith, but he certainly has his moments, especially by time for his diva-like dramatic number, "Jonas' Soliloquy." (Think "Rose's Turn" from Gypsy.)
But Esperza's not the only diva here. Kendra Kassebaum assuredly plays Nightingale's smarter sister and sidekick, and the Angels are led by Kecia Lewis-Evans and Krystal Joy Brown. Those four standouts in a strong cast assembled by director Christopher Ashley do as best they can to sell you on this story of faith and redemption. It's only too bad what they're selling is chiefly a bill of goods.
The crux of the problem in Janus Cercone and Warren Leight's story is that the audience is supposed to identify with, or at least care about, a con man. As it happens, Esperza's Nightingale isn't actually a man of faith, he's just peddling miracles and salvation as a way to pay for shiny things, like his reflective sport jacket made up of disco ball shards. By show's end he sees the light and the error of his ways, redeemed and reformed chiefly by love, but also because his jig is up. And with that, his crimes and transgressions, including swindling townsfolk out of money and prized possessions, are simply swept under the altar, with no sense of consequence. It's all a bit hard to believe or accept – and anyway, it's too little, too late.
There are enough other problems with Leap of Faith to make you suspicious of not just Nightingale's motives, but those of the musical's makers too. Alan Menken, working here with lyricist Glenn Slater, essentially regurgitates the same sort of mostly gospel-steeped tunes he's used before, whether for Sister Act or Little Shop of Horrors. From the sounds of it he wasn't particularly inspired here. Worse still is Cercone and Leight's book, implausible beyond just the con man's redemption angle – or the fact that it's something of a rip-off of The Music Man. No real mention is made of race, and yet we have the idealistic pairing of a white fundamentalist preacher with a mostly black gospel choir. How often does that happen in the real world? It's also a stretch to think that a black gospel choir would stir the spirits of hardscrabble white Kansans so unquestionably.
LEAP OF FAITH


St. James Theatre
246 West 44th St.
New York
Tickets are $47 to $252
212-239-6200
telecharge.com
Closing Sunday, May 13
Cercone and Leight must have reasoned that the far-more-restrained hymns associated with white fundamentalists would not stir Broadway as easily as gospel. On the other hand, they probably figured that making the minister black would be a shade too far for mainstream appeal.
The result is a musical that appears to be as calculatingly cynical as Jonas Nightingale. The show's redeeming qualities, from its cast to Sergio Trujillo's high-stepping choreography to a couple admittedly decent tunes – including the title number, which closes the show – can't make up for its deficiencies.
Which is why they just announced its closing, after only 20 performances (and 24 previews).
It just doesn't feel right to offer any real tithing for this show.