"It started out as kind of a stutter," says Kyle Abraham, about his father's aphasia, a type of brain damage. "Two years later, it started getting worse. So it was just a gradual thing."
Abraham's father was diagnosed with Alzheimer's disease in 1999, and lived with that and aphasia, which came in later, until last July. But by 2006, says Abraham, "conversation was getting a little chancier, harder."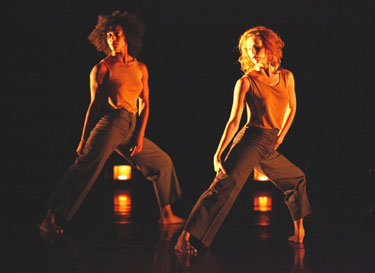 Kyle Abraham: Abraham.In.Motion
(Photo by Stephen Schreiber)
In many ways, the conversations, with "these quick synapse changes," reminded Abraham of listening to the radio on cross-country car trips as a child. "You're getting your groove on," explains Abraham, "and then a second later it's interrupted because you've run out of the [frequency] zone, but you might find [the station] again in a couple seconds."
Abraham decided to honor his father and his memories with a dance piece. As performed this weekend at Dance Place, The Radio Show features six dancers from Abraham's company, Abraham.In.Motion. The piece, which garnered Abraham's company an esteemed Bessie Award from Dance/NYC, is characterized by the metaphor of static, featuring some abrupt changes between dances and songs, ranging from classic soul to modern hip-hop – all of which was played on Pittsburgh's former black radio station WAMO.
Now based in New York, the 34-year-old Abraham grew up in Pittsburgh playing piano and cello. He wasn't bitten by the "dance bug" until his senior year in high school. "I make work from my own perspective, as a black, gay man," says Abraham, who's had his own company since 2006. Other shows have dealt directly with his experiences growing up black and gay in Steel City, although Abraham says his coming-out experience wasn't particularly rough. "It was just a simple conversation," is how he puts it.
The Radio Show celebrates his father, and especially the music he associates with him. "There are just so many songs," he says, "that really bring up so many wonderful memories connected to my father." '
The Radio Show is Saturday, May 5, at 8 p.m., and Sunday, May 6, at 7 p.m., at Dance Place, 3225 8th St. NE. Tickets are $22. Call 202-269-1600 or visit danceplace.org.