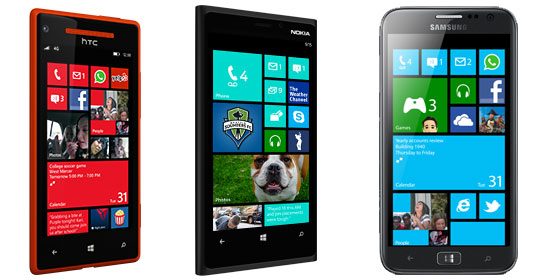 HTC 8X, Nokia Lumia 920 and Samsung ATIV S
That changes with Windows Phone 8. Gone is the restriction to single core processors, gone is the set WVGA screen resolution, gone are the misconceptions that Windows Phones are somewhat inferior to their smartphone contemporaries.
Nokia carries a lot of the thanks for this, with its Lumia devices invigorating a line-up of phones that were close to being stagnant. Bold design, vibrant colours, and an overall appearance that was refreshingly non-conformist. This design language, the bright colors and polycarbonate shell, have set the groundwork for Windows Phone 8. The redesigned home screen, with three sizes of Live Tiles, allows for greater customization by the user, and is complemented by new colors and themes to further add to the visual nature of each device. Microsoft is pushing Windows Phone as fun and personal, indeed they say it's the "most personal smartphone there is." Android phones would beg to differ here, but it's hard to argue that the color and variety on offer is eye-catching, certainly more-so than the average Android or iPhone, where black and white are the norm.
There are three distinct flagships in the crop of release devices – the HTC 8X, Nokia Lumia 920 and the Samsung ATIV S. Each differs in its own way, offering a compelling choice. The HTC features the same polycarbonate shell as the Lumia, available in black, neon green, a deep purple-blue and red, has an 8MP camera, Beats Audio, an ultra-wide, front-facing camera for group shots, and a 4.3-inch 1280×720 Gorilla Glass 2 display. The Lumia 920 offers a choice of black, white, red or neon yellow polycarbonate, a 4.5-inch 1280×768 PureMotion HD+, Gorilla Glass display with a 60Hz refresh rate and super-sensitive touch, an 8.7MP camera with active Optical Image Stabilization and PureView technology, and wireless charging. Samsung's ATIV S is essentially a Galaxy S3 in Windows clothing, but that's hardly a complaint, bringing a faux-brushed metal finish, a 4.8-inch, 1280×720 HD Super AMOLED display coated in Gorilla Glass, a slender 8.7mm waist, a 2,300 mAh battery to power that big screen, an 8MP camera, and microSD support for expandable storage – a first for Windows Phone, which now supports it. All three feature NFC, 1.5GHz dual-core processors, and the usual array of sensors.
Windows Phone 8 brings other features, such as a built-in Wallet app; NFC support for mobile payments; Skype built-in to the OS; Rooms which allow for the sharing of private conversations and images with a selected group of people; Data Sense to help those with capped data limits; Kid's Corner which allows parents to choose apps, music and photos that they want their child to see, without giving them access to emails, calls or other sensitive data, in a specially-selectable place on their phone – though it can also double as a guest feature should you wish to share your phone with a friend, but not your personal data. Really, though, it's the hardware that will sell Windows Phone 8 to consumers, and, backed with an increased marketing push by Microsoft, it really stands a chance this time around. No longer are the devices standing in the shadow of their Android brethren – indeed, the ATIV S is the only device that looks as if Samsung designed a high-end Android phone and then put Windows Phone in it, but that's hardly a scathing criticism.
If Microsoft can keep Windows Phones competitive, specs-wise, and keep hardware partners putting out eye-catching, desirable handsets, maybe, just maybe we might see consumers finally coming around to the world of Windows Phone. It's a tough sell, though, given how entrenched people are in Google and Apple's ecosystems, but it'd be unwise to count Microsoft out just yet.
Windows 8, Windows RT, Microsoft Surface, Windows Phone 8 — Microsoft's united ecosystem of devices, all running windows, all touch enabled, all working in harmony. Its Microsoft's vision for the future, and one which, like it or not, we're all going to end up being a part of. Microsoft is too important to fail and, at least with Windows 8 and Windows Phone 8, it's given itself plenty of reason not to.
Windows 8 is available for purchase, though only in Pro form, at $39.99 for a digital download, or $69.99 if you prefer a physical copy. Microsoft is also offering a special upgrade offer for those who purchased a Windows 7 device after June 2, with Windows 8 available for just $14.99.