If the Nov. 6 election were held today, a majority of likely voters in Maryland would vote in favor of Question 6, a referendum to uphold Maryland's recently passed marriage-equality law, which would allow same-sex couples to obtain a state marriage licenses, according to a new Washington Post poll.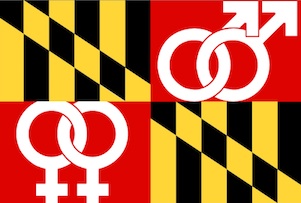 Among likely voters, 52 percent would vote in favor of Question 6 and 43 percent would vote against it. Of those likely voters, 39 percent are "strongly" in favor of Question 6 and 36 percent are "strongly" against it.
The poll was conducted on behalf of the Post by New York polling firm Abt SRBI Inc., between Oct. 11 and 15, among a random sample of 1,106 respondents. The margin of error among the 843 "likely" voters surveyed is plus four points.
According to the poll's demographic breakdowns, Question 6 leads by a 51-46 edge among men, and a 54-40 margin among women. Of white voters, 56 percent support Question 6, and 39 percent who oppose it. Non-whites overall are evenly split, with 49 percent backing Question 6's marriage-equality position, and 47 percent opposed. A further breakdown of non-white respondents shows African-Americans opposing Question 6 by a 53-42 margin.
The poll reveals a stark difference among voters of various age groups. Voters ages 18 to 39 strongly support Question 6, with 64 percent supporting the measure – including 51 percent who say they "strongly" support it – and 35 percent who oppose it. People ages 40 to 64 support Question 6 by a 51-43 margin, and people 65 and over oppose Question 6 by a 55-40 margin, with 50 percent saying they "strongly" oppose it.
Other groups showing majority support for marriage equality are those who make less than $50,000, who narrowly favor Question 6 by a 49-46 margin; and those who make more than $100,000, who are overwhelmingly in favor of Question 6 by a 63-34 margin.
Level of education also seems to correlate with increased support, as 52 percent of people with some college education, 61 percent with a college degree, and 65 percent with a post-graduate degree support Question 6. Conversely, only 39 percent of those with a high school education or less support Question 6, with 56 percent opposed.
Democrats favor the marriage equality law by 20 points, 58-38, while Republicans oppose it by 31 points, 63-32. The measure has the broadest support among political independents, who favor it by a 62-34 margin. Ideologically, 73 percent of self-described liberals, 58 percent of self-described moderates and 27 percent of self-described conservatives support upholding the marriage equality law signed into law in March.
The biggest weakness in support for marriage equality is related to religious attendance. Voters who attend religious services weekly or multiple times within a week oppose Question 6 by a 63-32 margin. The measure leads 68-27 among voters who attend religious services less than once a month or not at all.
The Post poll comes 10 days after both sides in the marriage-equality fight hit radio and television airwaves in the Baltimore and Washington media markets.
Given the measure's weakness among religious voters – who are expected to come out to vote against Question 6 and Question 7, which would expand gambling in Maryland – pro-equality groups have been emphasizing the marriage law's protections for clergy and religious institutions.
Yesterday, Oct. 18, Marylanders for Marriage Equality, the coalition of labor, religious and grassroots community groups seeking to approve Question 6, held events in Baltimore and Silver Spring featuring various interfaith leaders sharing their support for Question 6.
The coalition also released a video of other prominent African-American clergy speaking in favor of Question 6. The ad features figures such as the Rev. Al Sharpton, the Rev. Brad Braxton of Baltimore, the Rev. S. Todd Yeary of Baltimore, and the Rev. Delman Coates of Clinton, Md.
The ministers featured in the ad, who took part in a September press conference announcing their support for the marriage-equality law, have been part of an extensive campaign to convince Marylanders, particularly African-Americans, who make up a quarter of Maryland's electorate, and religious voters that Question 6 is about fair and equal treatment under the law, rather than a religious or doctrinal issue.
This may be the most difficult undertaking for advocates of Question 6 as the Post poll, in asking registered voters about their opinion of whether gays and lesbians should legally marry, found that, among African-Americans who expressed an opinion on marriage equality, 45 percent said their religious beliefs had the most influence on their decision, compared to 11 percent who said their personal experience with gays and lesbians influenced their decision.
Meanwhile, opponents of marriage equality, led by the Maryland Marriage Alliance, argue that the law will harm religious people and those who oppose same-sex nuptials, citing the recent suspension of an administrator at Gallaudet University in a television commercial and pointing to cases in other states where people were allegedly fired, threatened or sued for opposing marriage equality.
But supporters of marriage equality are also benefiting from fact-checkers who are finding many anti-Question 6 claims false or misleading. The Baltimore Sun published an Oct. 17 editorial in which it denounced efforts to spread misinformation about Question 6, dismissing major arguments by the opposition as "scare tactics."