Got Pride fever already? Well, here's our pick for five slightly off-the-beaten-path ways to scratch your gay itch before next weekend's parade, festival and parties. These ideas, drawn from Metro Weekly's Out On The Town calendar, are in addition to Drag Kickball and the Gay Men's Chorus of Washington's show Seven, both taking place this weekend and reported on in the current Metro Weekly. Of course, don't forget to pick up next week's Metro Weekly for all your Pride fixings.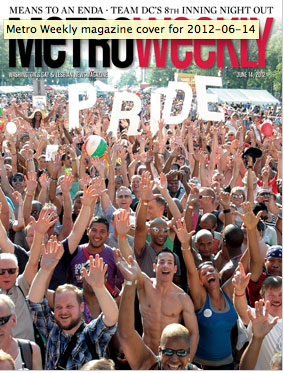 1. 2013 DC QUEER THEATRE FESTIVAL
Now in its second year, after having raised over $800 last year for the DC Center, this festival expands to three days, but the focus is on just one program of six 10-minute plays, with local spoken-word artist and poet Regie Cabico serving as host for the event. Among the plays on tap: Marjorie Conn's play about intersex males At A Snail's Space, Janis Holm's lesbian-identified Bar Belle, and Jon Jon Johnson's Grips, about college roommates who reunite. "It's really about bringing the community together," the festival's Matt Ripa tells Metro Weekly, "and presenting plays with various points of view." Thursday, May 30, Friday, May 31, and Saturday, June 1, at 8 p.m. Mead Theatre Lab at Flashpoint, 916 G St. NW. Tickets are $16.
This non-curatorial event, presented by D.C.'s experimental music promoter Sonic Circuits, includes not just music but spoken word and digital art, and not just LGBT musical artists but also allies and "post-gender-identified participants." Queering Sound 2013 features the return of regulars including Bev Stanton's electronic project Arthur Loves Plastic, Blowoff's visual guru Nick Lopata, spoken-word artist Dan Vera and Queering Sound founder J.S. Adams's own full band BLK w/BEAR, whose recordings have been used in programming on BBC and the Discovery Channel. Saturday, June 1, at 7 p.m. Pyramid Atlantic Art Center, 8230 Georgia Ave. Silver Spring. Ticket are $10.
3. CHOCOLATE & WINE WOMEN'S TEA
The DC Women's Initiative presents this Capital Pride Women's Event at the Hill Center featuring truffle tastings by MC2 Confections, music by Frankie & Betty — a.k.a. Rachel Bauchman and Jessie Strick — and a screening of the film Labor of Love. Sunday, June 2, from 1 p.m. to 5 p.m. Hill Center, Old Navy Hospital, 921 Pennsylvania Ave. SE. Tickets are $35 pre-sale or $45 at the door.
Local actor Joshua Morgan hosts this second annual event, co-presented by Capital Pride and Theatre Washington, dubbed "An Evening of Musical Mayhem and Fun," and featuring a few of D.C.'s best singing actors, from Morgan to Carolyn Cole (Signature's Hairspray) to Bobby Smith (MetroStage's Jacques Brel…) to Matthew Delorenzo (Studio's Pop!). Monday, June 3, at 8 p.m. Town Danceboutique, 2009 8th NW. Tickets are $20.
5. GAYLARIOUS
For the special Capital Pride Edition of this monthly gay standup show, co-hosts Chris Doucette, Zach Toczynski, MK Paulsen and Chelsea Shorte present three comedians: Michelle Buteau of VH1's Best Week Ever, Molly "Equality" Dykeman (aka Andrea Alton) of New York's Gotham Comedy Club and Tim Dillon of New York's Caroline's on Broadway. And local DJ Adam Koussari-Amin provides tunes in between the jokes. Thursday, June 6, at 8 p.m. and 10 p.m. Lakazbah Lounge, 2147 P Street. Tickets are $15 online or $17 at the door.