Arvind Manocha remembers his first record collection. For a first-grader, already pretty impressive. In the Manocha mix: Queen's Live Killers, Donna Summer's On The Radio: Greatest Hits Volumes I & II, the Rolling Stones' Some Girls and the Brothers Johnson's Light Up The Night. All that plus regular spins through his parents' collection of Indian classical music.
"I really was in love with music at a very, very early age," says the 41-year-old Manocha, born and raised in northeastern Ohio. "And it was very eclectic. I kind of do like it all."
By the time Manocha got to high school, he had picked up the saxophone and joined the marching band. And by the time he graduated he had picked up the guitar and was shredding it in local metal bands.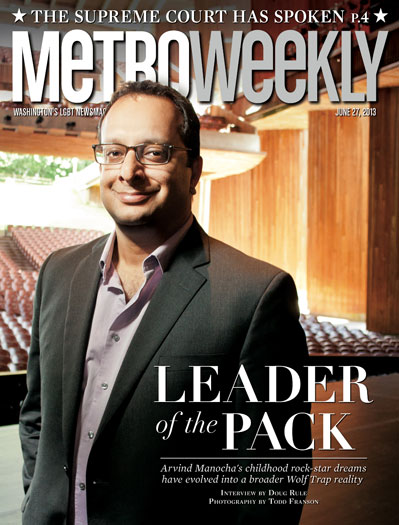 Arvind Manocha, President and CEO of Wolf Trap, on cover of Metro Weekly
(Photo by Todd Franson)
"I went through a big metal phase," he concedes, admitting that he even grew his hair out for the role. "There might have been felt ankle boots from time to time. It was the '80s, I was in a metal band…. What are you going to do?"
But Manocha didn't end up pursuing those early dreams of becoming a rock star. Instead, the youngest of two boys born to Indian immigrants earned a literature degree from Cornell University and a master's from England's Cambridge University, which he attended as an impressive Marshall Scholar.
Soon enough, though, he was working for rock stars, at least of the classical kind. Manocha, for example, helped oversee construction of the Los Angeles Philharmonic's primary home, the Frank Gehry-designed Walt Disney Concert Hall.
This past January Manocha signed on as president and CEO of Wolf Trap, a job with striking similarities to his perch over the past decade as head of L.A.'s Hollywood Bowl. Like Wolf Trap's Filene Center, the Hollywood Bowl is a thriving outdoor venue. "Both festivals have a mandate – and follow my personal interest – to embrace music across a very wide spectrum," he says, presenting everything from Top 40 pop to blues to opera to classical.
The Hollywood Bowl is an 18,000-seat facility, whereas the Filene Center holds 7,000 people. But what Wolf Trap, which also includes the nearly 400-seat Barns, may lack in capacity it more than makes up for in its imprimatur as "the only national park for the arts in the country." Nestled in 128 acres of gorgeously, dramatically preserved woods administered by the National Park Service, Wolf Trap, Manocha says, has "an added responsibility to be inclusive, to speak to diverse audiences, to be accessible." It achieves that with programming that includes everyone from Garrison Keillor to the National Symphony Orchestra to Kesha; and by keeping ticket prices low, offering free parking and a shuttle service from the West Falls Church Metro stop, and allowing patrons to bring in their own food and beverages. Wolf Trap also runs its own well-regarded opera company and opera-training program, plus arts-education initiatives for children in 16 cities around the country.
Manocha effused about all that Wolf Trap has to offer on a recent Friday morning in the artist lounge below the Filene Center stage, where stagehands for Celtic Woman were causing a raucous setting up for that evening's show. Manocha also expressed great enthusiasm for his new life in the D.C. area. He and his partner, Gideon, whom he first met while at Cambridge, have just finished renovating a house near Wolf Trap in Great Falls, Va.
"I don't have a history here, he doesn't have any history here," he says. "It actually makes me feel like I felt when we first met, which is really corny, I know, because that was a long time ago. But it really does feel like a very fresh start."
METRO WEEKLY: Let's start at the beginning. As a kid, what did you want to do when you grew up?
ARVIND MANOCHA: When you're little you want to do a lot of things. I wanted to be a psychiatrist. I wanted to be a rock star. And I wanted to be a writer. But in some ways when I think about it, I loved music. So something artistic.
MW: Were you musical growing up? Did you sing?
MANOCHA: I did not sing. I learned how to read music by playing the saxophone. That was my instrument. In the fourth grade you had to pick. I think I quit band my junior year of high school. When you got to high school you had to be in the marching band. And in Ohio, in the fall/winter, you're basically marching with a baritone saxophone in the snow, while it's raining on you. That got old pretty quickly.
MW: Do you play any instruments now?
MANOCHA: I moved on from the saxophone to the guitar — the bass guitar — because I was more interested in being in a rock band than the marching band. And I did that through high school and college. And beyond. I still play the guitar from time to time.