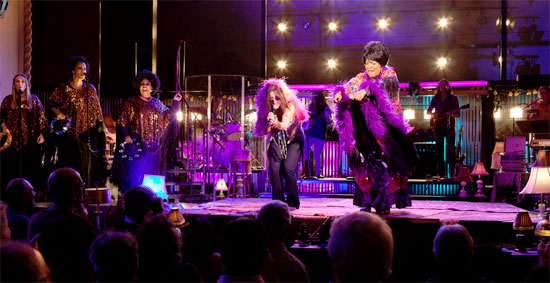 All together now: Come on! Come on! Come on! Come on, and take it! Take another little piece of One Night with Janis Joplin, now in its really, truly last week at Arena Stage. Arena first staged the Broadway-bound show last fall, but the run was so successful, with many sold-out nights, the venue brought it back for a summer reprise.
Written by Randy Johnson on a commission from the Estate of Janis Joplin, One Night with Janis Joplin features more than a dozen singers and band members performing classic songs that shine the light on Joplin and especially those who influenced her, from Bessie Smith to Nina Simone to Aretha Franklin. The show is as close to an "all standing" concert as it ever gets in the Kreeger Theater, with concertgoers — err, audience members — blown away by both Mary Bridget Davies, who earned a Helen Hayes Award nomination for her portrayal of Joplin here, and Sabrina Elayne Carten as the Blues Singer, who does an exquisite job channeling the greats who influenced Joplin. Both return for the revived production, although Alison Cusano substitutes for Davies and Kim Yarbrough for Carten on select dates.
But because the latest run has been just as successful — with other hit runs in Pasadena, Calif., and Milwaukee, not to mention Portland, Ore., and Cleveland prior to Arena — the Joplin estate has now arranged for the show to make the leap to Broadway. The switch to the Great White Way includes a name switch: When it opens in previews next month at the Lyceum Theatre, the show will be known as A Night with Janis Joplin — a subtle nod to the fact that many theatergoers, this writer included, couldn't stand seeing just one night of the show. A Night with Janis Joplin officially opens on Broadway on October 10. Davies will carry on with the show, but the rest of the cast is yet to be set.
In fact, producers have announced an "Open Call" for auditions set for Monday, Aug. 12, starting at 9 a.m. at Chelsea Studios, 151 W. 26th St., in New York. Casting directors are looking for both "Janis Joplin" — Davies's alternate and understudy — as well as "The Joplinaires," or blues- and gospel-steeped African-American women who perform backup and serve as Joplin's chief musical influences.
When Randy Johnson talked to Metro Weekly last year, he noted that his ultimate goal for the show was for it to transfer to Broadway. Now, A Night with Janis Joplin joins the pantheon of eventual Tony Award-winning shows, including Next to Normal and the recent revival of Who's Afraid of Virginia Woolf?, that Arena Stage, led by artistic director Molly Smith and executive producer Edgar Dobie, helped usher to Broadway.
"When I came to Arena and met Molly and Edgar, I really felt like I'd found my theater home," Johnson told Metro Weekly. "I felt really comfortable, really safe. Molly is the most amazing artistic director. She's so collaborative, so nurturing. Edgar's so nurturing. The whole place is amazing to work at."
One Night with Janis Joplin closes this Sunday, Aug. 11, at the Mead Center for American Theater, 1101 6th St. SW.