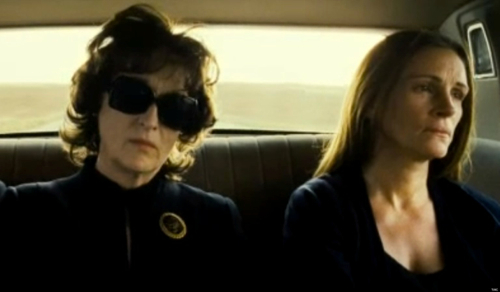 I didn't have an opportunity to see Tracy Letts' three-hour epic August: Osage County on the stage, but from everything I've heard, I've little doubt it was an astonishing piece of work. Instead, I saw it in a movie theater. What a mistake. The playwright's own two-hour screen adaptation never quite bores, but as well-acted as it may be from a cast that includes Meryl Streep, Julia Roberts, Ewan McGregor and (ever so briefly) Sam Shepard, it fails to register much more than a shrug and a 'meh.' It's the kind of movie where you encounter a big revelation and, instead of gasping, think "That probably should have made me feel something."
Essentially, it's Oklahoma Gothic, as family members gathered to bury a family patriarch shred each other to veritable ribbons, wreaking emotional havoc of the garden variety. Directed by John Wells (The West Wing), everything is kept at an arm's length. We are never drawn into the action, but remain aloof to it. The narrative contains two huge revelations, and both play out with less than a whisper.
August owes a massive debt to Lillian Hellman's magnificent The Little Foxes, but it never quite raises itself to that level of utter, scathing horror. Doped-up matriarch Violet is brittle and caustic seemingly for no other reason than to be hateful to her daughters, but Streep plays her flawlessly, as to be expected. Roberts makes a strong foil as eldest daughter Barbara, and Julianne Nicholson is wonderful as the sister who'd rather bury her head in the sand than confront realities of life. McGregor, meanwhile, might as well be in another galaxy far, far away.
The film has one electrifying scene, in which a husband (Chris Cooper) takes his bitchy, critical wife (Margo Martindale) to task. It's a bracing moment that, for a instant, jolts us out of our lethargy. Had the entire film been on this level of engagement, August: Osage County might have been one of the year's best films. Sadly, however, it's not even close.
2 Stars (out of 5). Rated R. Area theaters.