Tom Goss is not bashful. Nor is he pushy. Put simply, he has a message to share and he'll do what he needs to express it. Often, that means touring. Goss has the miles to show for his career, still moving in an upward trajectory.
This month, Goss, 32, is making a bold move to dedicate himself full time to this mission. He's leaving the job of nearly a decade he's held with Charlie's Place, a D.C. program to end homelessness run out of St. Margaret's Episcopal Church. His first European tour, with dates in Iceland and the U.K., begins later this month, and his new album, Wait, releases May 13.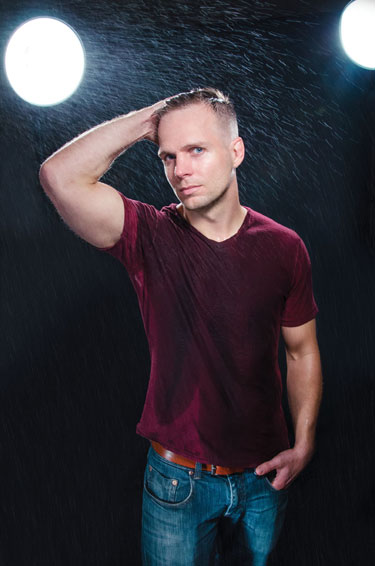 Tom Goss
(Photo by Julian Vankim)
Even with a new album, the song remains the same.
"When I write, I'm the least guarded that I ever am," says the singer-songwriter. "So I think that my longing and my search for that really shines through. That's what people hear."
That's the search that took him to Catholic seminary, and the search that got him to leave that behind, as well.
"A lot of people self-identify as spiritual, not religious," he says, speaking about his message and pointing to "Rise," a song of his from 2008. "I'm not talking about 'Christ the redeemer rose on the third day.' That's not the lyric. But if the lyric is, 'Now it's time to say goodbye, and to leave our skins behind. Let the dusk drain the sun and rise,' that says a very similar thing. You could put that in a Christian context. Or you could put that in a spiritual context. I think the message is the same. It's about rebirth and renewal and reconciliation. I think a lot of my songs reflect that. I may not be doing the sign of the cross, but there's a wisdom and an authenticity that I'm sharing."
It's something of what he shares with his husband, Mike, and with so many other artists with whom Goss revels in creating community. If you like, he'll certainly share it with you, too.
METRO WEEKLY: Wait seems "poppier" to me than your previous work.
TOM GOSS: Oh, yeah! I've always considered myself a pop writer. I love pop music. Not like 'N Sync or Backstreet Boys or Britney Spears or Lady Gaga, but I've always been trying to produce pop music.
You think of The Beatles and that era of pop music, which is super-succinct writing, really fast changes, really hook-y melodies. A lot of the music we hear day to day is pop music, whether you're talking about country music or rock music or whatever. I've always thought of myself as someone who wants to write really concise, well-written pop songs.
MW: But compared to your previous albums, Wait feels less sentimental, more toe-tapping.
GOSS: Totally. I agree. I wanted to have a lot of fun on this record. People see me live and connect with me. They connect with me as a storyteller, somebody who can evoke emotions, because when they hear the songs live they're stripped. When I go into the studio to record with a band, the vision is a little different.
MW: The first couple of tracks, particularly — "It Only Takes Once" and "Take a Chance" — I think will have people up, out of their seats, wanting to dance.
GOSS: That's what I want! In a lot of ways, that's always what I've wanted. I had a couple big numbers like that on Turn It Around, as well, but I never want to do the same thing I've already done. I never want to just be creating the same sounds.
I could spit out 50 love songs by the end of the day and they'd all be good and passable and evocative and all that kind of stuff, but I don't want to do that for the rest of my life. I want to do stuff that's different. It's super easy to write a soft, romantic, heart-wrenching song. That's nothing. But to write something that's going to get people to move? To write something that's going to incorporate a lot of different sounds? That's difficult.
MW: I'm sort of reminded of your "That's Not My Name" cover. It seemed you were being dismissive, but it's a really fun cover.
GOSS: People loved that. I really started playing it because I hated the song. I was hearing it on the radio all the time. I thought, "There's nothing redeeming about this song." I just had all this negative energy about why I hated this song. And I thought, "Why don't I just make it my own and shed that negative energy?" Then, at the same time, people just really enjoyed it. I'd play it at shows and get the whole crowd to sing. I used to close shows with it, have whole rooms of people singing, and we'd do rounds. People loved it. Then, if The Ting Tings were on Letterman, I would get emails and phone calls about these people who stole my song. It was really, really funny.
People love that song because it's fun and it's got attitude. At the same time, there's really not a redemptive message when you dig into it. For me, the challenge is always creating something that has that energy, that makes you happy and want to bop your head, but also has a redemptive message to it. There are very few people who do that effectively. That's the biggest challenge for me.
MW: People want candy.
GOSS: People do want candy. If you give them candy that they can break down and realize, "Wow, I have candy and I have a redemptive message," or, "and I'm talking about social justice," or, "and I'm talking about something greater than me," then that's an accomplishment.
MW: So, you're like Gummy Vitamins.
GOSS: [Laughs.] Yeah! I've got a whole bunch of 'em in the other room!
MW: Seriously?
GOSS: Yes! I love vitamin Gummys because they make me take my vitamins, but it's hard because I want to eat them all day. MW: How would you feel if a DJ got hold of one of the bouncier tracks off Wait? You could be in Provincetown doing your shows, and maybe walk into the Crown & Anchor and hear a Tom Goss remix.
GOSS: I think there are going to be a lot of remixes off this record. I'm already working on one.
One of the things I learned a lot from working with Rich Morel, and just from being such an admirer of his work, and from seeing how people responded to "Bears," and everybody's really into EDM right now, and that's something that's just going to grow and boom, when —
MW: EDM?
GOSS: Electronic dance music.